End-to-End Service Management for SDN & NFV: Part 1

Operators have always struggled to control operational costs and increase speed of service delivery. Incremental cost reduction and service delivery improvements have failed to achieve objectives and service providers now think that the more radical approaches software-defined networking (SDN) and network functions virtualization (NFV) propose may take them further toward their goals.

SDN and NFV both promise hardware vendor independence, improved operational efficiency, standardized and open interfaces and the dynamic chaining of network functions to create new services. Both require centralized orchestration and management. NFV's initial focus is on the virtualization of individual network functions, while SDN's focus is on stitching together network topologies in a "programmable" way. There is no doubt in the minds of the operators that quality of experience (QoE) will be the critical factor in making SDN and NFV initiatives successful and realize their dream of a programmable network.

From a service management standpoint, the challenges can be very interesting. SDN's goal is centralized management and control of networking devices from multiple vendors in order to improve automation and management by using common application programming interfaces (APIs) to abstract the underlying networking details from the orchestration and provisioning systems and applications. Operators today have multiple siloed fulfillment stacks that lack end-to-end network device management or configuration management capability. In fact, most service fulfillment offerings today do not have horizontal service-centric device management capability. This prevents service providers from having an end-to-end view of network devices, services running on those services and customers and applications that are impacted.

End-to-end service management will be critical for the success of NFV and SDN initiatives. End-to-end service management will need to traverse and manage a complex, hybrid services world, involving a combination of virtualized and non-virtualized network resources. The service management specifications that standard bodies such as ETSI have come up with are myopic in nature and focus only on virtualized services, which is a gross simplification of a very complex problem. The OSS environments of Tier 1 and Tier 2 operators are very complex. Going forward, we expect a hybrid world of virtualized and non-virtualized services that cannot be handled effectively by the simple specifications that standards bodies are currently suggesting.

The excerpt below looks at the key pain points associated with existing service fulfillment solutions available in the market and lays out some of the key solution ingredients needed to alleviate operators' pain points in the context of service fulfillment.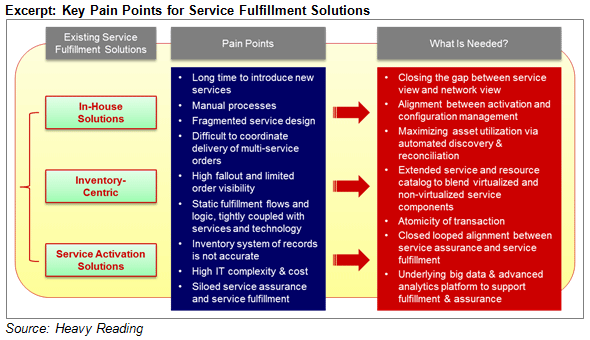 This report explores our view on end-to-end service management that operators must embrace in order to not only support SDN and NFV, but also be able to holistically support the hybrid services world of virtualized and non-virtualized resources. The report discusses the next-generation end-to-end service management architectures that address the shortcomings of current standards, and tries to highlight a future-proof, end-to-end view of service management for the hybrid services world.

In the forthcoming Part 2 of this paper, we will evaluate key vendors in this market and examine how their solutions map to our vision of end-to-end service management.

End-to-End Service Management for SDN & NFV: Part 1 is published in PDF format.




Total pages: 22




To view reports you will need Adobe's Acrobat Reader. If you do not have it, it can be obtained for free at the Adobe web site.