Simon Stanley
Analyst at Large,
Heavy Reading
Simon is an independent consultant who contributes regularly to Heavy Reading and other Heavy Reading projects...
MORE
To view reports you will need Adobe's Acrobat Reader. If you do not have it, it can be obtained for free at the Adobe web site.


REPORTS
EXECUTIVE SUMMARY
Cloud-based services and the data centers required to deliver those services are driving strong demand for high-performance switch chips that can handle up to 12.8 Tbit/s in a single device. Following significant investment over the past five years, there are now more companies than ever before with competitive Ethernet switch chips. The market is rapidly moving to 100 Gbit/s connections within large data centers, but there is still a strong market for Ethernet switch chips with large numbers of 10 Gbit/s and 25 Gbit/s ports. The industry is now preparing for the move to 200 Gbit/s and 400 Gbit/s with the first switch devices in production and the first systems introduced.

Software developers have introduced enhanced network operating systems and stacks with support for software-defined networking (SDN) that will run on a wide range of hardware platforms. This development has given network operators an alternative to the software provide by switch system manufacturers. Several switch chip vendors and switch manufacturers have developed switch chips and systems that can be easily programmed through open software interfaces or using open packet processing languages, such as Programming Protocol-Independent Packet Processors (P4).

There is a strong and growing market for high-performance switch chips largely driven by the growth of public and private cloud data centers. The industry is already installing switches with 100GE ports and expecting to move to 200 GE and 400 GE toward the end of 2019 and through 2020. The latest switch chip families include devices that support 6.4 Tbit/s and 12.8 Tbit/s and provide significantly greater flexibility and features than previous generations.

The market for third-party switch operating systems and software to support for SDN continues to grow. Most network operators can now choose between software solutions provided by the switch manufacturer and these third-party solutions. Several companies have developed switch chips and systems that can be easily programmed through open software interfaces or using open packet processing languages, such as P4. Although this flexibility seems to be very well received, there is growing evidence that performance and price are significantly more important.

Multi-Terabit Switch Chips & Software details and analyzes more than 40 high-performance Ethernet switch devices, embedded SDN, operating system software and IP solutions, identifying the key requirements and highlighting the advantages they hold for equipment manufacturers and service providers. It also reviews vendor strategies and surveys component features, performance and flexibility in this important market. Further, this report profiles 15 vendors in the market.

VIEW COMPANIES COVERED
VIEW TABLE OF CONTENTS
VIEW EXECUTIVE SUMMARY AS PDF


Demand for switch chips continues to grow, driven by cloud services and the huge increase in bandwidth used by high-definition video and other applications. The shift to cloud services and network virtualization has completely changed the switch market, which is now dominated by the needs of hyperscale and large data centers. In addition, much of the network functionality is shifting onto servers using NFV with physical and virtual switches forwarding packets between servers and to users.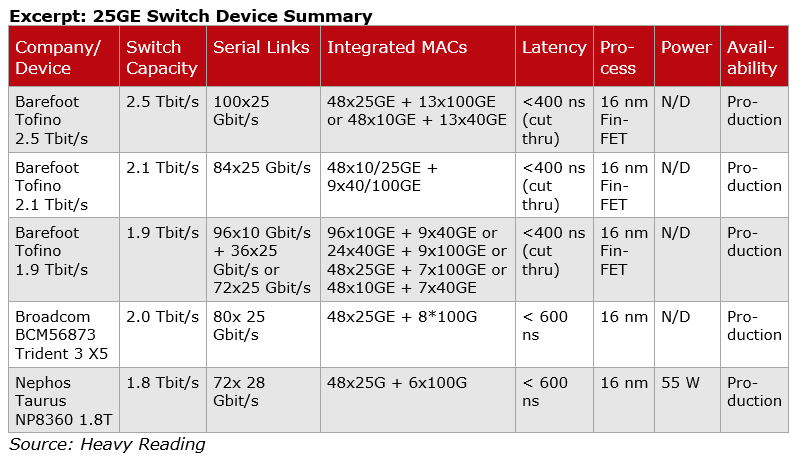 Multi-Terabit Switch Chips & Software is published in PDF format.