11 Virtual EPC Vendors Covered
Click here
for the full list of included companies.

54 pages of analysis of trends in the mobile packet core equipment market, vendor market share and other key market events

In-depth examination of how network functions virtualization (NFV) applies to the mobile core, and to the Evolved Packet Core (EPC) specifically

Exploration of the leading use cases and deployment models for virtual EPC

Profiles of 11 leading vendors, including their plans for virtual EPC products and expected timelines for commercial availability of the technology
Gabriel Brown
Senior Analyst,
Heavy Reading
Gabriel Brown tracks wireless technologies and services for Heavy Reading, focusing on wireless data networking technologies such as 3G/HSPA, WiMax, and LTE...
MORE
To view reports you will need Adobe's Acrobat Reader. If you do not have it, it can be obtained for free at the Adobe web site.


REPORTS
/
EXECUTIVE SUMMARY
The Evolved Packet Core (EPC) is the 3GPP-specified core network for Long Term Evolution (LTE) access. Over time, it will also become a common core network for packet-switched services in 2G and 3G networks, and potentially for Wi-Fi access. The EPC is central to the mobile network architecture and critical to the delivery of end-user services. It sits between the radio access network (RAN), the IP network, external services and a number of other network elements used to authenticate, secure and deliver services to end users. It is a strategic point of control in the delivery of mobile data services, as shown in the excerpt below.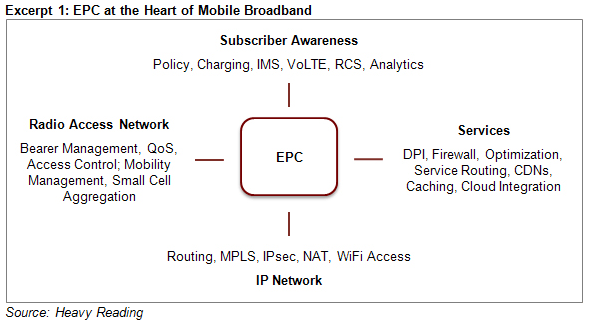 The EPC performs essential functions including subscriber tracking, mobility management and session management. By virtue of its role in managing users' connectivity to services, the EPC can also play an important role in network monetization, especially when used in conjunction with policy and other traffic management techniques. This aspect of the mobile packet core moves it from being a cost center to an enabler of higher-revenue, higher-margin services. Over time, monetization and flexibility will become important factors in the virtualization of EPC functions, for example as relates to "service chaining."

In 2013, the concept of network functions virtualization (NFV) gained credence. Leading network operators endorsed the idea of separating application logic from the underlying – typically proprietary – hardware platforms used to run telecom applications in favor of commercial off-the-shelf (COTS) hardware deployed as a cloud infrastructure. EPC is one of the key network domains that have been identified by operators and vendors as a good candidate for NFV. For example, it is identified as a viable and attractive use case in the ETSI Working Group specification documents. A number of vendors showed proof-of-concept demo systems at the 2013 Mobile World Congress, and throughout the year a number of operators trialed early versions of the technology. By the 2014 Mobile World Congress, half a dozen suppliers had announced their intent to offer commercial virtual EPC software.

Heavy Reading has also identified strong interest in virtual mobile core among operators through a range of custom research projects and operator engagements carried out in the past 18 months. There are a number of reasons why EPC is considered a good candidate for virtualization. Commercially, it is a new and expanding investment that still has a long life ahead of it, so aligning network investment with future technology trends is logical. Technically, the nature of EPC and the relatively modest traffic volumes in mobile networks make it suitable for virtualization, although this depends somewhat on the specific application and deployment model.

The Rise of Virtual EPC: A Mobile Packet Core Forecast & Analysis examines virtual EPC from the perspective of the operators that will deploy the technology and the vendors that design the products (software and systems). It identifies the biggest opportunities and challenges in this market transition, and explores how to best address these. To provide context to the industry's virtualization efforts, the report also discusses the broader mobile packet core market and analyzes today's commercially available products and vendor roadmaps to software-only EPC products.

DOWNLOAD TABLE OF CONTENTS
DOWNLOAD LIST OF FIGURES
PRINT EXECUTIVE SUMMARY

All of the technology vendors are now on board with the concept of virtual EPC, and large vendors – as well as a number of challengers – now have plans to offer commercial product. In detail, however, there are significant differences between suppliers, both in approach and in timing. This report examines 11 leading EPC technology vendors, detailing their virtual EPC strategy, technology and timeline.

Many mobile core functions have been identified as good candidates for virtualization, and it is not unrealistic to think that an entire mobile core could be fully virtualized and operate at close to parity in performance and feature terms with traditional core network within three years. Feature parity could be achieved in a shorter time frame, and a "good enough" feature set even sooner. The excerpt below identifies three categories of mobile core functions: The packet gateway (a bearer-plane function) in red; control-plane nodes (MME, Policy, IMS, etc.) in yellow; and Gi-LAN functions circled in blue.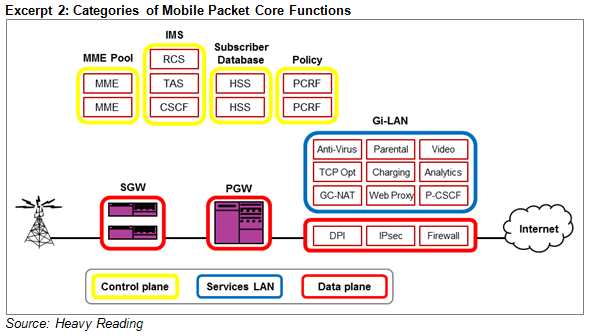 Report Scope & Structure

The Rise of Virtual EPC: A Mobile Packet Core Forecast & Analysis is structured as follows:

Section I is an introduction to the report, with complete report key findings.

Section II reviews trends in the mobile packet core equipment market, vendor market share and other key market events.

Section III discusses how NFV applies to the mobile core and to EPC specifically.

Section IV investigates use cases and deployment models for virtual EPC.

Section V analyzes vendor plans for virtual EPC products.

The Rise of Virtual EPC: A Mobile Packet Core Forecast & Analysis is published in PDF format.