21 C-RAN TECHNOLOGY LEADERS COVERED
Click here
for the full list of included companies.

29 pages of analysis of C-RAN technology and its promise for refining coordination of radio resources and improving performance in LTE and LTE Advanced

Detailed breakdown of the C-RAN architecture, exploring some emerging C-RAN use cases and potential enhancements to the technology

An in-depth look at the key industry players, identifying 21 companies leading the market and probing operator and vendor perspectives on C-RAN

GABRIEL BROWN
Senior Analyst,
Heavy Reading
Gabriel Brown tracks wireless technologies and services for Heavy Reading, focusing on wireless data networking technologies such as 3G/HSPA, WiMax, and LTE...

More
To view reports you will need Adobe's Acrobat Reader. If you do not have it, it can be obtained for free at the Adobe web site.


C-RAN & LTE Advanced: The Road to "True 4G" & Beyond
C-RAN is emerging as an important platform for next-generation radio access networks (RANs). Standing for both centralized RAN and cloud RAN, the C-RAN concept is based around the idea of a centralized baseband processing pool serving n number of distributed radio access nodes.

Centralized baseband processing is primarily useful because it enables better (faster, more granular) coordination of radio resources across distributed access nodes than a classic macro cell architecture. In systems such as LTE and LTE Advanced (LTE-A), where coordinated processing is essential to performance improvements, the capability to manage this centrally rather than via an external X2 interface between base stations could generate important performance gains.

Arguably, the hyper-densification of RAN will, in time, require some form centralized, collaborative processing to reduce and manage inter-cell interference between neighboring cells and across access layers in heterogeneous networks. Looking further ahead toward 5G and to the concept of integrated management of cloud and radio resources, the C-RAN model could become more attractive still.

There are also several secondary benefits to C-RAN. Most notable, from an operator perspective, is reduced opex. With a simpler cell site installation there may be an opportunity to reduce lease costs at the site, for example. And with a centralized server pool there is potential to reduce maintenance and upgrade costs. These are very much second-order benefits, however, and in many markets are not sufficiently useful to justify the complexity of C-RAN. Performance is king.

A major outstanding question is the extent to which baseband processing can be virtualized and ported to general-purpose CPUs – typically x86-based Intel processors, and perhaps also ARM processors in future. How this is achieved, and the series of interim steps toward this objective, is at the heart of "cloud" part of the C-RAN discussion. Parts of the baseband processing can be ported to general-purpose CPUs today, but Layer 1 functions require DSPs, and will continue to do so for some time.

C-RAN & LTE Advanced: The Road to "True 4G" & Beyond analyzes the C-RAN opportunity and the challenges the industry must overcome for the technology to emerge as a mainstream next-generation radio access platform.

DOWNLOAD TABLE OF CONTENTS
DOWNLOAD LIST OF FIGURES
PRINT EXECUTIVE SUMMARY

The C-RAN concept is shown in the excerpt below. The baseband pool is centralized at a location with required backhaul, security, operational staff and so on. The RRUs are distributed to wherever capacity is needed and connected back to the baseband pool by fiber optics – either over dark fiber or using a wavelength service. Centralized baseband processing, in theory, can help with advanced interference management where signal from RRUs overlaps.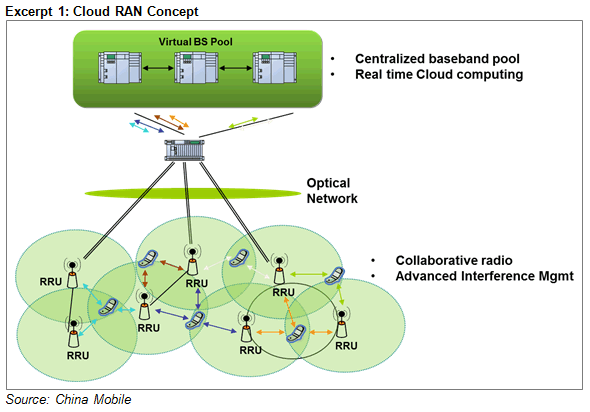 The report also identifies 21 C-RAN technology leaders that are leading the market and explores operator and vendor perspectives on C-RAN.

C-RAN is being driven by Asian operators, and by China Mobile in particular. The operator is acutely aware of the ambitious nature of its C-RAN project and of the benefits of building a support ecosystem around the concept. The excerpt below shows a hierarchy (of sorts) of the companies driving C-RAN development, with those having the most influence and committing the most R&D resources at the top.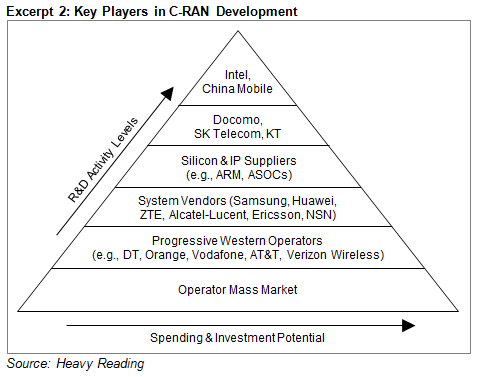 Report Scope & Structure

C-RAN & LTE Advanced: The Road to "True 4G" & Beyond is structured as follows:

Section I is an introduction to the report, with complete report key findings.

Section II examines the objectives of C-RAN, places C-RAN into a network technology context and discusses how it interacts with the three levers that operators have available to increase mobile network capacity: new spectrum, technology efficiency and spatial re-use. This section introduces the C-RAN concept and assesses the state of play in the industry today.

Section III looks at the key industry players, identifying the companies leading the market and providing analysis of operator and vendor perspectives on C-RAN.

Section IV investigates the C-RAN architecture and potential enhancements to it, discusses the differences and similarities between "centralized RAN" and "cloud RAN," and explores some emerging C-RAN use cases and the related scaling requirements.

Section V focuses on innovation in mobile fronthaul and discusses why it is such an important enabler for C-RAN. It covers how WDM optical networking can potentially replace point-to-point fiber and looks at the outlook for active network technologies to play role to connect baseband pools to distributed radio access nodes.

C-RAN & LTE Advanced: The Road to "True 4G" & Beyond is published in PDF format.