15 RAN CONGESTION CONTROL VENDORS PROFILED
Click here
for the full list of profiled RAN congestion control vendors

39 pages of in-depth market analysis, exploring the present state and future evolution of RAN congestion control

Comprehensive analysis of the RAN congestion control landscape, analyzing and categorizing the various types of approaches being proposed

Examination of the increasing range of congestion control solutions, including innovative ideas from startups that are approaching the problem in new ways

Detailed profiles of 15 leading vendors of RAN congestion control solutions
GRAHAM FINNIE
Chief Analyst,
Heavy Reading
Graham Finnie has been researching telecom for more than 20 years, formerly as a journalist and latterly as an analyst and consultant...

More
To view reports you will need Adobe's Acrobat Reader. If you do not have it, it can be obtained for free at the Adobe web site.


RAN Congestion Control & the Road to QoE
Measures to control or relieve congestion in the radio access network (RAN) are a fundamental requirement in any wireless network, but the topic has taken on a greater urgency in the past two to three years, and led to a wave of innovation in the area.

The main reason for this is the deployment of mobile broadband services, the related development of smartphones and other intelligent devices able to run a wide range of applications, and the widespread deployment of policy tools, to which new RAN congestion measures are being increasingly linked.

The facts are well known but are worth briefly rehearsing:
Data traffic is doubling or more per annum in most mobile broadband networks
Broadband users as a proportion of all mobile users continue to grow sharply
Smartphones are spreading very fast in networks, encouraging use of apps
Applications are proliferating, with a wide range of different characteristics
One consequence is that a small number of users can eat up a large amount of available bandwidth. For instance, Vodafone reported in 2011 that 1 percent of users were consuming 30 percent of available bandwidth, and similarly T-Mobile reported that 1 percent of users were consuming 25 percent of available bandwidth. This is a particular problem at cell level, since a small number of users can easily eat up most of the capacity in a small cell.

There are other new issues, as well. For instance, many of the largest consumers of bandwidth – that is, bandwidth-hungry over-the-top (OTT) applications – adapt and consume as much bandwidth as is available. So reducing bandwidth for some applications may simply make more of it available for others. In this environment, more intelligent policy-based RAN congestion controls appear to be the only obvious answer.

RAN congestion control measures have two distinct, though linked, benefits that network operators are using to build the business case.

First, effective RAN congestion measures can help to postpone investment in additional capacity in RAN (base stations) and backhaul networks, or in new spectrum. They can also enable such new investment, when it is required, to be more accurately targeted. Cost postponement and deferral are strong motivators for network operators, so this business case has tended to be the more important one initially.

However, attention has been shifting fast in the past 12 to 18 months toward a different strategic requirement: to provide the best possible quality of experience (QoE) to individual customers. This aim blurs into bigger strategic goals to deploy customer experience management (CEM), which requires that the information feeds into it must be as comprehensive as possible.

Ideally, these two aims can be combined, so that the strategic aim becomes provision of optimal QoS on a customer-specific basis at the lowest possible cost – where "optimal" here should be read as "good enough."

RAN Congestion Control & the Road to QoE examines the underlying catalysts for new investment in RAN congestion control, analyzing and categorizing the various approaches being proposed. The report aims to help network operators sort through the increasing range of solutions in this area, including innovative ideas from startups that are approaching the problem in new ways.

DOWNLOAD TABLE OF CONTENTS
DOWNLOAD LIST OF FIGURES
PRINT EXECUTIVE SUMMARY

This report identifies 31 companies with relevant RAN congestion control solutions and includes detailed profiles of 15 leading vendors.

Click here for the full list of profiled RAN congestion control vendors.

To be effective, RAN congestion control measures must be based on a wide range of information, at as granular a level as possible. True cell-level RAN congestion control requires in principle some or all of the following:
A definition of congestion
The ability to use this definition to identify congestion occurring in specific cells, using either historic or real-time information
The ability to identify applications being used in individual cells, so as to be able to apply application-specific controls
The ability to identify subscribers in those cells, and the applications or bandwidth they are using, so as to be able to apply subscriber-specific controls
The ability to identify other subscribers in the same cell (to decide who gets priority)
Information on subscriber entitlements, device type, data usage, etc.
The excerpt below illustrates at a general level the various ways in which this might be accomplished.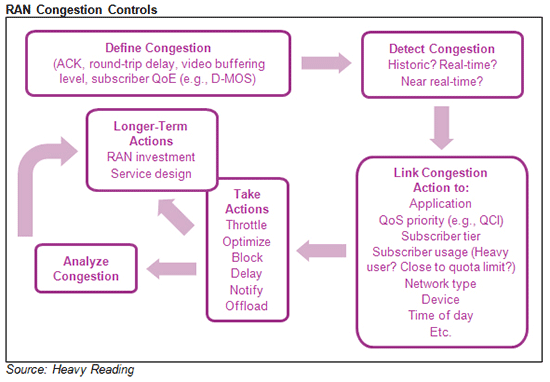 In order for congestion management to be based on as wide a set of contextual information as possible, there is strong interest in linking RAN congestion control to policy management systems, since the latter can provide an indefinitely wide set of variables (subscriber identity, price plan, quota, device, location, application, network, etc.) on which to base congestion management decisions. The excerpt below, drawn from our 2011 survey of network operator attitudes to the use of policy management, shows that there is strong interest in linking policy to cell-level congestion management.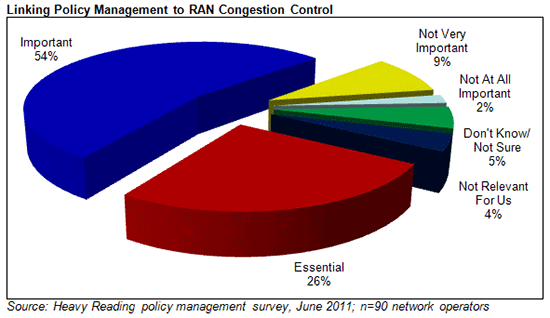 Report Scope & Structure

RAN Congestion Control & the Road to QoE is structured as follows:

Section I is an introduction to the report, with complete report key findings.

Section II examines and sorts out the various potential approaches to RAN congestion control, and contrasts the way in which controls have traditionally been applied with the next-generation approaches now emerging.

Section III reviews significant vendors in the space, and includes a tabular summary of 31 vendors with relevant products in this area, as well more detailed discussions of 15 of these vendors' solutions.

RAN Congestion Control & the Road to QoE is published in PDF format.