43 pages of in-depth market analysis, including the status of current EOAM deployments, strategic carrier considerations and hurdles to fuller EOAM realization

Detailed case studies tracing the implementation of EOAM and related capabilities by seven leading network operators, based on in-depth interviews with vendors and carriers

A comprehensive study of the major EOAM protocols, including 802.3ah (Link OAM), 802.1ag (CFM), Y.1731 (performance management), and the RFC 2544 and Y.1564 test methodologies

Exclusive input from interviews conducted with senior executives and marketing and network professionals from 12 major market players, including vendors that sell OAM capabilities and carriers that purchase and deploy them
STEVE KOPPMAN
Analyst at Large,
Heavy Reading
Koppman has covered the North American carrier industry for 20 years as an analyst, focusing on market forecasting and analysis, issues of industry structure...

More
To view reports you will need Adobe's Acrobat Reader. If you do not have it, it can be obtained for free at the Adobe web site.


Ethernet OAM Market Trends & Case Studies
As carrier Ethernet has become an increasingly primary, business-class global data service defined by service-level agreements (SLAs) and offering differentiated classes of service (CoS), tools to monitor and measure service quality have become increasingly crucial. The last few years have seen increased and improved global interconnection with CoS and development of service operations, administration and maintenance (OAM) protocols and tools with the concomitant associated potential for speeding service provisioning, improving network and service management, facilitating fault detection and resolution, and improving visibility into Ethernet service performance end-to-end across networks.

While there are varying definitions of the specific borders of the Ethernet OAM (EOAM) domain, it broadly refers to protocols and related tools and messages by which Ethernet service problems, or "faults," can be monitored and resolved, and by which performance parameters such as packet delay, jitter, loss and throughput can be systematically measured.

The rapid growth of carrier Ethernet services – and particularly Ethernet's increasingly dominant role in wireless backhaul – have greatly intensified requirements for, and widespread interest in, Ethernet OAM.

Ethernet OAM Market Trends & Case Studies examines the major protocols driving EOAM and their place in the current market environment. It analyzes the current status of EOAM including obstacles to its fuller deployment, and projects its future role in the delivery of carrier Ethernet services. The report also offers seven case studies of carrier Ethernet service providers in their efforts to deploy EOAM, providing insight into how network operators are dealing with EOAM.

DOWNLOAD TABLE OF CONTENTS
DOWNLOAD LIST OF FIGURES
PRINT EXECUTIVE SUMMARY

Heavy Reading conducted in-depth interviews with senior executives and marketing and network professionals from 12 major market players, including vendors that sell OAM capabilities and carriers that purchase and deploy them. In several cases, we conducted multiple interviews with these firms, in most cases speaking with two, three or more expert informants per company. Based on these discussions, the report incorporates seven detailed case studies tracing service provider implementation of EOAM and related capabilities worldwide.

The ITU-T's Y.1731 protocol is the most advanced and comprehensive of the three major EOAM protocols, with the greatest future promise and importance, as well as the lowest level of deployment thus far. Y.1731's biggest distinctive contribution is that of performance management, facilitating measurement of Ethernet frame loss, latency, jitter and other parameters. The excerpt below schematically illustrates performance management.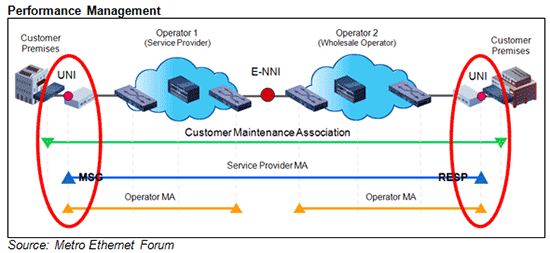 Ethernet Local Management Interface (E-LMI) is another protocol that has not yet experienced very wide deployment. It is analogous to LMI in Frame Relay and enables customer equipment to request and receive information about service status and other Ethernet service attributes from carrier devices, enabling the customer equipment to configure itself properly to access those services. The excerpt below schematically illustrates the E-LMI protocol.





Report Scope & Structure

Ethernet OAM Market Trends & Case Studies is structured as follows:

Section I is an introduction to the report, with complete report key findings.

Section II provides background on EOAM and its major protocols, including Link OAM 802.3ah, traffic generation protocols such as RFC 2544 and Y.1564, and Service OAM including 802.1ag and Y.1731, incorporating CFM and performance monitoring functionalities.

Section III discusses current and emerging trends and issues within the EOAM environment, including the status of OAM deployment, strategic carrier considerations, variations in EOAM deployment by protocol and service provider category, issues regarding standards vs. proprietary vendor-specific capabilities, information overload and data usefulness as issues and differentiators, hurdles to fuller EOAM realization and the future outlook for EOAM.

Section IV provides detailed case studies of EOAM deployment undertaken by seven different network operators worldwide.
Ethernet OAM Market Trends & Case Studies is published in PDF format.