20 OPTICAL MODULE VENDORS COVERED
Click here
for the full list of included optical module vendors
19 SILICON VENDORS COVERED
Click here
for the full list of included components suppliers

42 pages of product and strategy competitive analysis covering more than 70 optical modules and nearly 100 semiconductor components from 39 leading vendors

A detailed overview of the 40/100G technology market, including the dynamics driving its growth and adoption and the key underlying networking technologies

Exclusive input from interviews conducted with a wide range of optical module and silicon vendors, along with product and volume information supplied by vendors

Complete, up-to-the-minute information on forthcoming products, including the latest information on likely release dates.



SIMON STANLEY
Senior Analyst,
Heavy Reading
Simon Stanley is Founder and Principal Consultant at Earlswood Marketing Ltd. Over the last six years, Stanley has written extensively for Heavy Reading...

More
To view reports you will need Adobe's Acrobat Reader. If you do not have it, it can be obtained for free at the Adobe web site.


40/100Gbit/s Optical Modules & Components: A Heavy Reading Competitive Analysis
Demand for 40/100G connectivity continues to grow. This demand is driven by many trends, including the growth in mobile networking, high-speed consumer broadband, a shift to cloud computing and increasing data center consolidation. 40/100G line cards are being added to systems across the network from data centers to enterprise and metro networks and long-haul service provider transport.

The completion of the 40/100GE specifications in 2010 and agreement within the Optical Internetworking Forum (OIF) to adopt DP-QPSK with coherent receiver for 100G long-haul applications has given the industry new momentum. After several years talking about the benefits of 100G connectivity and discussing the technical implementations, the industry is now finding huge opportunities to deliver new systems using standardized solutions.

Cloud computing, video, remote storage and other bandwidth-intensive services are driving demand for higher-speed connectivity. Data center and enterprise network managers must replace existing 10G links with 100G links to meet user expectations and business needs. Carriers are upgrading transport links to 100G, or more, as suitable solutions become available. To meet these needs, equipment providers are developing new systems with 40/100G interfaces that cover distances from a few meters to several hundred kilometers.

There are already cost-effective solutions for the data center and enterprise network using 4x10G QSFP+ and 12x10G CXP active optical cables. For longer distances in the enterprise and long-haul applications a single fiber approach is required. The CFP form factor provides a suitable solution over a single fiber, but it is significantly more expensive. Some implementations integrate 10G optics with 10 transmit/receive channels and an optical multiplexor. To continue reducing system cost vendors need to deliver on a cost-effective road map from 10x10G to 4x25G and eventually 100G serial.

Equipment providers, silicon developers and optical component vendors face significant challenges from the demand for 100G interfaces. The adoption of DP-QPSK modulation with a coherent receiver for long-haul applications is driving significant investment in this area. There are at least four vendors with coherent DP-QPSK silicon in development or available and six optical module vendors that have announced coherent DP-QPSK transponders. The CFP form factor is more flexible in the enterprise but companies need to move to the next-generation CFP2 and CFP4 form factors. Both DP-QPSK and CFP present many challenges to developers with high-speed signals and close integration of optical and silicon components.

This report details and analyzes 40/100G technologies, identifying the key advantages they hold for equipment manufacturers. It also surveys component availability and profiles 39 leading vendors in this growing market. The availability of 100G interfaces is growing quickly, with semiconductor and optical module vendors introducing new products that deliver better performance and greater integration. This is a demanding market with high development costs, and few vendors can offer complete solutions across the varied technologies.

40/100Gbit/s Optical Modules & Components: A Heavy Reading Competitive Analysis details 100G technologies together with relevant 40G technologies and identifies and analyzes the full spectrum of vendors developing 40/100G optical modules and components. The report includes not only granular information on the components and systems themselves – of interest to telecom equipment manufacturers, optical module vendors, semiconductor vendors and service providers – but also insights into how the overall market and ecosystem is developing – of interest to a wide audience, including investors.

DOWNLOAD TABLE OF CONTENTS
DOWNLOAD LIST OF FIGURES
PRINT EXECUTIVE SUMMARY

The report evaluates and analyzes the products and strategies of 39 leading vendors in this rapidly growing market, including more than 70 optical modules and almost 100 semiconductor components.

Click here for the full list of included optical module vendors

Click here for the full list of included silicon vendors

This report is based on more than 25 interviews conducted with a wide range of optical module vendors, silicon vendors and telecom equipment manufacturers during the two months leading up to December 2011, along with product information supplied by vendors. The tables presented in the report are based on product documentation and supplemental data from our interviews and email conversations. All of the data in product tables has been provided to vendors for confirmation, feedback and updating ahead of publication. In total, the report contains detailed information and analysis on more than 160 products from 39 different vendors.

The excerpt below shows the five leading 100G optical module form factors for data center and enterprise applications. The 120G 12x CXP specification developed in 2009 by the InfiniBand Trade Association supports up to 12 channels. Each channel should support at least 10.5G. This specification also covers QSFP+ to CXP breakout active cables. 100GE can be supported using only 10 of the 12 channels. QSFP2 is currently in development, with the first modules expected to be shipped during 2012.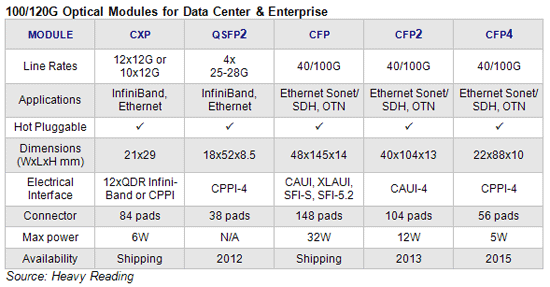 The excerpt below shows 100G CFP modules from six vendors, split into four groups; 100GBase-SR10, 100GBase-LR4, 100GBase-ER4 and 10x10 MSA. Fujitsu has both 10km and 40km modules. The NeoPhotonics PD100-TX 10x10MSA module is available for 2km or 10km reach. Oplink and Effdon are also members of the 10x10 MSA but have not yet released any product details.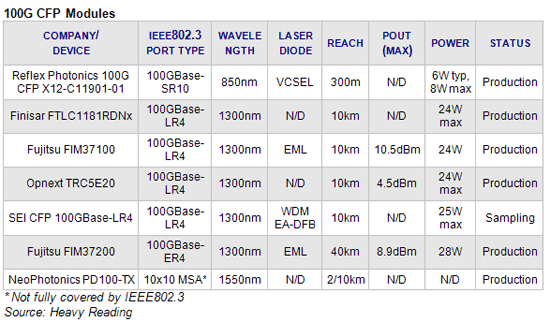 Report Scope and Structure

40/100Gbit/s Optical Modules & Components: A Heavy Reading Competitive Analysis is structured as follows:

Section I is an introduction to the report, with complete report key findings.

Section II examines the dynamics of the 100G market and reviews the key networking technologies; 40/100GE, InfiniBand, OTN, Sonet/SDH and DWDM.

Section III focuses on optical modules for data center and enterprise/metro applications. This section covers more than 50 optical modules and active optical cables, including QSFP+, CXP, 40/100G CFP and 300-pin MSA.

Section IV analyzes solutions for long-haul transport networks, including a review of modulation technologies such as ODB, QSFP and DQPSK and DP-QPSK with coherent receiver; and covers 19 long-haul optical modules, including 40/100G DP-QPSK with coherent receiver.

Section V focuses on 40/100G silicon devices for optical modules and line cards. This section covers almost 100 devices, including VCSEL drivers and receivers, 40/100G transceiver and gear-box devices (some with coherent receiver and OTN framer), quad CDR devices and 40/100G OTN mapper/framer devices for packet-optical transport platforms (P-OTP).

Section VI offers detailed product and strategy analysis for 20 40/100G optical module vendors.

Section VII offers detailed product and strategy analysis for 19 40/100G silicon device vendors.


40/100Gbit/s Optical Modules & Components: A Heavy Reading Competitive Analysis is published in PDF format.