13 CACHING AND CONTENT DELIVERY VENDORS PROFILED
4 OPERATORS WITH CDN INITIATIVES PROFILED
Click here
for the full list of profiled operators

46 pages of analysis exploring the CDN and edge caching opportunity for network operators, and how this could help operators protect their place in the video value chain

Detailed study of the drivers behind the explosive growth in Internet traffic and its impact on network operators

A comprehensive analysis of the key industry standardization initiatives underway to facilitate federation and interconnection of operator CDNs

Profiles of 13 major technology vendors of caching and content delivery solutions for operators, evaluating their relative strengths and weaknesses in this space



ADITYA KISHORE
Senior Analyst,
Heavy Reading
Leveraging his 15 years' experience in consumer media, Kishore covers digital media applications and services and their distribution over broadband networks...

More
To view reports you will need Adobe's Acrobat Reader. If you do not have it, it can be obtained for free at the Adobe web site.


OTT Traffic Control: Technology Options for Network Operators
Internet usage has grown rapidly, with a growing number of consumers spending an increasing amount of time on the Internet. Internet surfing has also expanded well beyond navigating text-and-graphics pages to a multimedia experience, encompassing high-resolution images, music, rich media gaming and video. In particular, Internet video viewing is growing precipitously, with nearly 40 percent of consumers viewing it at least several times a month, as shown in Excerpt 1.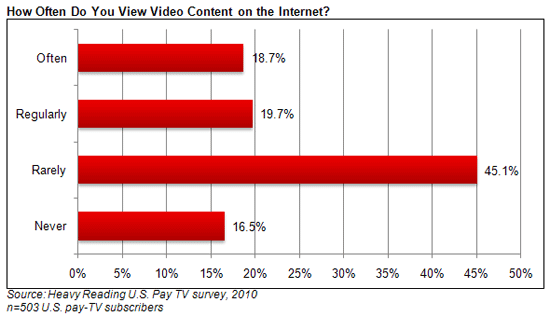 Operators are feeling the strain on their networks today, but traffic growth trends are unlikely to lose momentum. Operators need to find solutions that don't require sustained investment in network upgrades and that don't put significant strain on their financial resources. One important bandwidth management strategy today is to deploy transparent edge caches to relieve network congestion and reduce transit costs.

Several larger operators are now looking at going beyond this kind of traffic management strategy and creating a new revenue-generating line of business based on local caching. This helps them monetize the growing volumes of traffic, and may help protect their place in the video value chain, which they are in danger of losing as media distribution migrates online.

Operators such as AT&T, Verizon, Telefónica and BT have commercial content delivery network (CDN) operations today and efforts to expand them are ongoing. But can they effectively compete with traditional Internet CDNs such as Akamai and Limelight? Moreover, the CDN market is a few billion in annual revenue according to most estimates, which is relatively small in telecom terms. Can the growth in Internet video traffic really expand this market and generate substantial revenue for operators?

OTT Traffic Control: Technology Options for Network Operators examines the impact of Internet video growth on operators, and evaluates operator options for caching and content delivery. It provides a detailed view of transparent caching and operator CDNs, also examining the potential for standardized CDN interconnection and federation.

DOWNLOAD TABLE OF CONTENTS
DOWNLOAD LIST OF FIGURES
PRINT EXECUTIVE SUMMARY

Several Tier 1 operators have launched commercial, multi-tenant CDNs. We analyze the main drivers, differentiators and revenue strategies for initiatives from four leading operators, along with the operators' thoughts on their competitive advantages in this space. The report also analyzes the products and strategies of 13 key vendors providing caching and content delivery solutions for operators.

Click here for the full list of profiled vendors

Click here for the full list of profiled operators

Using caching infrastructure to develop full-service commercial CDNs would allow operators to monetize the OTT traffic on their networks and generate revenue from content owners. Operators have long feared becoming a "dumb pipe," which is exactly what they would be in an Internet-based content delivery scenario – at left in Excerpt 2. Launching a CDN allows them to take on a revenue-generating role, and by layering on intelligence and control they have an opportunity to maintain their influence in the video distribution value chain – at right in the excerpt below.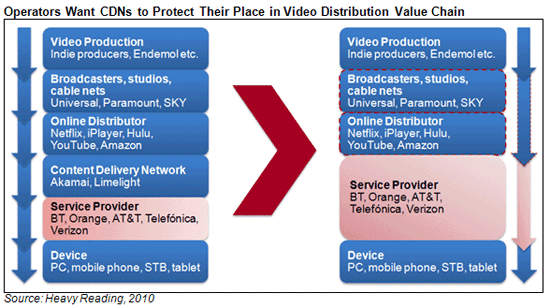 Report Scope and Structure

OTT Traffic Control: Technology Options for Network Operators is structured as follows:

Section I is an introduction to the report, with complete report key findings.

Section II examines the growth of Internet traffic in recent years, and expectations of its growth in coming years. It looks at the major drivers and aspects of this growth, and analyzes the impact on network operators.

Section III defines transparent caching, examines how it is different from traditional content delivery, describes how it works and lists the key requirements of a TC solution.

Section IV examines the CDN opportunity for network operators, looks at the strengths and weaknesses of operator CDNs, identifies critical requirements from an operator CDN and lists the major standardization initiatives underway to facilitate federation and interconnection of operator CDNs.

Section V reviews 13 major vendors with technology solutions for operators wanting to enable caching and content delivery on their networks. This section analyzes their flagship products and strategies, and evaluates their relative strengths and weaknesses in this space.


OTT Traffic Control: Technology Options for Network Operators is published in PDF format.