14 MULTIPLATFORM VIDEO CONTENT PROTECTION VENDORS PROFILED

40 pages of analysis covering the growth of multiplatform video and the evolution of content protection for multiplatform video

Detailed study of the different types of video content protection available, including conditional access systems, content protection for physical media, Internet digital rights management technologies, watermarking and broadcast flags

A comprehensive analysis of the key industry initiatives and standards relevant to multiplatform video content protection

In-depth examination of the leading vendors in the multiplatform video protection space – including both Internet-oriented DRM vendors and traditional pay TV-oriented CAS vendors – evaluating their relative strengths and weaknesses in this space.



ADITYA KISHORE
Senior Analyst,
Heavy Reading
Leveraging his 15 years' experience in consumer media, Kishore covers digital media applications and services and their distribution over broadband networks...

More
To view reports you will need Adobe's Acrobat Reader. If you do not have it, it can be obtained for free at the Adobe web site.


Content Protection for Multiplatform & Internet Video: Who's Doing What
The transition to digital has enabled video delivery to a variety of screens. Mobile phones, tablets and laptops are now video platforms, both in the home and outside it. Broadband penetration and increasing average connection speeds are also adding to the consumption of multiplatform video. Service providers are keen to leverage this trend, as shown in the excerpt below. This chart, based on a Heavy Reading survey of service providers worldwide, shows responses to the statement: "Multiplatform video distribution will be an important requirement for your business within the next five years."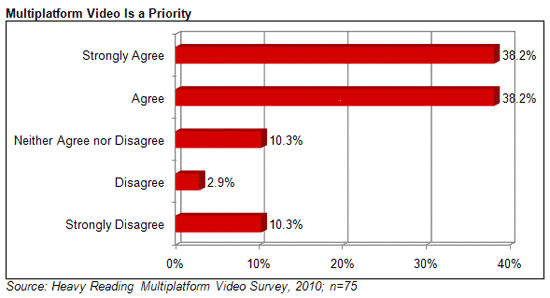 However, service provider face several challenges in delivering multiplatform video. The video content must be adapted to suit various device platforms, new licensing agreements are required and network capacity is a concern. Perhaps most important is the ability to protect the content across all devices: Content owners will not allow their content to be distributed on a platform that is vulnerable to piracy, but consumers want to be able to access copies of their purchased content across devices.

The entire value chain needs a secure but flexible way to support multiplatform video. In addition, this solution must enable a wide variety of business models and usage rules to help drive new revenue.

Yet content protection technology across different platforms is not always compatible. Also, all content protection mechanisms may not support all usage rules, so users may not be able to access or transfer some content at some times. For a user, this could mean the frustration of a different experience on each device, or the need for multiple passwords and sign-ons at each step. The networks and devices themselves have differing capabilities, so they may not be able to support the same security mechanisms. Lastly, all these content protection solutions need to interoperate with a single, centralized subscriber account. All these challenges must be resolved to make multiplatform video a success.

Content Protection for Multiplatform & Internet Video: Who's Doing What examines the rise of multiplatform video, the evolution of content protection for video and the challenges associated with multiplatform video content protection. The report also analyzes emerging industry initiatives and standards for multiplatform video protection and examines the strengths and weaknesses of 14 key vendors in this market.

DOWNLOAD TABLE OF CONTENTS
DOWNLOAD LIST OF FIGURES
PRINT EXECUTIVE SUMMARY

Vendors of content protection technology for multiplatform video fall into two main categories: Internet-oriented digital rights management (DRM) vendors and traditional pay TV-oriented conditional access system (CAS) vendors. This is because video distribution across devices is being driven either by content owners and online distributors over the Internet or by pay TV operators over private networks.

This report provides detailed profiles of the three leading Internet-oriented DRM vendors, along with 11 leading pay TV-oriented CAS vendors, spelling out their strategies, products, strengths and weaknesses.

For a full list of the multiplatform video content protection vendors profiled in this report, click here.

One of the challenges faced by any standardized content protection scheme is dealing with the multiple players in the video value chain. Different industry segments have varying priorities and objectives. This means that their views on content protection are not the same, which can affect the development of a consistent standard.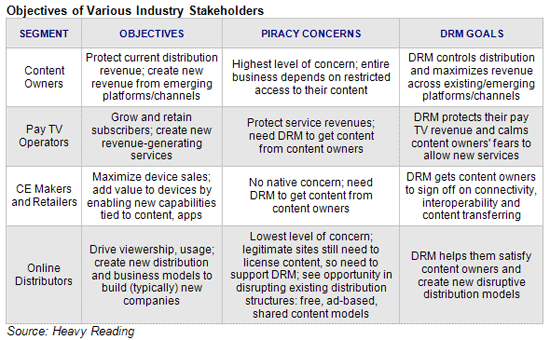 Report Scope and Structure

Content Protection for Multiplatform & Internet Video: Who's Doing What is structured as follows:

Section I includes a full executive summary and report key findings.

Section II outlines key trends in the growth of multiplatform video, examining issues such as increases in broadband connectivity speeds and the popularity of OTT video. It also looks at the various challenges faced by service providers in supporting multiplatform video distribution.

Section III examines the evolution of video content protection, including conditional access, content protection for physical media and the development of Internet DRM technologies. It examines how each functions, and also discusses other content protection technologies such as watermarking and broadcast flags. It also reviews the key challenges associated with multiplatform video protection.

Section IV examines seven industry initiatives and standards relevant to this space. It discusses developments in link protection, DRM standardization and the emergence of "digital rights lockers." This section also evaluates the likely impact of each initiative.

Section V reviews 14 major vendors in the multiplatform video protection space including the major Internet players and the traditional conditional access players in pay TV. This section analyzes their flagship products and key strategies, and evaluates their relative strengths and weaknesses in this space.

The report is essential reading for a wide range of industry participants, including the following:

Content owners: What technologies and tools are available to enable the distribution of your content to multiple video devices, and how do you stand to benefit from them? What safeguards are available to control unauthorized access to your content? What limits might you want to impose on making your content available across multiple devices?
Service providers: How can you leverage multiplatform video to generate new revenue streams, and how can you avoid cannibalizing revenue from your other services? How do your multiplatform video distribution plans map to those of your competitors? Which emerging standards and cross-platform solutions hold the most promise for enabling and controlling multiplatform video?
Technology vendors: Which multiplatform video content protection capabilities are most coveted by service providers? What relationships in the industry value chain will be most valuable for you to nurture going forward? How can you reassure all the players involved that their needs and concerns are being addressed? How do your multiplatform video technology plans map to those of your competitors?
Investors: Which technology suppliers are best placed to benefit from the transition to multiplatform video distribution? How is the business case for multiplatform video being made, and how can it be more compelling? How will emerging standards, as well as the competition between Internet-oriented and traditional pay TV-oriented content protection vendors, influence winners and losers in this dynamic market?
Content Protection for Multiplatform & Internet Video: Who's Doing is published in PDF format.