3 MOBILE SERVICE PROVIDER CASE STUDIES



14 PACKET-OPTICAL TRANSPORT VENDORS PROFILED

46 Pages of analysis detailing the challenges of transitioning to packet backhaul and how the forthcoming deployment of LTE will impose a new set of requirements on backhaul.

A comprehensive five-year forecast for the packet backhaul market, broken down by geographic region, network segment, and access medium.

Case studies of three leading service providers – China Mobile, Cox Communications, and Zayo Bandwidth – examining their plans to leverage P-OTS for mobile backhaul

Detailed profiles of 14 leading optical transport equipment providers, analyzing their mobile backhaul products and strategies



STERLING PERRIN
Senior Analyst,
Heavy Reading
Sterling's coverage areas at Heavy Reading include optical networking, cable MSO infrastructure and services, and digital content...

More
To view reports you will need Adobe's Acrobat Reader. If you do not have it, it can be obtained for free at the Adobe web site.


The Future of Packet-Optical Transport for Mobile Backhaul
Even casual observers recognize that mobility is what's driving the telecom industry today. More specifically, the driving force is mobile broadband – using high-speed mobile connections for packetized data and multimedia applications. Pyramid Research forecasts that the number of mobile broadband connections worldwide will reach 1 billion during 2012. The excerpt below breaks out the mobile broadband connection forecast by 3G and 4G technology types.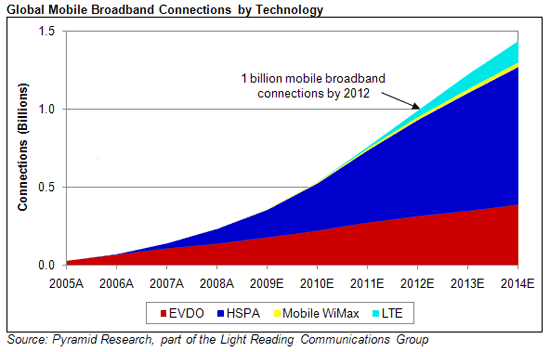 High Speed Packet Access (HSPA) is expected to overtake Evolution-Data Optimized (EVDO) as the dominant mobile broadband technology by the end of this year, a significant occurrence given the high bandwidth of HSPA-based services compared to EVDO-based services. In short, mobile broadband connections are set to increase dramatically, along with the bandwidth per connection. As a result, mobile broadband traffic is set to boom over the next five years at rates three times the rate of wireline traffic.

Clearly, the mobile broadband boom and the evolution to advanced 3G and new 4G technologies is good news for the mobile equipment suppliers. But mobile broadband is not just about wireless technologies, as there is also a critical wireline element in mobile backhaul: connecting the cell towers with the mobile switching sites deeper in the network.

Sonet/SDH equipment has played a key role in mobile backhaul for many years, supporting 2G voice and early 3G services. The role of Sonet/SDH in wireless networks is analogous to its role in wireline networks, in which Sonet/SDH equipment aggregates traffic from multiple TDM-based equipment (T1/E1 lines) and feeds it over optical fibers into the metro core. In the case of mobile backhaul, those T1/E1 lines are attached to cell towers.

Particularly in the past couple of years, the impact of mobile backhaul on the Sonet/SDH equipment market has been huge. Conservatively, we estimate more than 60 percent of multiservice Sonet/SDH equipment revenue in 2009 was derived from mobile backhaul. That percentage amounts to $3.4 billion spent on multiservice Sonet/SDH for mobile backhaul in 2009.

However, the tides are set to change rapidly as the mobile industry moves to advanced 3G and 4G networks that require packet capacities beyond the capabilities of multiservice Sonet/SDH-based backhaul networks. Significantly, operators surveyed by Heavy Reading do not believe that Sonet/SDH is the right choice for their next-generation packet mobile backhaul networks. Just as the wireline telecom industry moves from multiservice Sonet/SDH equipment to packet-optical transport equipment, so will the mobile telecom industry. Given the industry's expectations for advanced 3G and 4G adoption, the migration away from multiservice Sonet/SDH backhaul is set to happen quickly. There is a lot at stake for equipment suppliers.

The Future of Packet-Optical Transport for Mobile Backhaul focuses specifically on the role of packet-optical transport systems (P-OTS) in mobile backhaul applications. This relatively new class of equipment combines traditional Sonet/SDH functionality with high-capacity Ethernet switching and WDM transport to provide scaleability for network traffic growth while bridging the gap between TDM networks and Ethernet/IP networks.

This report analyzes the mobile backhaul landscape with a focus on Ethernet-based mobile backhaul and how packet-optical transport equipment fits into this new application. The report explores the key packet-optical transport equipment trends in mobile backhaul, highlighting both the opportunities for P-OTS and the challenges faced – particularly the rising competitive threat from carrier-class Layer 2/3 switching equipment.

DOWNLOAD TABLE OF CONTENTS
DOWNLOAD LIST OF FIGURES
PRINT EXECUTIVE SUMMARY

This report provides five-year worldwide forecasts for P-OTS in mobile backhaul, broken out by access, aggregation, and metro core segments. It also examines the backhaul network plans of three leading network operators and profiles 14 leading suppliers of mobile backhaul optical equipment.

For a list of companies analyzed in this report, click here.

Heavy Reading divides the optical opportunity for packet backhaul into three network segments: access, edge/aggregation, and metro core. The access network will be dominated by lower-capacity access P-OTS equipment that sits at the cell tower and feeds traffic into aggregation sites. We see midrange-capacity P-OTS sitting at edge/aggregation sites, collecting traffic from cell sites. The excerpt below shows Heavy Reading's global forecast for P-OTS for mobile backhaul applications, broken out by network segment.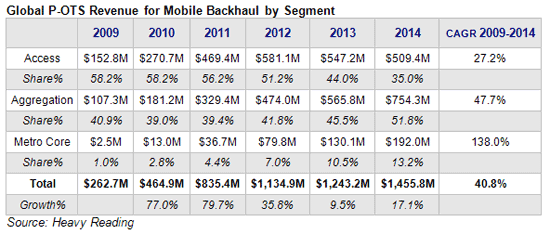 Report Scope and Structure

The Future of Packet-Optical Transport for Mobile Backhaul is structured as follows:

Section I includes a full executive summary and report key findings.

Section II provides an overview of the mobile backhaul market and the role of optical transport equipment in mobile backhaul applications.

Section III details Heavy Reading's five-year optical transport equipment forecasts for mobile backhaul applications.

Section IV profiles the major mobile operators and mobile backhaul wholesale providers China Mobile Communications Corp., Cox Communications Inc., and Zayo Bandwidth.

Section V profiles 14 leading suppliers of mobile backhaul optical equipment.

The report is essential reading for a wide range of industry participants, including the following:

Telecom service providers: How will the expected growth of mobile data traffic impact your network and business model going forward? What technology options are available to help evolve your mobile backhaul network to the new, packet-centric paradigm? What challenges can you expect to encounter when implementing P-OTS equipment in your network? Which technology suppliers are in the best position to help you prepare for your future backhaul needs?
Telecom equipment vendors: How do your products and solutions stack up against those of your competitors in the P-OTS equipment arena? Is your current and anticipated product portfolio in line with service providers' needs in dealing with the growth of mobile backhaul traffic? What options are available for addressing the challenges of timing and synchronization in packet-based networks? Which technologies are service providers most interested in for managing their future backhaul networks?
Investors: How is the global packet backhaul market expected to grow over the next five years? Which technology providers are likely to emerge as leading suppliers of packet-optical backhaul solutions? How is P-OTS equipment positioned to compete with CEAP, CESR, and PON equipment in the packet backhaul over fiber segment? How will new approaches to mobile backhaul technology influence winners and losers in this growing marketplace?
The Future of Packet-Optical Transport for Mobile Backhaul is published in PDF format.