36 pages of analysis based on Heavy Reading's 2013 Microwave Networking Survey, as well as interviews with senior individuals with responsibility for mobile backhaul planning in mobile operators around the world

In-depth examination of how microwave is used in mobile backhaul networks today, how mobile operators think about microwave backhaul's future, and the role of different packet protocols in the backhaul network's access and aggregation layers

Exploration of the case for Converged Microwave Routers (CMRs), including the core drivers for operators to deploy CMRs and potential barriers to adoption
PATRICK DONEGAN
Senior Analyst,
Heavy Reading
Donegan has more than 20 years of experience as a telecom market journalist, analyst, and strategist. His in-depth knowledge of wireless technology...

More
To view reports you will need Adobe's Acrobat Reader. If you do not have it, it can be obtained for free at the Adobe web site.


REPORTS
/
EXECUTIVE SUMMARY
At the outset of the mobile broadband era – when High Speed Packet Access (HSPA) finally started delivering something like a "true" mobile broadband experience – doubts were expressed about the long-term role of microwave equipment in mobile backhaul networks. If the industry was on a path to download speeds of tens of Mbit/s per user of a mass-market service, some believed that where the backhaul network was concerned, "only fiber would do."

The last five years have seen a tremendous response to this challenge from the microwave networks industry. Responding to operator requirements, microwave equipment vendors have aggressively driven their roadmaps and their cost per bit down with new generations of Carrier Ethernet and other IP networking protocols. Vendors have successfully delivered equipment capable of supporting capacities in the hundreds of Mbit/s per link and now the Gbit/s per link. This has served to ensure that while fiber has indeed remained the preferred choice of Layer 0 (L0) technology for backhaul networks up to now, microwave has continued to provide a superior cost and time-to-market profile for a great many deployment environments, while also providing sufficient capacity to meet requirements.

Carrier Ethernet switching has become a common feature of microwave backhaul networks. Whether deployed by a separate vendor alongside the microwave equipment or delivered as an integrated solution by the same vendor, mobile operators have leveraged L2 switching to enhance performance and efficiency in the network as they have evolved their capacity requirements for the demands of the mobile broadband era. In recent years, some have gone further, rolling out IP/MPLS routing functionality, initially in the aggregation layer and more recently in the access layer of the backhaul network.

As LTE is rolled out, mobile operators are looking again at the optimal balance in their backhaul networks between fiber and microwave, as well as between L2 Carrier Ethernet and L3 IP/MPLS. As this rollout progresses, there is accumulating evidence that, from a backhaul perspective, mobile operators view microwave networks as creating something of a discontinuity – not in the sense of requiring them to dismantle what has been built for 3G, scrapped and replaced; but rather in the sense of a substantial step change in requirements, whether it be in terms of the capacity required, the flexibility needed to deliver that capacity, or the performance that is expected in terms of QoS and latency.

Converged Microwave Routers: A Heavy Reading Survey Analysis assesses demand among mobile operators for integrated products that combine a microwave radio product and an IP/MPLS router product. Consistent with the reevaluation of requirements that operators throughout the world are undertaking, this report leverages an exclusive survey of mobile operators to gain insight into their thinking about the role of microwave backhaul networks and the case for a Converged Microwave Router (CMR).

DOWNLOAD TABLE OF CONTENTS
DOWNLOAD LIST OF FIGURES
PRINT EXECUTIVE SUMMARY

This report is based on Heavy Reading's 2013 Microwave Networking Survey, which was conducted in the spring of 2013. In addition to the 85 qualified respondents to our 25-question online survey, this report also takes account of the feedback provided by eight real-time telephone interviews conducted with senior individuals with responsibility for mobile backhaul planning in mobile operators in different regions of the world.

Of the final qualified survey sample of 85 mobile operator respondents analyzed in this study, 93 percent of their companies use microwave backhaul to some extent, with just 7 percent not actually using it today but planning to use it in the future. For 59 percent of respondents, microwave accounts for "most" or "a lot" of their company's backhaul, while it accounts for just "some" of the backhaul for 34 percent of respondents, as shown in the excerpt below.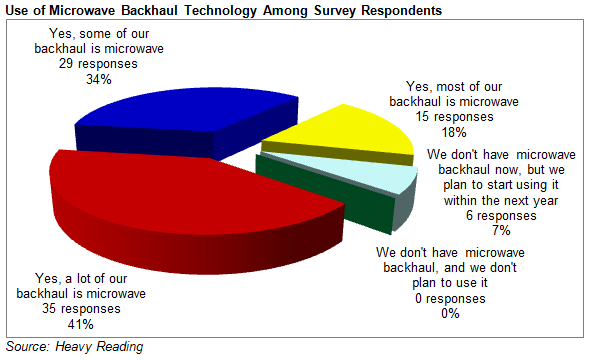 About one third of mobile operators that use microwave backhaul consider it "very likely" that their company will deploy a CMR in the backhaul network in the next three years, as shown in the excerpt below. Easier management/less complexity is the single most important value proposition of a CMR, highlighted by 37 percent of respondents, followed by lower cost, identified by 31 percent. Both of these value propositions speak to the singular importance of bearing down on total cost of ownership, which is the single most important challenge mobile operators say they face in evolving their microwave backhaul networks.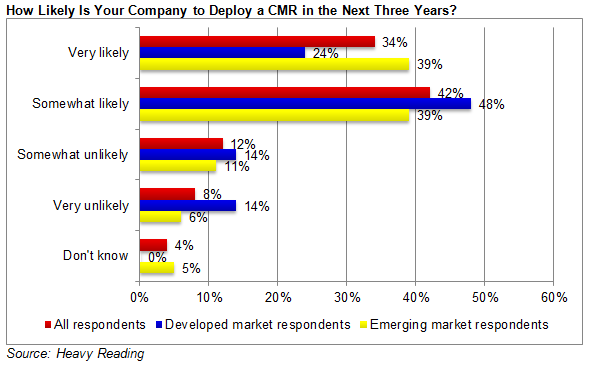 Report Scope & Structure

Converged Microwave Routers: A Heavy Reading Survey Analysis is structured as follows:

Section I is an introduction to the report, with complete report key findings.

Section II provides hard survey data with respect to how widely microwave is used in the world's mobile backhaul networks today and how cell sites using microwave are configured, for example as regards how many network elements there tend to be at these sites and whether routing or switching elements are already deployed or not.

Section III delves into how mobile operators are thinking about the role of microwave backhaul networks as they evolve in the coming years. Their assessment of what are the biggest upcoming challenges where microwave backhaul is concerned is shared and analyzed, together with issues such as their assumptions about what their capacity requirements will be.

Section IV explores the role that mobile operators see for different packet protocols in the access and aggregation layers of their backhaul networks over time, and in particular the role for different L2 and L3 packet protocols.

Section V shares the findings from our survey on how mobile operators perceive the case for a Converged Microwave Router (CMR), examining factors that impact how operators view this product type, the core drivers for operators to deploy such a product, and the issues that operators see as potential barriers to adoption.

Converged Microwave Routers: A Heavy Reading Survey Analysis is published in PDF format.