40 pages of analysis of the drivers for BSS refresh, including the key attributes a next-generation solution must have and key industry trends that are impacting the market

Exclusive results of a Web-based survey of network operators worldwide, providing insight into the perceived benefits of a unified, converged BSS approach

Profiles of 16 leading vendors in the BSS space, exploring the key dimensions that we believe are critical to be effective as a next-generation billing player

ARI BANERJEE
Senior Analyst,
Heavy Reading
Banerjee focuses on service provider IT, including all aspects of telecom software research. His area of focus includes all aspects of BSS, OSS, SDP...

More

SARAH WALLACE
Senior Analyst,
Heavy Reading
Wallace focuses on service provider IT, including all aspects of OSS/BSS. She also focuses on OSS/BSS managed services, analytics, mobile commerce and mobile banking...

More
To view reports you will need Adobe's Acrobat Reader. If you do not have it, it can be obtained for free at the Adobe web site.


Monetizing Data: The Role of BSS in the Digital Revolution
We are today on the cusp of a new era in data monetization. Service providers have woken up to the fact that flat-rate business models cannot be sustainable for them in the long run. To remain profitable, they need to tie data and bandwidth consumption with revenue inflow. In order to transition from an all-you-can-eat model to a tiered service model, telecom operators need an underlying IT fabric that is not only real-time and flexible, but also understands the nuances of business and network policies.

The convergence of communications and media in this market creates an excellent opportunity for operators to play a bigger role in content distribution. If they want to see revenue lift from content services, operators must embrace the indirect model for streamlined content distribution, empowering them to more tightly integrate their role in the content value chain with the media and entertainment organizations that currently act as the originators.

To maximize the revenue opportunity, operators need to personalize their service plans around specific consumer activities and behaviors such as video sharing, online gaming or live content streaming, not around blind bandwidth levels. To avoid being marginalized as bit-pipe carriers, operators need to be able to create customer loyalty, provide optimum customer experience and implement and monetize innovative, tiered business models.

Service providers need a paradigm shift in how they measure their business. Revenue optimization metrics – such as measurement of how service providers capture revenue when there is an opportunity, how they can capitalize on impulse purchases and how they convert customer complaint calls into upsell opportunities – demand that they access, leverage and capitalize on real-time customer insight.

Monetizing Data: The Role of BSS in the Digital Revolution analyzes the drivers for business support system (BSS) refresh, looks at the key attributes that a next-generation solution must have and examines key industry trends that are impacting the BSS market today.

DOWNLOAD TABLE OF CONTENTS
DOWNLOAD LIST OF FIGURES
PRINT EXECUTIVE SUMMARY

This report also analyzes 16 prominent vendors in the BSS space, including the key solution attributes that are table stakes for vendors to effectively help operators maximize their revenue potential from the digital revolution that has engulfed the communications space today.

The reality is that operators today are struggling to address the real-time needs of their subscribers effectively, and they are the first to admit that it negatively impacts their revenue potential. The excerpt below highlights how operators are struggling to get the right offers to market and handle real-time issues effectively.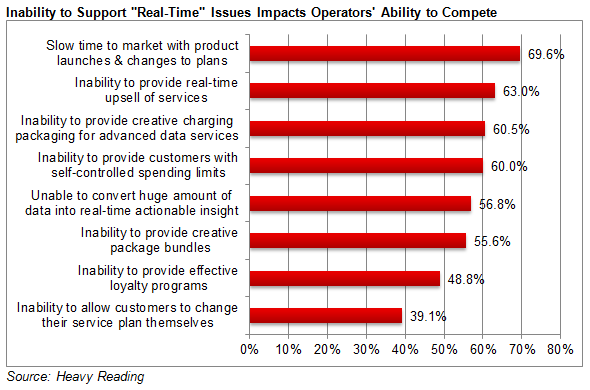 Service providers need to shop wisely and look for BSS vendors that will be able to provide flexible, scalable, real-time solutions that can handle the demands of their next-generation services such as cloud, M2M, 4G, etc. The excerpt below summarizes the key ingredients of vendor solutions.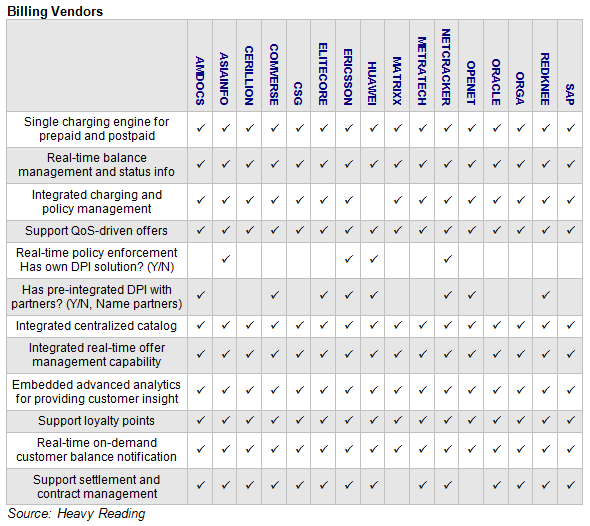 Report Scope & Structure

Monetizing Data: The Role of BSS in the Digital Revolution is structured as follows:

Section I is an introduction to the report, with complete report key findings.

Section II explores the evolution of BSS into more flexible, real-time platforms that can deepen subscriber and network insights and simplify and personalize the subscriber experience.

Section III examines the coming revolution in data monetization and presents five key advanced analytics use cases for operators.

Section IV evaluates the importance of a two-sided business model in which telecom operators transform from conventional service providers to multi-product B2C and B2B companies.

Section V analyzes 16 key vendors in the telecom billing space, looking at the key dimensions that are critical for them to be effective as a billing player.

Section VI presents the conclusions of this report.

Monetizing Data: The Role of BSS in the Digital Revolution is published in PDF format.