21 SDN, CARRIER ETHERNET & CLOUD SERVICE PROVIDERS COVERED

38 pages of analysis on service provider perspectives regarding SDN, carrier Ethernet 2.0 and cloud services and technology

Unique insight into the opinions and strategies of many senior professionals shaping the direction of the carrier Ethernet and SDN markets

Service provider perspectives on additional areas of technology innovation, including data centers, interconnection and wholesale services, small-cell backhaul, service activation, provisioning and management, multiple CoS, and 100GE technology

STAN HUBBARD
Senior Analyst,
Heavy Reading
Stan has more than 15 years of experience in wireline-related business analysis and strategic marketing. His current focus is on carrier Ethernet services and equipment markets...

More
To view reports you will need Adobe's Acrobat Reader. If you do not have it, it can be obtained for free at the Adobe web site.


SDN, Carrier Ethernet 2.0 & Cloud Converge
This report is centered on communications service provider perspectives shared at Light Reading's Ethernet Expo Americas event held in New York City during November 6-8, 2012. This is the third report prepared by Heavy Reading that captures service provider highlights from Light Reading's popular and longstanding Ethernet events. It leverages Heavy Reading's unique ability to assemble many of the industry's leading service provider and technology experts to spotlight key trends, progress and challenges for the carrier Ethernet (CE) industry. The report provides a window into the evolution of the carrier Ethernet and software-defined networking (SDN) markets unavailable from any other source.

Nearly all of the service provider speakers at the Expo were members of Heavy Reading's global Ethernet Executive Council (EEC). Launched in September 2011, the EEC is a value-rich community of 124+ senior service and technology experts from 76+ service providers worldwide. These individuals represent a Who's Who of professionals shaping the direction of the carrier Ethernet and Ethernet-enabled cloud services markets and helping guide the development of advanced network technologies. Views expressed by equipment vendors and other non-service provider speakers at Ethernet Expo are beyond the scope of this report.

SDN, Carrier Ethernet 2.0 & Cloud Converge captures the perspectives of these service provider speakers, who covered a wide range of topics regarding SDN, carrier Ethernet 2.0 and cloud services and technology. This is a must-have report for industry players and investors who want to keep up with latest trends, because it provides unique insight into the opinions and strategies of many senior professionals shaping the direction of the carrier Ethernet and SDN markets.

DOWNLOAD TABLE OF CONTENTS
DOWNLOAD LIST OF FIGURES
PRINT EXECUTIVE SUMMARY

SDN, Carrier Ethernet 2.0 & Cloud Converge includes perspectives from 21 SDN, carrier Ethernet and cloud service providers, including many EEC members and special guests.

Click here for the full list of included vendors.

Margaret Chiosi, the Executive Director of AT&T Labs, has been co-leading the MEF's cloud-related initiatives and is a founder of the recently formed NFV forum within ETSI. She shared her thoughts on SDN and how operators anticipate using SDN technology, including virtualization. Chiosi shared a perspective on how MEF CE 2.0 fits into the SDN environment. Up to now, the MEF has focused on service definitions for the WAN, but the organization is having deep discussions about defining intra-data center (LAN) CE services.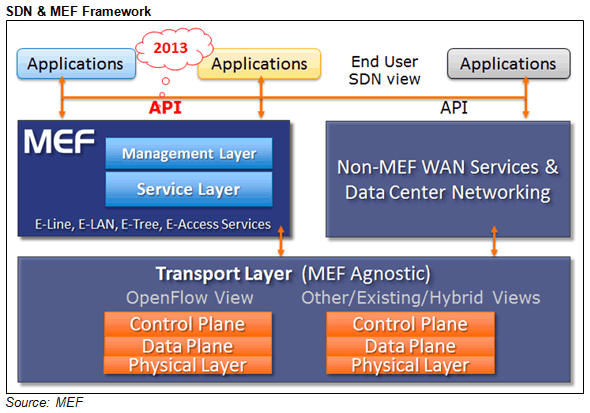 Mike Rouleau, SVP of Business Development & Strategy at tw telecom, gave a keynote focused on the evolution of CE networks for on-demand cloud services. He explained important challenges faced by IT professionals, highlighted the industry's transition to a dynamic Telco 2.0 service model, identified key network capabilities that enable cloud and shared his outlook for SDN-enabled real-time capacity management and cloud broker services. Characteristics of the Telco 2.0 service model are highlighted in the excerpt below.





Report Scope & Structure

SDN, Carrier Ethernet 2.0 & Cloud Converge is structured as follows:

Section I is an introduction to the report, with complete report key findings.

Section II explores service provider and MEF perspectives and initiatives related to the convergence of SDN, CE 2.0 and cloud services and networking.

Section III provides additional service provider perspectives on hot service and technology topics, including: carrier SDN; next-generation Ethernet business and cloud services; data centers, interconnection and wholesale services; small-cell backhaul; service activation and management; multiple CoS; 100GE; and carrier Ethernet access technologies.

SDN, Carrier Ethernet 2.0 & Cloud Converge is published in PDF format.