46 slides of in-depth results from our exclusive survey of Ethernet Executive Council executives

Detailed analysis of a full range of deployment and business issues facing carrier Ethernet service providers, based on survey results

Exploration of where Council member companies are in terms of evaluating, testing, trialing or deploying next-gen Ethernet technologies

Specific recommendations from Council members about where the Ethernet industry should focus its resources in the coming years
STAN HUBBARD
Senior Analyst,
Heavy Reading
A communications professional with extensive experience in wireline-related business analysis and strategic marketing, prior to joining Heavy Reading Hubbard spent seven years with Ciena – most recently as director of market intelligence...

More
To view reports you will need Adobe's Acrobat Reader. If you do not have it, it can be obtained for free at the Adobe web site.


Ethernet Executive Council State-of-the-Industry Survey Report
In September 2011, Heavy Reading launched the global Ethernet Executive Council to honor individuals who are helping drive Ethernet and cloud services market growth; strengthen information sharing among service provider experts; and provide analytical insights that can help accelerate carrier Ethernet-related market growth.

To date, 104+ executives and other senior experts from 65+ service providers worldwide have accepted invitations to join the Council. These individuals have a wealth of expertise related to Ethernet-based business/cloud, wholesale, mobile and residential services and/or the converged Ethernet/MPLS/packet optical network infrastructure used to deliver these services. Nearly 90% of Council members are at the director level or above; 64% of members are involved in corporate management, marketing or product management, while 36% are network technology experts.

From mid October to mid November 2011, Heavy Reading surveyed this group to explore their views regarding the current direction and future prospects for the global carrier Ethernet market. This survey received 57 responses from 42 service providers worldwide. (Some operators provided a single response that represented aggregated feedback from members within a company, so the actual number of members involved exceeded 60.)

The Ethernet Executive Council State-of-the-Industry Survey Report provides complete results of an in-depth survey conducted by Heavy Reading in the fourth quarter of 2011 covering a full range of deployment and business issues facing carrier Ethernet service providers. Executives from more than 40 operators worldwide participated in the first-ever survey of the Ethernet Executive Council, a group founded in 2011 to foster deeper cooperation and information sharing among network operators.

The vast majority of Council members agree that the industry is generally moving in the direction of a broadband utility model in which utility computing and storage capabilities (located in data centers) are connected by low-latency Ethernet and wavelength services and are delivered to a customer – with an on-demand option – through a single Ethernet user network interface that can handle many applications with SLA guarantees.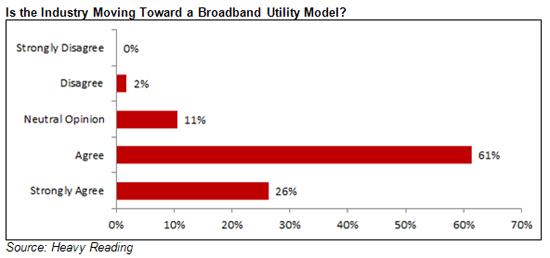 Despite the general agreement on the move toward a utility model, the opinions of Council members were mixed when asked if they thought that network operators are in a technical commodity business that requires them to be low-cost producers in order to succeed. On one hand, continued price erosion/commoditization scored as the No. 1 factor negatively impacting service provider revenues. On the other hand, a strong majority of Council members indicated that they still see many opportunities for differentiation in a competitive market.

Key trends that will drive further demand for carrier Ethernet services include the growth of cloud-based services, the need for scalable and affordable on-demand bandwidth, and the anticipated massive growth of mobile data driven by smartphone adoption

Council member feedback indicates there has been a major increase in strategic activity related to cloud services over the past year. The vast majority of telecom operator respondents said their companies are either offering cloud services or are taking steps to offer them. Even so, we are still in the early stages of telecom operator involvement in the cloud market: Just 26% of Council members said they have a fully integrated cloud strategy and have prioritized the cloud in their sales and marketing efforts.




Going forward, Heavy Reading will conduct Ethernet Executive Council surveys on a regular basis, sharing all survey data with Council members and sponsors at no charge.
The first Ethernet Executive Council State-of-the-Industry Survey Report is published in PDF format.