Simon Sherrington
Contributing Analyst,
Heavy Reading
Simon is an independent consultant who contributes regularly to Heavy Reading projects...
MORE
Danny Dicks
Contributing Analyst,
Heavy Reading
Danny is an analyst and consultant with more than 20 years' experience in technology markets who contributes regularly to Heavy Reading...
MORE
To view reports you will need Adobe's Acrobat Reader. If you do not have it, it can be obtained for free at the Adobe web site.


REPORTS
EXECUTIVE SUMMARY
Several small-scale 5G service "launches" have been announced in the Middle East and in the Nordic region. These are only available in very small geographical areas, with very limited availability of devices that customers can use; indeed, many would consider these to be precommercial. A wave of large-scale 5G deployments is due in the coming months, particularly in the U.S. before the end of 2018 and in South Korea in early 2019.

With these launches very much in mind, vendors are working hard to ensure that they are in a position to supply the billions of dollars' worth of radio access network (RAN) infrastructure that operators will need in order to deploy their 5G networks globally over the next decade. This is just the start of a 5G spending spree that will likely cost operators worldwide many tens of billions of dollars in the coming years.

Vendors have widely reported having to work much faster than they expected to develop working 5G technologies. Operators have asked for pre-standard versions that are capable of being upgraded as the standards evolve, enabling them to build out pilot and more recently precommercial networks. They have also had to demonstrate sensible upgrade paths from 4G Long Term Evolution (LTE) – hence the rise in "5G-ready" investments that have recently been announced, particularly in technologies such as massive multiple input/ multiple output (MIMO), which works well to increase LTE capacity and will be a bedrock of 5G service capability.

Although there is a lot of noise about upcoming 5G launches, 5G R&D is not done and dusted. There is considerable ongoing product development just to get the initial production hardened non-standalone (NSA) 5G products to market and into operational commercial networks. Vendors are set to make a rash of "5G now commercially available"-type announcements over the next six to nine months. But beyond that, system improvement and optimization (including important work to continue to reduce the size and power requirements of 5G systems), adding support for 5G standalone (SA) and catering for 3GPP Release 16 enhancements will guarantee continued product evolution for years to come.

The open RAN movement has tremendous operator and selective vendor backing. It seems highly likely that at some point the open RAN community will secure some project wins. These are initially likely to be for SA (or largely separate) 5G projects, perhaps focused on fixed wireless access (FWA) broadband in developing markets where existing revenue streams will not be threatened.

While networks will get deployed, a distinct lack of smartphones (and hence customers able to use the networks) will slow demand to deploy 5G RAN infrastructure for mobile services until well in 2019 and possibly beyond.

5G RANs: Vendors' Emerging Portfolios analyzes key vendors' state of progress at this critical juncture in the evolution of the 5G market. It looks at the 5G RAN solutions they are offering now, timelines for commercial 5G technology launch, and customer trial and contract announcements. Further, the report compares some of the differences in the solutions coming to market and profiles eight leading vendors.

VIEW COMPANIES COVERED
VIEW TABLE OF CONTENTS
VIEW EXECUTIVE SUMMARY AS PDF


This report considers the RAN vendors with the largest global installed base for 3G and LTE equipment, a couple of players aiming to get much larger RAN equipment share in the 5G world and a potential new entrant. The following excerpt summarizes their general 5G portfolio plans. They differ in terms of when they expect to launch their 5G solutions on a fully-commercial basis, what that initial launch will cover, whether they will provide their own 5G user devices and what transport and core technologies they can offer.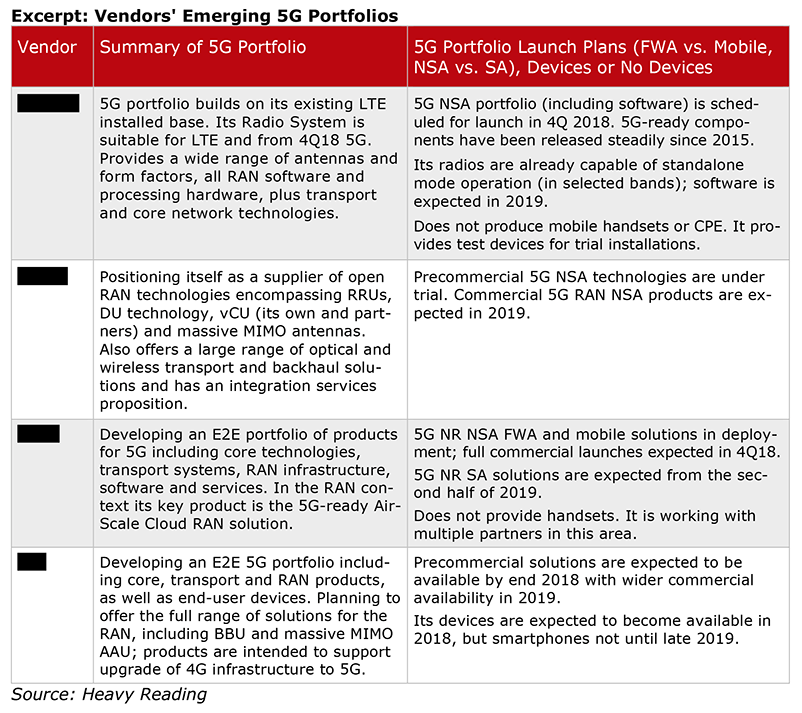 5G RANs: Vendors' Emerging Portfolios is published in PDF format.