Simon Stanley
Analyst at Large,
Heavy Reading
Simon is an independent consultant who contributes regularly to Heavy Reading and other Heavy Reading projects...
MORE
To view reports you will need Adobe's Acrobat Reader. If you do not have it, it can be obtained for free at the Adobe web site.


REPORTS
EXECUTIVE SUMMARY
As the mobile industry prepares for the introduction of 5G services, we have seen significant investment in components to implement 5G/LTE macro and small base stations, centralized and cloud radio access networks (C-RANs), remote radio heads (RRH), customer premises equipment (CPE) and handset modems, and Internet of Things (IoT) systems. The latest components support 3GPP Release 13/14 LTE-Advanced Pro with throughput up to 2 Gbit/s and 5G New Radio (NR) with throughput up to 5 Gbit/s. For IoT/machine-to-machine (M2M) applications, narrowband IoT (NB-IoT) and Cat-M modems provide cost-effective connectivity and for smart cities and local hotspots, LTE over unlicensed spectrum and 60 GHz links offer attractive alternatives.

The success of carriers in delivering high-quality mobile data services using LTE is opening up new opportunities for enhanced mobile broadband (eMBB), fixed wireless access (FWA), industrial wireless, vehicle communications and IoT connectivity. Solutions for LTE-Advanced Pro implement many new technologies to enable these applications and developments for 5G to take this further with more flexible waveforms, low-latency operation, network slicing, massive multiple input/multiple output (M-MIMO) and beamforming. The shift to 5G is opening up significant network capacity, with new spectrum becoming available for 5G in both sub-6 GHz and millimeterwave (mmWave) bands.

Network virtualization is already having a significant impact on mobile infrastructure. The LTE packet core is increasingly being implemented using virtual functions, and the RAN is moving from a distributed architecture to a virtualized architecture with RRHs and virtual baseband units. The 5G packet core is defined as a virtualized architecture, and this approach is enabling flexible deployment scenarios as carriers migrate from LTE to 5G. This virtualized approach for both LTE and 5G requires: software-defined radio (SDR); low-latency, Ethernet-based, fronthaul connections to RRHs; and flexible baseband processing with hardware acceleration. The latest base station devices support these requirements with multiple options for RRHs, small-cell base stations and macrocells. In addition to these merchant silicon devices, other options include IP for FPGAs and ASICs.

Most LTE-enabled phones use integrated application processor and LTE modem devices. Apple continues to use discrete LTE modems from Intel and Qualcomm. For other applications, including FWA, discrete LTE modems are required for CPE systems. Many of these systems only need to support LTE or 5G. There are at least 10 vendors supplying these discrete LTE or 5G modems, offering throughputs from 150 Mbit/s to 5 Gbit/s.

The introduction of NB-IoT and LTE Cat-M solutions is enabling ubiquitous and low-cost connectivity for IoT/M2M applications. NB-IoT can be implemented using very little spectrum or – where guard bands are used – no spectrum, helping carriers to offer very attractive services for IoT systems. The NB-IoT ecosystem is expanding rapidly, with many companies offering NB-IoT solutions.

The wireless communications market is very competitive, with multiple vendors developing baseband and radio frequency (RF) devices for base stations, CPE and IoT systems. The rapid pace of development for LTE fueled significant vendor consolidation, with market leaders acquiring smaller companies and several key players exiting the market. During the past few years, the market has been relatively stable; however, we are now seeing significant investments in 5G and new companies entering the market for NB-IoT and LTE Cat-M.

5G/LTE Base Station, RRH, CPE & IoT Components: A Competitive Analysis identifies and analyzes the full spectrum of vendors developing 5G, LTE and related components for base stations and user devices, including IoT/M2M. It includes not only granular information on the components themselves – of interest to system developers and service providers – but also insights into how the overall market and ecosystem is developing – of interest to a wide audience, including investors.

VIEW TABLE OF CONTENTS
VIEW TABLE OF FIGURES
VIEW COMPANIES COVERED
VIEW EXECUTIVE SUMMARY AS PDF


3GPP has defined several 5G deployment scenarios that cover various combinations of 5G and LTE RAN. The excerpt below shows the main options. 3GPP has focused first on options 2 and 3, and is now moving on to options 4 and 7. The use of virtual functions will allow operators to migrate from using NSA 5G NR to SA 5G NR, and from LTE EPC to 5G next-generation core (NGC).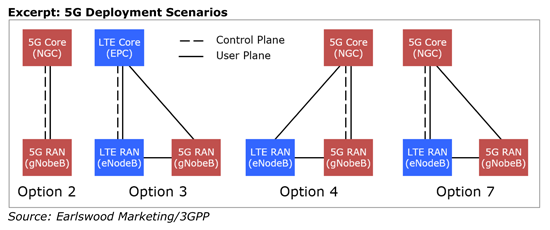 5G/LTE Base Station, RRH, CPE & IoT Components: A Competitive Analysis is published in PDF format.