Danny Dicks
Contributing Analyst,
Heavy Reading
Danny is an analyst and consultant with more than 20 years' experience in technology markets who contributes regularly to Heavy Reading...
MORE
Simon Sherrington
Contributing Analyst,
Heavy Reading
Simon is an independent consultant who contributes regularly to Heavy Reading projects...
MORE
To view reports you will need Adobe's Acrobat Reader. If you do not have it, it can be obtained for free at the Adobe web site.


REPORTS
EXECUTIVE SUMMARY
5G networks and services are pretty much with us, but there are still many years of product and service development, network rollout and service creation and delivery effort ahead. For the past few years, and into the future, test and measurement (T&M) will play a central role as 5G networks, devices, services and business models are worked out.

The long-term trends in T&M – virtualization and automation – are emphasized in 5G, as it will be essential to cost-effectively test networks and services that are supporting very many new use cases, all delivered from network slices. In fact, one could conceive of a "testing slice" as a way of simplifying some of the network testing that will be needed in live networks. This would require virtualized test resources, deployed where needed, and spun up or down as required.

The T&M market is enjoying a surge in 5G-related activity even though 4G network testing has not yet disappeared because 4G networks are still evolving; indeed, in some countries, new 4G networks are still being rolled out. The close relationship between 4G and 5G, in particular the use of the 4G core with 5G radio network, and the new technical challenges of testing chipsets, devices, base stations and RAN designed for mmWave spectrum, mean that T&M vendors have had to work hard alongside their NEP and operator partners to develop practical, economic testing methods.

In the short term, there is still a lot of 5G work to do in the lab, on the production line and in the field. It's a good time to be a T&M vendor.

5G Test & Measurement describes the very broad range of T&M activity happening now, and how activity will evolve over the next couple of years as networks start to be rolled out and services are switched on. It describes the specific challenges for testing that are a consequence of 5G – such as the use of higher frequency bands, denser networks and network slicing – and reviews the supply-side of the market. Finally, this report profiles 11 vendors that provide test solutions developed or used in the 5G ecosystem.

VIEW COMPANIES COVERED
VIEW TABLE OF CONTENTS
VIEW EXECUTIVE SUMMARY AS PDF


We are now at the stage where most – but not all – forms of T&M activity are taking place simultaneously, and vendors of T&M equipment are very pleased because a new generation of wireless technology brings with it new testing requirements. The following excerpt summarizes at a high level the testing required as 5G moves from academic and industry research labs into live networks delivering real services. Note that there is considerable overlap in the real world between the broad areas in the chart: components are not tested in isolation and each new release of a 5G feature involves testing in many places in the chart. However, the chart serves to structure discussion of the main issues and challenges of testing for 5G.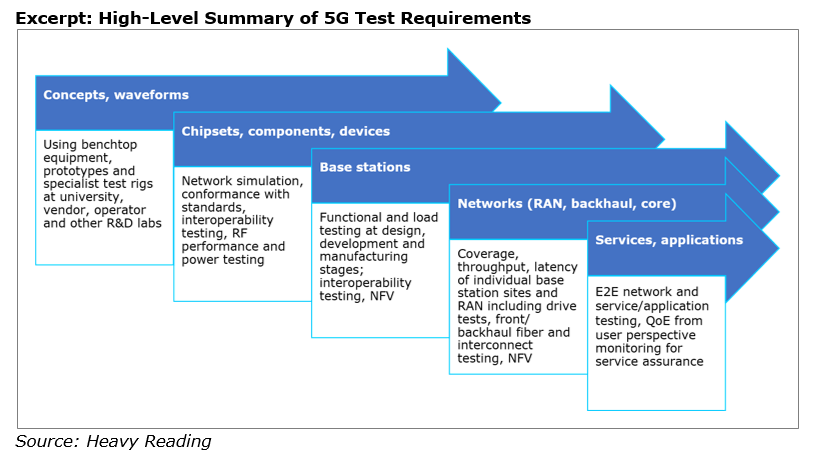 5G Test & Measurement is published in PDF format.