James Crawshaw
Senior Analyst,
Heavy Reading
James leads Heavy Reading's OSS/BSS research service. He examines the breadth of software used by CSPs in customer, business, service and infrastructure management...
MORE
To view reports you will need Adobe's Acrobat Reader. If you do not have it, it can be obtained for free at the Adobe web site.


REPORTS
EXECUTIVE SUMMARY
Depending on who you listen to, blockchain is either an overhyped oddity or a milestone in legal and financial innovation comparable to double-entry bookkeeping. In essence, blockchain is a decentralized, immutable electronic ledger; a write-once-read-many record of historical transactions, as opposed to a database that can be written over. Individual transactions are blocks in the chain (see excerpt below).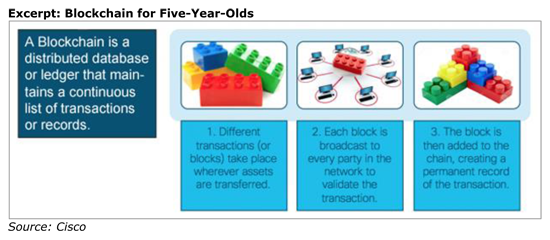 In a blockchain, a mathematical procedure is used to verify that a block is truly part of the legitimate chain. Parties to a transaction put their trust in math, instead of a traditional intermediary such as a government entity, broker or lawyer. Trying to fake a block in the chain is difficult, as the ledger is replicated and widely dispersed; one would need to hack into all the copies of the ledger and change each one individually in order to fool the collective system. If the cost of doing this outweighs the economic benefit, then the blockchain is safe.

So what relevance does blockchain have for the telecom industry? Blockchain Opportunities for CSPs: Separating Hype From Reality explores the drivers for adoption of blockchain by communications service providers (CSPs) and evaluates the main opportunities for blockchain in the telecom sector. The report also considers how to evaluate whether blockchain is appropriate for a particular use case and examines the main use cases that CSPs are investing in currently. Finally, the report profiles seven blockchain technology vendors with interesting propositions in this market.

VIEW COMPANIES COVERED
VIEW TABLE OF CONTENTS
VIEW EXECUTIVE SUMMARY AS PDF


We see five main opportunities for blockchain in the telecom sector:

Fraud Prevention: If blockchain-based security were to lead to a halving of fraud, this would save the telecom industry $19 billion annually, or 1.8 percent of total revenue.
Network Security: We see this as a risk-mitigation opportunity, not a cost-saving or new-revenue opportunity for CSPs.
Identity: Here we see a potential new revenue stream for CSPs as trusted entities providing identity management as a service (IDaaS).
Settlement: If mobile roaming settlement was to migrate to a lower-cost, blockchain-based alternative to existing systems, it might save the global mobile industry $650 million annually, or 0.04 percent of total revenue.
Mobile Payments: Blockchain could play a role in mobile payments as an alternative to established intermediaries.
Blockchain Opportunities for CSPs: Separating Hype From Reality is published in PDF format.