Denise Culver
Online Research Director, Heavy Reading
Denise manages Heavy Reading's Thought Leadership Council, which uses a focus group approach to glean insights from CSPs on topics ranging from automation, IoT, 5G, B/OSS transformation, SD-WAN and emerging technologies...
MORE
To view reports you will need Adobe's Acrobat Reader. If you do not have it, it can be obtained for free at the Adobe web site.
Published: 8/3/2018


REPORTS
EXECUTIVE SUMMARY
The message from service providers participating in the survey for this month's Thought Leadership Council (TLC) is clear: They're on the road to virtualization, but it's neither a certain path nor one that is necessarily being made easier to traverse through automation.

The overwhelming majority of communications service providers (CSPs) admit they're uncertain how they'll automate the orchestration of services with both physical and virtual resources. Nevertheless, of all available options to do so, none of the CSPs on this month's panel have plans to incorporate Open Network Automation Platform (ONAP) or Open Source MANO (OSM).

Panelists were almost equally divided in their attitudes toward open source and security automation. About 40 percent of CSPs say their companies consider open source and the deployment of security automation critical for ensuring the interoperability of automated solutions from best-of-breed vendors. The same number of CSPs say it's important, but not critical, to integrate open-source solutions for first-wave commercial deployments. However, the remaining panelists say deploying security automation isn't important at all because mass adoption of open source won't occur for several years.

The focus group covered in Thought Leadership Council: Open Source, Automation Not Easing Path to Virtualization was asked 10 questions about virtualization, security and multi-access edge computing (MEC) in relation to automation. The results clearly indicate that CSPs are frustrated with certain aspects of automation, especially as it relates to open source, but are continuing to develop plans for virtualization.

VIEW TABLE OF CONTENTS
VIEW EXECUTIVE SUMMARY AS PDF


TLC members were asked about their company's attitudes toward network and service automation. Results are shown in the following excerpt. Almost half of panelists, 46 percent, said they can't keep up with the overwhelming number of competing open-source and standards initiatives. Just more than 30 percent of TLC members believe that no single organization can develop something upon which the entire industry can agree.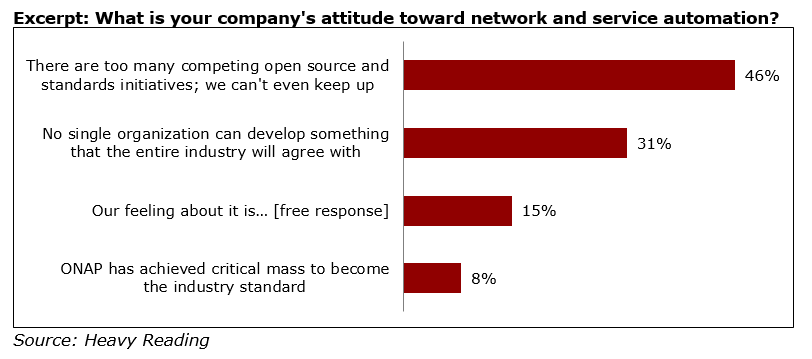 Thought Leadership Council: Open Source, Automation Not Easing Path to Virtualization is published in PDF format.