Craig Leddy
Contributing Analyst,
Heavy Reading
Craig is a veteran cable industry writer, speaker and market analyst, and a regular contributor to Heavy Reading...
MORE
To view reports you will need Adobe's Acrobat Reader. If you do not have it, it can be obtained for free at the Adobe web site.


REPORTS
EXECUTIVE SUMMARY
For cable providers, the current industry trend of digital transformation is passť; cable is well versed in delivering digital services. U.S. cable providers are undergoing a bigger change: wireless transformation. The larger cable companies are rolling out mobile services, expanding WiFi footprints, exploring spectrum opportunities and taking advantage of emerging wireless technologies, including 5G.

The transformation began a couple years ago as cable providers blanketed their service footprints with WiFi hotspots and homespots. That foundation gave cable the impetus to move forward with mobile services that rely upon WiFi and cellular capability in mobile virtual network operator (MVNO) partnerships.

While mobile likely will be the most-watched service in determining the success of cable's wireless foray, behind the scenes the industry is exploring a wide number of opportunities. The major cable companies are in various stages of trials and explorations of Citizens Broadband Radio Service (CBRS), which the Federal Communications Commission (FCC) has proposed for shared usage in the 3.5GHz band. Comcast and Cox Communications each have launched new business services using LoRa, a wireless protocol that's well suited for low-power wide-area networks (LPWANs) that can carry Internet of Things (IoT) commands over distances up to about 30 miles.

Cable leaders have seen the handwriting on the wall. For an industry rooted in wires, wireless service is a must. Cable companies need to find a way to play in the wireless space or face the prospect of being left behind by consumers or, worse, being usurped by 5G carriers.

Throughout its history, cable's naysayers have bet against the industry's ability to be successful at providing Internet access, VoIP phone service and initial MVNO mobile services. They lost the first two bets but won the third one when cable's early MVNO ventures failed. But this time, as cable providers increase their wireless presence utilizing numerous available technologies, cable will prove to be the winning bet.

Air Attack: Cable Adding New Wireless Weapons provides a comprehensive update of U.S. cable providers' wireless activity, including WiFi and MVNO mobile services, and adoption of emerging capabilities, including CBRS, LoRa and 5G. It includes a status report of the top four cable providers and a table of 19 suppliers serving the U.S. cable industry with wireless equipment and solutions.

VIEW COMPANIES COVERED
VIEW TABLE OF CONTENTS
VIEW EXECUTIVE SUMMARY AS PDF


The reasons for cable to move into the wireless arena have become obvious. Wireless could either bolster the cable industry or be used to compete against it. With pay-TV subscriptions declining and interest in landline phones waning, the cable industry needs new avenues for future growth. While it is building up its wired infrastructure for Gigabit Internet and new services, it can add wireless capability that creates a powerful converged delivery platform. A host of market trends, opportunities and threats are driving cable's wireless endeavors. Some of the key drivers are listed in the following excerpt.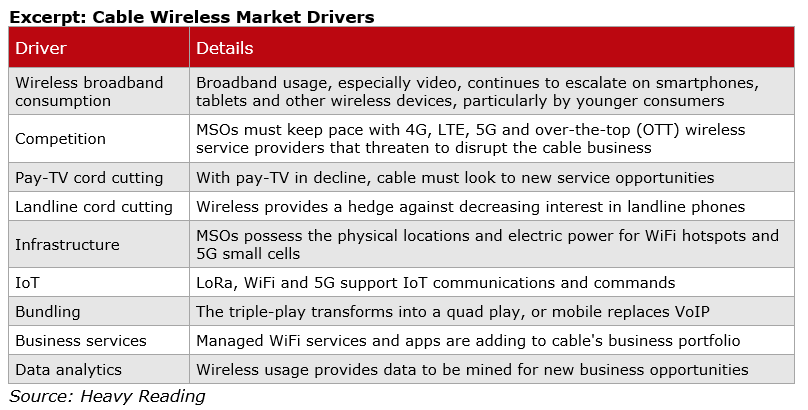 Air Attack: Cable Adding New Wireless Weapons is published in PDF format.