Simon Sherrington
Contributing Analyst,
Heavy Reading
Simon is an independent consultant who contributes regularly to Heavy Reading projects...
MORE
Danny Dicks
Contributing Analyst,
Heavy Reading
Danny is an analyst and consultant with more than 20 years' experience in technology markets who contributes regularly to Heavy Reading...
MORE
To view reports you will need Adobe's Acrobat Reader. If you do not have it, it can be obtained for free at the Adobe web site.


REPORTS
EXECUTIVE SUMMARY
In the early days of WiFi and 3G, operators and vendors invested significant effort in trying to understand how the two technologies would interact: whether 3G would wipe out WiFi, or vice versa, or whether we would see a world with a harmonious mix of both technologies.

At the advent of 5G we find people having the same discussion. Will 5G make WiFi redundant? If not, how will the two technologies fit together? And what should this mean for any individual company's strategy?

Whether or not WiFi has a future is not in doubt. The evidence is overwhelming that WiFi will be a major means of delivering wireless connectivity in coming years, all around the world. Organizations of many types will continue to invest in large-scale WiFi networks, and mobile network operators will not be the only types of firm deploying WiFi.

Delivering 5G service performance objectives will likely require a mix of licensed, shared and unlicensed spectrum approaches, but this does not mean that WiFi will necessarily be become a chargeable extension of mobile services. Customer expectations in most markets will simply not allow that. WiFi is seen as free at the point of access in many scenarios; and even where it isn't, building owners won't want to share control or money with the mobile operators.

Mobile operators should nonetheless pursue strategies that integrate their LTE and 5G networks with WiFi infrastructures as far as they can. Rather than planning a LTE/5G strategy to replace WiFi, they should take advantage of the cost, reach and customer satisfaction qualities it can deliver. They should be realistic about their very poor prospects of getting people to pay for better mobile in the home or office – particularly when they have had WiFi for "free."

WiFi Prospects in a 5G World explores recent patterns in WiFi deployment and improvements to the technology. It reviews the likely impact of business models, installed base of legacy infrastructure and vested interests – all of which will influence the evolution of the market – exploring how WiFi and 5G are likely to fit together.

VIEW TABLE OF CONTENTS
VIEW EXECUTIVE SUMMARY AS PDF


While WiFi technology has been steadily improving, so its adoption within global markets has continued to rise. In fact, there is no immediate sense that investors are shying away from WiFi in anticipation of the arrival of 5G networks. On the contrary, there are several reasons why WiFi will be around for a long time.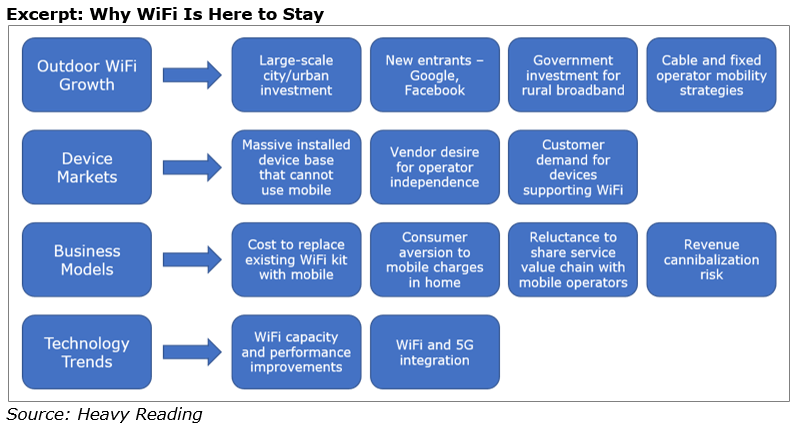 WiFi Prospects in a 5G World is published in PDF format.