Denise Culver
Online Research Director, Heavy Reading
Denise manages Heavy Reading's Thought Leadership Council, which uses a focus group approach to glean insights from CSPs on topics ranging from automation, IoT, 5G, B/OSS transformation, SD-WAN and emerging technologies...
MORE
To view reports you will need Adobe's Acrobat Reader. If you do not have it, it can be obtained for free at the Adobe web site.
Published: 6/5/2018


REPORTS
EXECUTIVE SUMMARY
More than half of service providers in this month's Thought Leadership Council (TLC) say their companies are already automating business and operations support systems (B/OSS). Furthermore, 60 percent of panelists also say automation will become a critical part of their company's B/OSS within two years.

For the most part, service providers on the council were cautiously optimistic overall about their company's B/OSS automation plans. Probably the clearest indicator of this is the fact that none of the panelists ranked their company's knowledge of B/OSS automation as excellent; instead, about 70 percent were ranked as either good or average.

The biggest obstacle that B/OSS automation faces, according to more than 70 percent of panelists, is a lack of skills associated with it. Panelists expressed frustration on numerous fronts, with one commenting, "There is a steep learning curve associated with implementing automation in B/OSS. Meanwhile, our scarce skillset dedicated to these types of projects are committed to other priority projects."

TLC circumvents traditional industry hype to ascertain how service providers are really responding to important industry technologies and trends. What makes this initiative so unique is that participants discuss issues in a completely anonymous forum, enabling them to share insights and express business realities that otherwise could not be shared.

This focus group covered in B/OSS Transformation Focus Group: B/OSS Automation Plans Equate to Cautious Optimism was asked 10 questions about B/OSS automation to ascertain deployment plans, technology, drivers and obstacles for B/OSS automation. The results clearly indicate that service providers have realistic goals and expectations for this technology, but they're also cognizant of the challenges they face as they continue to integrate automation.

VIEW TABLE OF CONTENTS
VIEW EXECUTIVE SUMMARY AS PDF


TLC members were asked to rate their company's general understanding of B/OSS automation. The panelists were evenly split, at 36 percent, between rating their companies as having a good and an average understanding of B/OSS automation. Eighteen percent of panelists say their companies have room for improvement in terms of understanding B/OSS automation. One such panelist clarified his answer by saying, "I think our understanding of BSS automation is good, but OSS automation understanding needs improvement." The panelist who gave his company a failing grade said, "The failing grade applies to the area in which I work. In other areas, the understanding of B/OSS automation is much better." None of the panelists gave their company an excellent rating.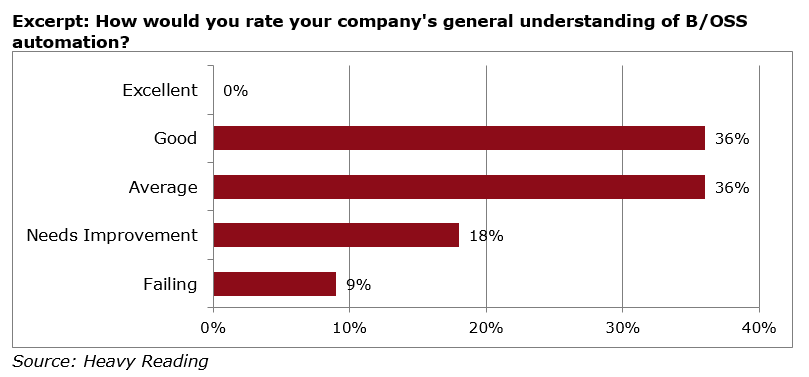 B/OSS Transformation Focus Group: B/OSS Automation Plans Equate to Cautious Optimism is published in PDF format.