Danny Dicks
Contributing Analyst,
Heavy Reading
Danny is an analyst and consultant with more than 20 years' experience in technology markets who contributes regularly to Heavy Reading...
MORE
Simon Sherrington
Contributing Analyst,
Heavy Reading
Simon is an independent consultant who contributes regularly to Heavy Reading projects...
MORE
To view reports you will need Adobe's Acrobat Reader. If you do not have it, it can be obtained for free at the Adobe web site.


REPORTS
EXECUTIVE SUMMARY
The prospects for private networks based on public cellular network standards have never been greater. Barriers to the adoption of technologies that were once the preserve of mobile network operators with licensed spectrum are falling rapidly: The cost and complexity of deploying and running a Long Term Evolution (LTE) (or even a future 5G) network is decreasing, and – crucially – the options for access to suitable spectrum are increasing in several ways.

While there have been some false dawns, there is now real excitement that private cellular networks can deliver real benefit to enterprises and other organizations, and this is spurring the vendor community to develop innovative products, solutions and deployment models, particularly in small cells and core network software.

Private LTE networks are growing in significance, and many of them will be built without public network operator help, using standards-compliant LTE base stations and EPC software from small vendors. But the larger vendors will ultimately sweep up much of this market, and there is an opportunity for operators to co-develop networks with enterprises and others – such as city authorities and specialist solution developers that may become vertically focused MVNOs – to open up new service opportunities where previously there would have been proprietary-technology, privately-owned networks. There are more of these opportunities than ever as businesses digitalize their activities and wireless connectivity becomes increasingly important to more organizations, from production lines in factories to precision agriculture on farms.

For operators, as for vendors, there should be much to gain from the upswing of interest in private LTE/5G. There are just two slight caveats: institutional-type organizations have traditionally liked to retain control over assets, which will require operators to work hard in developing their offers; and telecom-focused equipment vendors will need to ensure that they are highly nimble to evolve their portfolios to meet the evolving market needs. In particular, manageability and ease of deployment will be highly valued by the IT teams of enterprises looking at private network solutions.

LTE & 5G for Private Networks looks at the use cases for private LTE and future 5G networks, examining why LTE and 5G are better able than public cellular technologies of the past to meet the needs of enterprises and other organizations with specific requirements. Further, this report looks at the models for deployment and integration with network operators' public services, describes the market supply-side and profiles 12 leading vendors.

VIEW TABLE OF CONTENTS
VIEW COMPANIES COVERED
VIEW EXECUTIVE SUMMARY AS PDF


LTE and future 5G are powerful and flexible communications technologies, capable of supporting many requirements. The vast economies of scale that come with a global installed base and supply ecosystem, and the competitive market for service provision, mean that only organizations with very specific additional needs will contemplate using anything other than public cellular networks for wireless communications. But private networks exist, using multiple different network technologies, including LTE. The following excerpt covers the drivers for LTE use cases.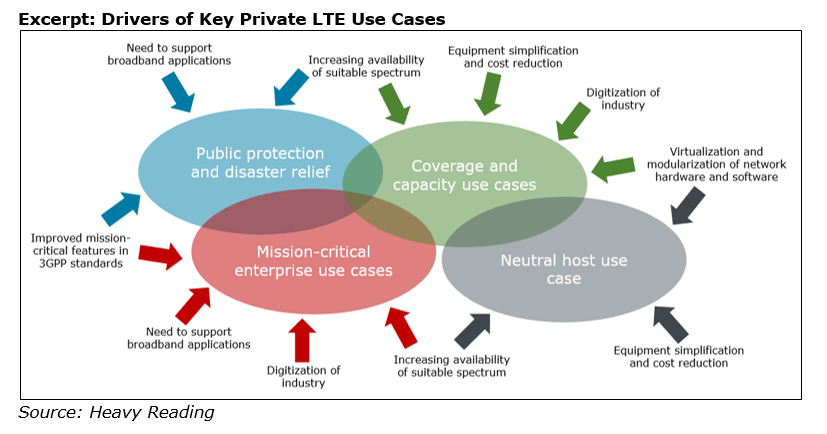 LTE & 5G for Private Networks is published in PDF format.