Craig Leddy
Contributing Analyst,
Heavy Reading
Craig is a veteran cable industry writer, speaker and market analyst, and a regular contributor to Heavy Reading...
MORE
To view reports you will need Adobe's Acrobat Reader. If you do not have it, it can be obtained for free at the Adobe web site.
Published: 4/18/2018


REPORTS
EXECUTIVE SUMMARY
The Internet of Things (IoT) is the trendy catchphrase for something that cable's been talking about for years: connected homes, automated services and voice controls. Buoyed by miniature sensors, cameras, artificial intelligence (AI) and wireless broadband, the much-discussed concepts are materializing into devices and applications that are quickly moving into homes and businesses. Big players such as Amazon, Apple, Google and a multitude of startups have jumped into the field.

But many players lack what cable already has: connectivity and customers. Despite a checkered track record with previous home security and automation services, U.S. cable providers are seeking to use their infrastructure and device platforms to offer IoT products and services, either on their own or by enabling other's dreams. IoT looms as a new opportunity to shake off cable's weakening pay-TV business and prove its prowess as a cutting-edge technology enabler.

IoT comes with tremendous challenges and responsibilities. The more that cable gets involved with technology inside a home or business, the greater the responsibility – or even potential liability. At a time when cable providers are seeking to reduce truck rolls and enable new applications through self-provisioning, a problematic IoT product can negate operational expense savings. Since many IoT devices and apps require millisecond responses, providers must work to avoid any latency in their networks.

When it comes to the vast field of IoT, cable providers first must determine their extent of involvement. The temptation for some might be to look at all of the marketplace activity and think that cable must jump in with both feet; others might believe that IoT is nothing but hype and should be ignored.

The correct course probably lies somewhere in the middle. Many of the IoT concepts have been talked about before and have not gained traction. Other applications, fueled by cheap sensors, cameras and apps, seem right for the time. The challenge for cable is to determine which use cases are the best fit for their infrastructure, product lines and operations.

Move Over, Alexa: Cable's Jumping Into the Internet of Things reviews cable's entrance into the IoT market, which is focusing on home automation. Further, it examines challenges cable faces in the IoT market, including security risks and privacy concerns for consumers. Finally, this report covers 21 companies and their offerings in the market.

VIEW TABLE OF CONTENTS
VIEW COMPANIES COVERED
VIEW EXECUTIVE SUMMARY AS PDF


In order to take hold, IoT must transition from being a fanciful concept to a real-world application. The industry is exploring use cases that provide a business upside or save money on customer calls and truck rolls. The following excerpt provides a snapshot of what the ultimate cable smart home looks like. Currently, not all of these capabilities are available to the vast majority of U.S. cable households, but this is a model that the industry is migrating toward.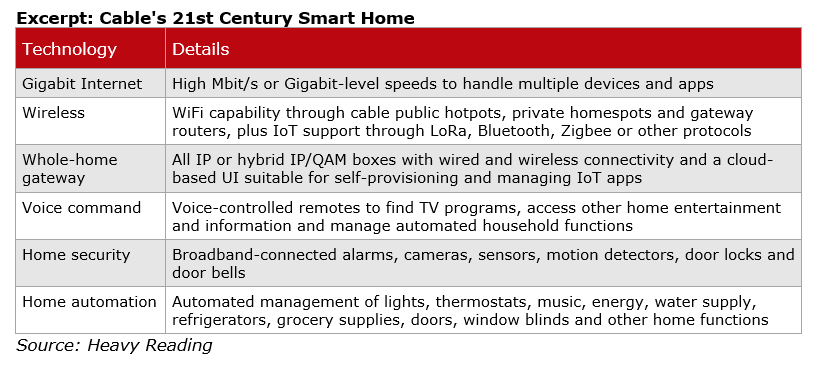 Move Over, Alexa: Cable's Jumping Into the Internet of Things is published in PDF format.