Dan Grossman
Contributing Analyst,
Heavy Reading
Dan is an analyst, consultant, and technologist, specializing in fixed broadband access technology and markets...
MORE
To view reports you will need Adobe's Acrobat Reader. If you do not have it, it can be obtained for free at the Adobe web site.
Published: 4/3/2018


REPORTS
EXECUTIVE SUMMARY
Connectivity between a service provider's distribution infrastructure and its customers' premises – the last hundred feet – takes a large share of total capex per customer served. It also presents unique challenges and opportunities. Providing high-speed broadband services to a customer typically involves a drop cable between infrastructure and premises. This is typically optical fiber for greenfields and overbuilds, coaxial cable for incumbent multiple system operators (MSOs) or copper pairs for incumbent telcos. Fixed wireless is now becoming a viable alternative to drop cables.

The wireless last-hop opportunity comes under the marketing rubric of "5G." For the first time, new technologies and newly-available spectrum permit wireless networks to achieve data rates that are comparable to consumer expectations (highest tier at 100 Mbit/s, preferably 1 Gbit/s) for fixed networks. Such high-speed services, fixed and mobile, are one of the three main use cases for 5G. 5G new radio standards reached initial release in 2017, and vendors are racing to complete product development. In the meantime, pre-standard 5G technologies are now in field trials from Tier 1 operators and in commercial deployments from smaller providers.

5G-FWA and FTTH are tools in operators' toolkits for providing Gigabit-class residential/small business broadband services. Their fields of application overlap, and some markets will have competing services using each.

AT&T, Verizon, T-Mobile and Sprint are in a horserace to be first with commercial 5G service, each by its own definition of what that means. Verizon and AT&T have both announced their vendors and initial launch cities for pre-standard 5G-FWA, commencing in late 2018. More launch cities will be disclosed on conclusion of negotiations.

Behind the scenes, 5G-FWA providers have much work to prepare for commercial launch. In addition to stable networks, there are marketing, operations, customer care, IT, HR and legal components to being able to offer commercial service. There will have to be pricing decisions, branding and communications plans, engineering tools and guidelines, procedures manuals, business/operations support system (BSS/OSS) extensions, training, regulatory filings and other major deliverables. Fiber and sites will have to be engineered, permitted and constructed. All of this is underway since it must be completed before commercial service offerings. The work is business as usual for providers and fairly low risk.

Sacramento and one of AT&T's target cities will open for service in late 4Q18, but it is premature to call which will have bragging rights to being first. At the same time, converged access network and purpose-built FTTH deployments continue to accelerate, with 15-18 percent annual growth expected in 2018. MSOs are nearing the end of their present fiber-deep, line extension and DOCSIS 3.1 initiatives. In all of these geographies, 5G-FWA will give customers a second or third alternative. None of this infrastructure is going away.

FTTH & 5G Fixed Wireless: Different Horses for Different Courses examines the relative merits of fiber to the home (FTTH) and mmWave 5G fixed wireless access (5G-FWA) technologies from the intersection of engineering and business perspectives. Although it primarily addresses the U.S. market, 5G-FWA technology and strategic perspectives apply elsewhere.

VIEW TABLE OF CONTENTS
VIEW EXECUTIVE SUMMARY AS PDF


The industry has been watching field trials intently because of the effect their results have on system economics derived from ISD. A consensus of academic and industry research had predicted that ISD would have to be no more than about 200 meters (656 feet) in urban environments in order to assure a high probability of achieving Gigabit data rates in mmWave bands. Field trials tested these results and provided a more granular understanding of propagation in real-world conditions. Verizon has selectively shown its propagation modeling and trial results. It claims to achieve median data rates of about 1 Gbit/s at up to 2,600 feet, or 792 m, as shown in the following excerpt. The company suggests that this is a mix of LOS and NLOS paths. Verizon did not disclose 95th percentile data rates. It is able to cover MDUs up to 19 stories, and saw better-than-expected foliage penetration.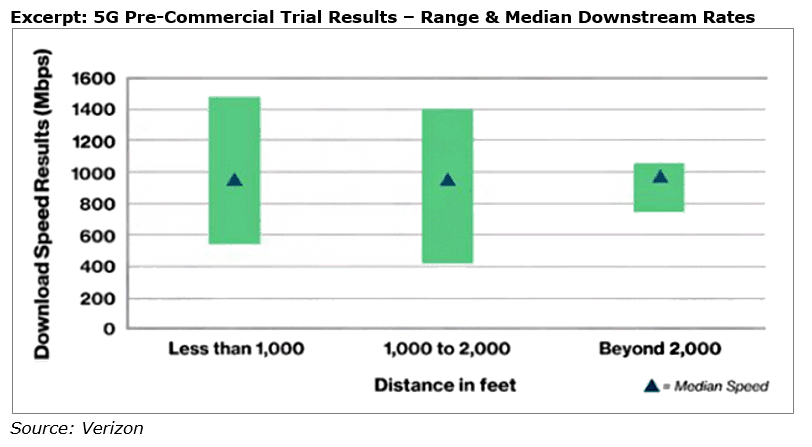 FTTH & 5G Fixed Wireless: Different Horses for Different Courses is published in PDF format.