Simon Sherrington
Contributing Analyst,
Heavy Reading
Simon is an independent consultant who contributes regularly to Heavy Reading projects...
MORE
Danny Dicks
Contributing Analyst,
Heavy Reading
Danny is an analyst and consultant with more than 20 years' experience in technology markets who contributes regularly to Heavy Reading...
MORE
To view reports you will need Adobe's Acrobat Reader. If you do not have it, it can be obtained for free at the Adobe web site.
Published: 3/22/2018


REPORTS
EXECUTIVE SUMMARY
Ever since the Internet became a big thing, there has been an ongoing battle for control of the computation that underpins the delivery of services. There have been those promoting high-powered devices and relatively simple, non-interfering networks; there have been those promoting networks that can do all the heavy lifting, serving dumb terminals that are easy for people to use. But the answer to the question of how much computing will be needed and where should it go has always been more, everywhere: more computing in more devices, more types of devices, more computing power in networks and increasingly programmable networks.

The big move to edge computing is simply an extension of this ongoing struggle. Networks are now really powerful, and customer devices are either really powerful (high-end smartphones) or are so vast in number (because some computing capability has been added to things that never before had any computing power – i.e., Internet of Things [IoT] sensors and devices) that the effort required to manage the complex array of services delivered by or to them, as well as the data flows between them, means a classic architecture with central processing situated a long physical way from the devices simply does not work well enough. People are pushing the boundaries of what can be achieved using legacy architectures in a super-connected, super-programmable world.

In the next 18 months, edge computing infrastructure will become a staple component of LTE-Advanced Pro and 5G network deployments. Chipset vendors will win from this, and 5G infrastructure vendors will gain something from this. IT providers and cloud specialists will also gain from this, as will real estate companies. Mobile operators, though, will by and large adopt similar business strategies to those employed in the past, racing for 5G share.

While there will emerge a few instances in the enterprise and public sector markets where edge compute will be an intrinsic part of the value and will be paid for appropriately (such as for mission-critical, ultra-low-latency services where a network slice supporting the service can be charged for at a premium), many edge computing revenue opportunities – particularly in the consumer and mass enterprise markets – will be lost in operators' attempts to persuade customers to sign up to shiny new 5G services. Don't expect operators to hold out with higher value services and longer customer acquisition periods. The pressure for 5G market share in the two to three years following launch will be such that they just won't wait. In the mass market, MEC will be an unseen part of the 5G technology mix.

As you might expect in an emerging market where many players hope to find new fortunes, the past 12 months has been punctuated by an awful lot of hype, as well as interesting trials, product announcements, some investments and some interesting strategic moves. This report does not explore what edge computing can deliver, which has been covered by many other studies. Instead, Edge Computing: 2018-2019 Market Outlook considers what we might expect from edge computing players – most specifically mobile edge computing (MEC) – over the next 12 to 24 months.

VIEW TABLE OF CONTENTS
VIEW EXECUTIVE SUMMARY AS PDF


The edge computing opportunity has inspired a massive rush to market by companies from a wide range of backgrounds. As the following excerpt shows, this includes mobile operators, telecom infrastructure providers, IT and hosting companies, property businesses and component suppliers.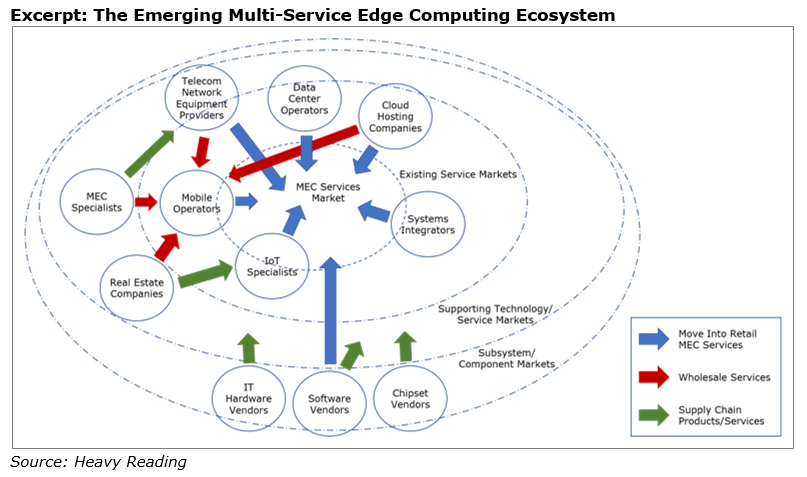 Edge Computing: 2018-2019 Market Outlook is published in PDF format.