Simon Stanley
Analyst at Large,
Heavy Reading
Simon is an independent consultant who contributes regularly to Heavy Reading and other Heavy Reading projects...
MORE
To view reports you will need Adobe's Acrobat Reader. If you do not have it, it can be obtained for free at the Adobe web site.
Published: 3/8/2018


REPORTS
EXECUTIVE SUMMARY
The demand for 100-400G network interfaces continues to grow rapidly, driven by network virtualization and the shift to cloud services. Within data centers, servers now support 10GE or 25GE interfaces, requiring significant bandwidth through top-of-rack switches and between racks. Many large and hyper-scale data centers already have 100G connections between racks, and operators are already migrating to 400G and looking at 800G. These developments are also putting strain on data center interconnects (DCI) between data centers, requiring operators to migrate from 100G to 200G and 400G connections.

400G deployments are well underway for enterprise and data center applications, initially using CFP8 optical modules but transitioning to QSFP-DD as these modules become available in volume. OSFP will also be important for some applications. The IEEE has adopted four 400GE port types for 100m MMF, 500m parallel SMF, 2km SMF and 10km SMF. These are a great start, but the industry is looking for alternative port types that can deliver lower cost and lower power solutions as the volume of 400G interface shipped accelerates.

Performance remains the key criteria for selecting 100/400G optical modules; however, there are multiple secondary criteria, including cost, vendor, latency and power. Finisar continues to lead this market, but several vendors are challenging this lead, including Acacia, Fujitsu, Intel and Oclaro. Going forward, lower-cost 400G interfaces and 800G interfaces will be particularly important for data centers and companies are already working on solutions.

100/400G Components Survey: 2018 Market Outlook analyzes the current and projected use of 100G, 400G, 800G and other interfaces by telecom and networking equipment manufacturers, based on the results of an exclusive worldwide survey of engineers, designers, product managers and sales/marketing personnel that work for those suppliers. The responses to our survey make it clear that these devices are critical components in most types of networking equipment, from the access edge to the core of the network and data centers.

VIEW TABLE OF CONTENTS
VIEW COMPANIES MENTIONED
VIEW EXECUTIVE SUMMARY AS PDF


The following excerpt shows the results when we asked respondents when their company will ship products with 400G interfaces. Almost one third (32 percent) said that their company was already shipping 400G, and a further 14 percent said they would do so within six months or one year. These results show that 400G is now well established.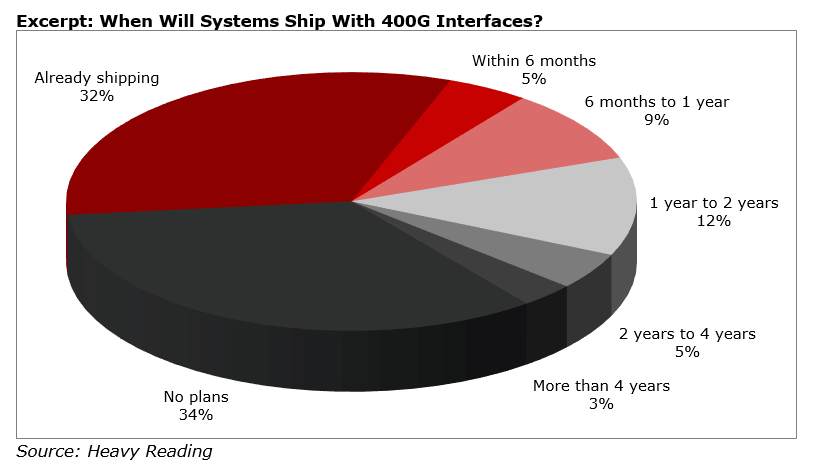 100/400G Components Survey: 2018 Market Outlook is published in PDF format.