Denise Culver
Online Research Director, Heavy Reading
Denise manages Heavy Reading's Thought Leadership Council, which uses a focus group approach to glean insights from CSPs on topics ranging from automation, IoT, 5G, B/OSS transformation, SD-WAN and emerging technologies...
MORE
To view reports you will need Adobe's Acrobat Reader. If you do not have it, it can be obtained for free at the Adobe web site.
Published: 3/5/2018


REPORTS
EXECUTIVE SUMMARY
The message from 13 Internet of Things (IoT) specialists during this month's Heavy Reading Thought Leadership Council (TLC) forum was clear: Service providers think they're doing a good job with IoT security. In fact, when asked to grade their company's current level of knowledge concerning IoT security, 38 percent of panelists gave their companies scores of A and an equal number gave a B score.

It's encouraging that the majority of service providers in the forum are well on their way to implementing IoT security plans. While just under 40 percent are at the halfway mark in terms of completing their security plans – putting them about two years away from completion – about 30 percent will have those plans completed by the end of this year.

If there's an area that's in need of a reality check, it's for those service providers that believe their security technology is so good that they'll never experience an IoT security breach: 38 percent of TLC panelists fall on this particular sword. An equal number, however, readily admit that they expect such a breach within the next two years.

IoT Focus Group: Service Providers Assured About IoT Security was generated from a Q&A with service provider employees who are IoT experts. This focus group was asked 10 questions about technology, revenue and expectations related to IoT security. The results clearly indicate that service providers believe they're doing a good job with IoT security.

VIEW TABLE OF CONTENTS
VIEW EXECUTIVE SUMMARY AS PDF


Almost two thirds (62 percent) of TLC members say IoT security will provide some additional revenue for their company, as shown in the excerpt below. One panelist specified, "IoT Security has a lot of promise for generating revenue; unfortunately, there is not enough of an emphasis in the consumer market today to make this an excellent source of revenue. Consumers – and even businesses – are quick to forget breaches of the past. Additionally, IoT security should be an attribute of a well-designed and implemented IoT solution that is baked into the cost model versus a set of activities or services that happen after IoT deployment."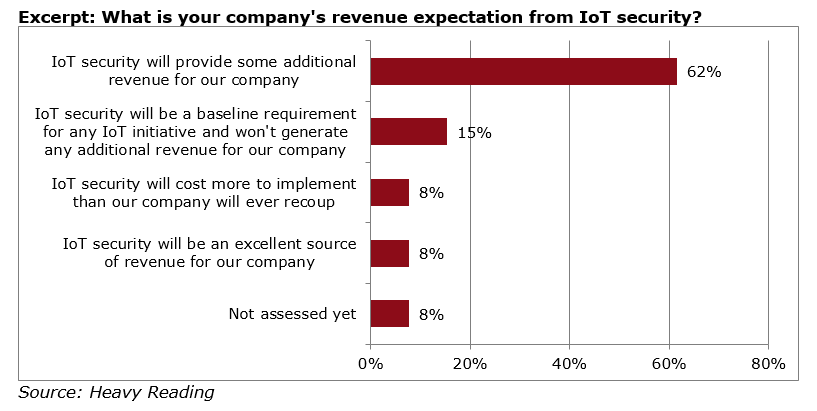 IoT Focus Group: Service Providers Assured About IoT Security is published in PDF format.