Danny Dicks
Contributing Analyst,
Heavy Reading
Danny is an analyst and consultant with more than 20 years' experience in technology markets who contributes regularly to Heavy Reading...
MORE
Simon Sherrington
Contributing Analyst,
Heavy Reading
Simon is an independent consultant who contributes regularly to Heavy Reading projects...
MORE
To view reports you will need Adobe's Acrobat Reader. If you do not have it, it can be obtained for free at the Adobe web site.


REPORTS
EXECUTIVE SUMMARY
Artificial intelligence (AI) is everywhere in the telecom media. Along with the Internet of Things (IoT) and 5G, it is one of the most talked about topics in the industry. Of course, AI techniques have been important in mobile telecom for a long time: neural networks have been used to identify fraudulent activity for around 20 years, and AI is a fundamental part of the threat intelligence services used by operators to keep their networks safe and provide security services to customers.

More recently there has been an explosion of interest in the use of AI-enabled voice and text interaction – building on the mass-market appeal of virtual assistants and voice-activated smart home control – to automate and improve customer service, as well as reduce the cost of these activities while improving profitability. But AI usage goes much deeper in mobile operators' business than this, and we are only at the start. AI will likely become more pervasive throughout mobile operators within the next five years, in more domains of activity and in more locations within – and beyond – the operator's network.

AI techniques have been a part of mobile telecom for decades, but we are just at the start of a rapid uptick in deployment and use of ML, deep learning and other AI approaches that will complement the big data and predictive analytics approaches already used in the industry.

We believe mobile operators are only scratching the surface of what is possible to achieve using AI: vendors are optimistic about its potential, particularly for the intelligent automation of networks in the next five years, while recognizing the need for change in the way they themselves do things.

Artificial Intelligence in Mobile Networks examines what AI means to the mobile telecom market, identifying the techniques that are being used, where AI processing is best carried out and what AI is used for. It maps the supply-side of the market for AI solutions used by mobile operators, identifying some representative players of various kinds. Finally, this report profiles 12 prominent companies in the AI market.

VIEW TABLE OF CONTENTS
VIEW COMPANIES COVERED
VIEW EXECUTIVE SUMMARY AS PDF


Definitions of AI are many, complex and there are different ways in which one can sensibly try to define AI for the mobile industry. For instance, one can describe the technologies developed to enable a computer to create new capabilities without explicit programming, or one can examine the types of problems that these technologies' approaches can help to solve and how the approaches are used in specific cases. The following excerpt summarizes the mobile telecom AI ontology described in the report.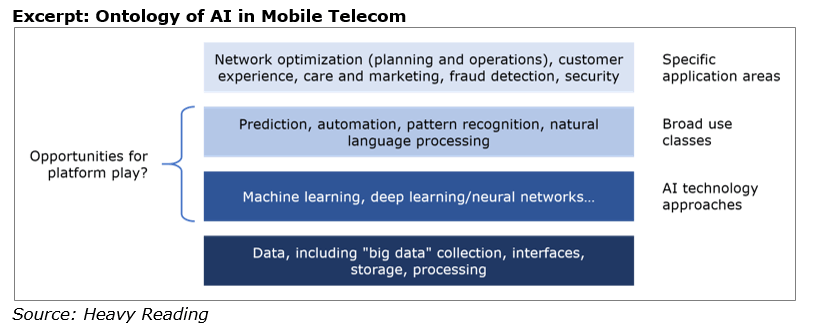 Artificial Intelligence in Mobile Networks is published in PDF format.