Denise Culver
Online Research Director, Heavy Reading
Denise manages Heavy Reading's Thought Leadership Council, which uses a focus group approach to glean insights from CSPs on topics ranging from automation, IoT, 5G, B/OSS transformation, SD-WAN and emerging technologies...
MORE
To view reports you will need Adobe's Acrobat Reader. If you do not have it, it can be obtained for free at the Adobe web site.


REPORTS
EXECUTIVE SUMMARY
Conventional wisdom dictates that communications service providers (CSPs) aren't eager to make changes to their processes and systems without a firm framework in place. It's one of several reasons that changes at the service-provider level often seem to happen at glacial speeds as compared to other industries.

But input from 11 service providers in Heavy Reading's Thought Leadership Council (TLC) indicates that trend may not be the case in terms of automation. Most of the operators on the Council are approaching automation on an ad hoc basis, foregoing the traditional mindset of developing a complete master plan before moving ahead with the types of changes automation is expected to bring.

Overall, these operators say they're doing a good job with automation despite the lack of long-term planning. Network management tops the list of functions to be automated, followed closely by incident and problem management.

Automation Focus Group: CSPs Start Automating Sans Overall Master Plan was generated from a Q&A with service provider employees who are involved with automation initiatives. This focus group was asked 10 questions about planning, likely internal impact, drivers and partners related to automation. The results clearly indicate that service providers expect positive results from automation even without following a well-developed master plan for accomplishing those results.

VIEW TABLE OF CONTENTS
VIEW EXECUTIVE SUMMARY AS PDF


The following excerpt shows that 45 percent of TLC participants say their companies are implementing an automation strategy by automating discrete processes first and developing a master plan later. One TLC participant further clarified, "Billing is in progress; incident and problem management is in place; and SD-WAN fulfilment is planned. There is, however, not a comprehensive, coordinated strategy for an overall automation strategy."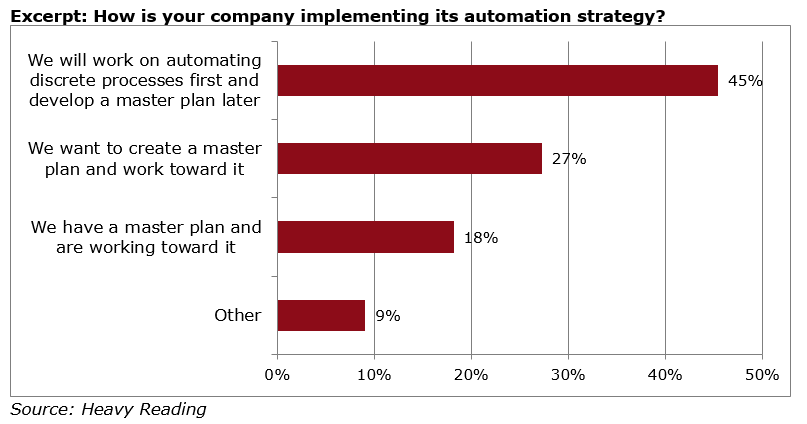 Automation Focus Group: CSPs Start Automating Sans Overall Master Plan is published in PDF format.