Steve Bell
Senior Analyst –
Internet of Things
Steve leads Heavy Reading's coverage of the Internet of Things (IoT) and related technologies, focusing on the evolution of the mobile Internet and its impact on digital life...
MORE
To view reports you will need Adobe's Acrobat Reader. If you do not have it, it can be obtained for free at the Adobe web site.


REPORTS
EXECUTIVE SUMMARY
The industrial and enterprise Internet of Things (IoT) is not a simple or single product; it is most often a solution, or even a suite of solutions, that must be dovetailed into an existing business model. When considering how IoT fits into any large-scale technological business system, it's useful to have a model of how the business operations and processes interoperate, as well as the outcomes desired.

The excerpt below represents a construct that is applicable to most industries. At the highest level, the process for product creation and delivery is captured in time sequence. Supporting this product lifecycle is a layered information infrastructure that encompasses everything from assets along the supply chain, resource planning, communications network, services and support, data and information management, applications and business management.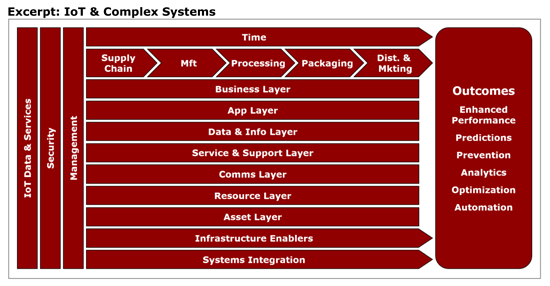 To achieve enhanced performance, it's necessary that the infrastructure be integrated as a holistic system across the lifecycle, and that security and management across the overall system is accomplished for IoT and enterprise services. One of the key challenges is ensuring that all elements can connect with each other via compatible communications and information protocols. This becomes extremely critical where elements of the model are delivered by cloud services. In these circumstances, it will be required to define metrics, including common templates, terminology and models, to ensure that service-level agreements are defined and monitored effectively. As shown in the model, there are multiple opportunities for what are known as cross-cutting elements that span horizontally or vertically across the entire model. These, too, will need to be specified.

These models are essential where systems operate in mission-critical environments that demand high standards for security and safety resilience. Linking these models to reference architectures, such as the Industrial Internet Consortium's reference architecture, can be beneficial when there is a desire to use standards-based frameworks that allow interoperable and interchangeable building blocks to be specified for integrated solutions.

The use of models, together with design and systems thinking, will be at the heart of mobile operators' ability to deliver value and transformative business models to their industrial and enterprise clients. Delivery will be enhanced and ensured by developing the following 10 capabilities that, when integrated, can be leveraged to maximum advantage.

As IoT begins to gain traction across a multitude of industries, IoT & Mobile Operators: 10 Capabilities for Success identifies 10 forward-looking capabilities that are essential if mobile operators are to respond and scale. For those that are already IoT players, this will be a checklist that operations, technical and commercial teams should already be considering, and for which they should have strategy and development plans in place. For those just beginning to enter the IoT space, it can provide a strategic guide against which priority investments can be determined. For the "wait and see" camp, this should be a wake-up call and manifesto for rapid change – otherwise, future survival is not assured.

VIEW TABLE OF CONTENTS
VIEW EXECUTIVE SUMMARY AS PDF


The 10 capabilities for IoT success identified in this report are as follows:

Heterogeneous Networks
Virtualization & SDN
Telco Cloud & Fog Continuum
The Virtual Edge
Leveraging Diverse Platforms
Big Data & Machine Learning
Computer Vision & AR/VR
Data Storage & Tiering Management
E2E Security
Blockchain & Micropayments
IoT & Mobile Operators: 10 Capabilities for Success is published in PDF format.