Craig Leddy
Contributing Analyst,
Heavy Reading
Craig is a veteran cable industry writer, speaker and market analyst, and a regular contributor to Heavy Reading...
MORE
To view reports you will need Adobe's Acrobat Reader. If you do not have it, it can be obtained for free at the Adobe web site.


REPORTS
EXECUTIVE SUMMARY
Although it's trite for writers to herald that this is "the year of" a particular technology, clearly 2018 is the year of software-defined wide area network (SD-WAN) for cable business services. Prospects for providing SD-WAN services are a primary focus for U.S. cable providers. Comcast and Charter are moving into the marketplace with SD-WAN products while other cable companies are exploring product plans.

SD-WAN is the catalyst for a fundamental shift in cable's relationship with business customers and its marketplace strategy. SD-WAN represents the first major software-defined networking (SDN)-based product offering by cable providers. It is poised to become a leading-edge product in cable's effort to move up-market, as well as attract large companies and multi-site enterprise customers. SD-WAN provides a platform to layer on virtual network functions (VNFs) that cable providers are exploring.

Cable faces SD-WAN competition from large telecom competitors, small providers and OTT upstarts offering SD-WAN products directly to businesses. All the providers face an unclear rate of adoption by businesses that are relying on traditional Multiprotocol Label Switching (MPLS) for WANs. Cable providers are seeking to create a migratory path for businesses instead of a "rip and replace" upheaval, as well as self-management tools with easy-to-use user interfaces (UIs). Business services continue to increase in importance for cable providers' bottom lines, and SD-WAN represents the latest weapon in their arsenal.

While the prospects for SD-WAN are exciting for cable, SD-WAN represents more than just a new product offering. The product and the strategies around it reflect several emerging industry themes.

The competition will be fierce, both among service providers and technology suppliers, in a market that lacks clarity over how quickly SD-WAN adoption will occur. The winners will be those that correctly map out the migration and develop the right mix of products for their business constituents. Cable providers also are challenged to improve their customer support and SLAs, areas where business customers perceive the large telcos as being superior. If marketed smartly, cable SD-WAN services will provide a platform for more of the virtualization and automation strategies that big businesses will demand.

SD-WAN Creating a Generational Moment for Cable reviews U.S. cable provider plans to offer SD-WAN and move up-market to attract enterprise customers. The report explores the state of cable business services, key market challenges, SD-WAN components and complementary technologies. It includes an analysis of the supplier market and a chart of nine key SD-WAN technology suppliers that are playing or appear to be positioned to play a role with cable providers.

VIEW TABLE OF CONTENTS
VIEW COMPANIES MENTIONED
VIEW EXECUTIVE SUMMARY AS PDF


Competition is heating up in the SD-WAN market. The major telcos, which have more enterprise customers than cable does, announced products before cable companies entered the field. The following excerpt shows the plans announced so far by the largest U.S. service providers, starting with cable companies and followed by major telcos.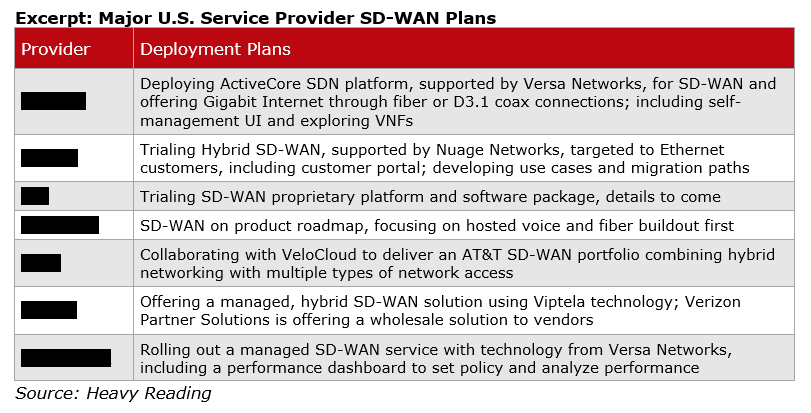 SD-WAN Creating a Generational Moment for Cable is published in PDF format.