Jim Hodges
Principal Analyst –
Cloud & Security
Jim leads Heavy Reading's research on the impact of the NFV-enabled virtualized cloud on the control plane and application layers, both in the fixed and mobile core and at the enterprise edge...
MORE
To view reports you will need Adobe's Acrobat Reader. If you do not have it, it can be obtained for free at the Adobe web site.


REPORTS
EXECUTIVE SUMMARY
The telecom industry historically has been shaped by several basic principles: continuous innovation, delivery of rock-solid applications and secure network access. Although these fundamentals remain intact as communications service providers (CSPs) transform legacy networks to the cloud, the adoption of a virtualized and distributed cloud is shaking the very technological bedrock that underpins these core attributes. Consequently, CSPs must adopt novel approaches and principles across the board in order to successfully manage the new challenges and demands that the cloud injects into the implementation equation.

This study explores how well CSPs are managing the new demands of one of the key tenets – security. In order to provide an inclusive view of the progress made to date, Heavy Reading created and launched a generalized security survey in the second quarter of 2017 designed to provide a succinct view of CSPs' overall readiness to meet both current and future network functions virtualization (NFV) cloud-based security requirements.

Securing the Cloud: A Market Perception Study documents the inherent challenges associated with securing the cloud, as well as CSPs' strategies to mitigate the risks through the deployment of a suite of security capabilities. It also explores CSPs' plans to seize the opportunity to drive new revenue streams by selling managed security services to the enterprise.

VIEW TABLE OF CONTENTS
VIEW EXECUTIVE SUMMARY AS PDF


This research report is based on an online survey launched in the second quarter of 2017. The survey was distributed by email to Light Reading's global list of CSP registrants, who were invited to take the survey on the understanding of anonymity (i.e., that their names, job titles and employers will not be made available, and that the results will only be presented in aggregate form. The survey had 20 questions and was promoted to attract a large base of qualified and high-value CSP respondents.

Even though virtualization itself is a relatively straightforward concept, to support telecom functions, NFV effectively mandates a redesign on multiple levels, from infrastructure design to software design, interop testing, patching, OSS/BSS integration, packet processing, failover, service assurance and security. However, as shown in the excerpt below, of all the factors to consider, security garnered a striking 59% "very concerned" response rate, considerably ahead of other foundational considerations such as OSS integration (49%), and managing service failover and recovery (48%). Clearly, security is viewed as the greatest threat to a successful CSP cloud migration.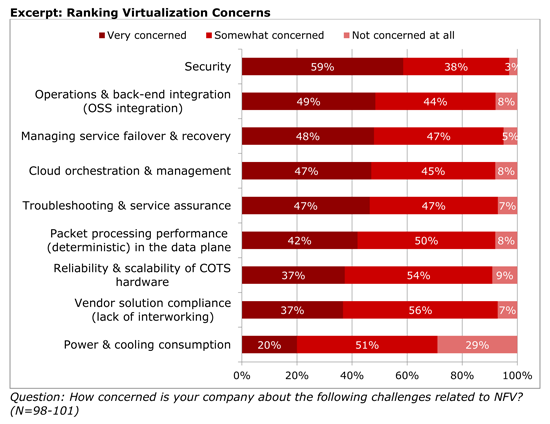 Securing the Cloud: A Market Perception Study is published in PDF format.