Dan Grossman
Contributing Analyst,
Heavy Reading
Dan is an analyst, consultant, and technologist, specializing in fixed broadband access technology and markets...
MORE
To view reports you will need Adobe's Acrobat Reader. If you do not have it, it can be obtained for free at the Adobe web site.


REPORTS
EXECUTIVE SUMMARY
A confluence of drivers and enablers poise U.S. access fiber infrastructure for a period of high growth, encompassing Tier 1, Tier 2 and Tier 3 telecom providers, cable multiple system operators (MSOs), rural utility cooperatives, municipal broadband providers, public/private broadband partnerships and upstart broadband providers. High capital intensity and low return on invested capital (ROIC) have historically been the principal obstacle to U.S. fiber deployment. These barriers are being eroded because of growing demand from multiple services, along with lower cost of capital infrastructure and low opex.

This report examines drivers and enablers for converged access network deployment in the U.S., along with recent trends. This indicates a large bump in new deployments over at least the 2018-2021 timeframe; however, this outlook is contingent upon the performance of the U.S. economy over the period. Rising interest rates are a particular risk for debt-funded capital projects. A recession would impact consumer and business spending, limiting a carrier's ability to fund projects from cash flow. On the other hand, continued growth may create labor shortages and supply chain shortages. Changes in regulation and taxation, particularly at the state level, and after the 2018 and 2020 elections, may also be significant factors.

Motivations and financial models will vary by provider and geography. Much of the new construction will be in commercial and mixed use areas, greenfields, moderate-to-high density residential areas and other low-hanging fruit. However, urgent copper replacement and competitive pressures from MSOs should not be underestimated as drivers for new deployments by incumbents. In addition, a very significant portion of new deployments will be undertaken by smaller providers to fill vacuums left by Tier 1 and 2 carriers in rural and low-income areas.

U.S. Converged Fiber Access Infrastructure: 2018-2021 Outlook examines drivers for converged access network deployment, along with forecasts for 2018-2021. It goes into depth about the needs of the various verticals, including smart cities and smart grids. It also looks at trends that will drive, enable or impede new deployments. In particular, this report discusses the expected retirement of copper infrastructure, fiber to the lightpost (FTTL), the financial condition of incumbents and efforts to close the broadband divide. Finally, it projects how converged access network deployment will likely play out over the next three years.

VIEW TABLE OF CONTENTS
VIEW COMPANIES MENTIONED
VIEW EXECUTIVE SUMMARY AS PDF


The following excerpt shows selected financial ratios for Tier 1 and Tier 2 carriers from October 2016 to October 2017. These indicate the respective business' ability to borrow, interest rate on their bonds, their ability to fund additional capex with cash from operations and priority of capex in their strategies. Those that could adversely affect capex budgets are shown in red.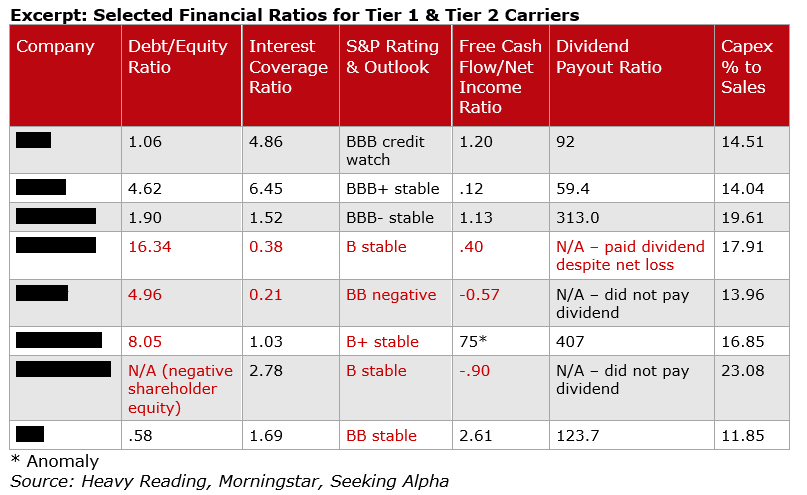 495 U.S. Converged Fiber Access Infrastructure: 2018-2021 Outlook is published in PDF format.