Denise Culver
Online Research Director, Heavy Reading
Denise manages Heavy Reading's Thought Leadership Council, which uses a focus group approach to glean insights from CSPs on topics ranging from automation, IoT, 5G, B/OSS transformation, SD-WAN and emerging technologies...
MORE
To view reports you will need Adobe's Acrobat Reader. If you do not have it, it can be obtained for free at the Adobe web site.


REPORTS
EXECUTIVE SUMMARY
5G vendors can start 2018 with a rare opportunity, according to members of Heavy Reading's Thought Leadership Council (TLC). According to 13 service providers from around the globe, the overwhelming majority will have fixed wireless 5G service operational within five years.

But only 15 percent of TLC service providers have chosen the vendors they plan to utilize for 5G buildouts; more than 30 percent of our forum members haven't even started the vendor selection process. Other vendors in the forum are in varying degrees along the cycle of choosing 5G vendors.

The message to 5G vendors is clear: Opportunity exists. Several service providers expressed the desire to see additional use cases, white papers and other marketing and sales paraphernalia focused on 5G in our Q&A forum.

5G Focus Group: Vendors Needed to Fulfill 5G Network Buildouts was generated from a Q&A with service providers that are 5G experts. This focus group was asked 12 questions about 5G deployment plans, revenue opportunities and how the market is shaping up. The results clearly indicate that 5G vendors have an outstanding opportunity to educate and market their portfolios to service providers in every market.

VIEW TABLE OF CONTENTS
VIEW EXECUTIVE SUMMARY AS PDF


There's no real consensus in terms of how far along TLC service providers are in the search for 5G vendors, as shown in the following excerpt. Thirty-eight percent of forum members have narrowed down their vendor choices but haven't made a final decision. One provider said, "This may vary according to use case and different markets and countries."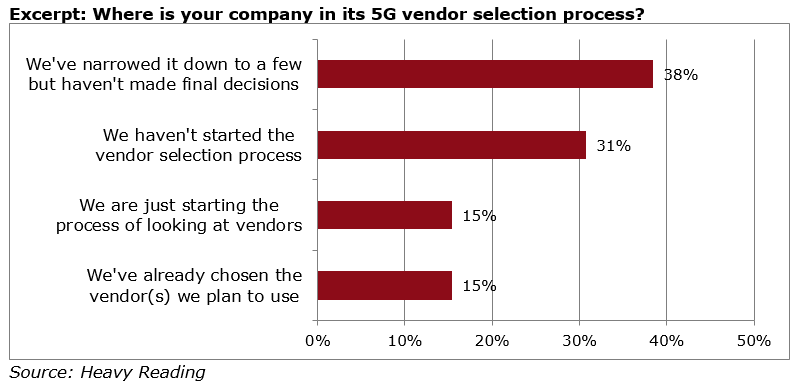 5G Focus Group: Vendors Needed to Fulfill 5G Network Buildouts is published in PDF format.