Craig Leddy
Contributing Analyst,
Heavy Reading
Craig is a veteran cable industry writer, speaker and market analyst, and a regular contributor to Heavy Reading...
MORE
To view reports you will need Adobe's Acrobat Reader. If you do not have it, it can be obtained for free at the Adobe web site.


REPORTS
EXECUTIVE SUMMARY
We've all heard about them, and many of us have made them: complaints about cable customer service. Stung by years of criticism for poor service, the industry now is shifting its focus to a more modern definition, recasting the notion of customer care in the form of customer experience. The key to enabling this new model is through artificial intelligence (AI).

Rather than just focusing on better service appointment times and customer service calls, U.S. cable providers are evolving to automated operations that enable technicians to proactively manage network functions and give customers greater ability to self-manage their services. Cable providers are starting to implement AI systems and tools to transform network management, operations and applications. Cable operations are awash in data that serves as the oil to lubricate the machine.

AI is at the center of several trends for network operators, including big data, machine learning, cognitive computing, robotics, automation and virtualization. A comprehensive AI system will collect and aggregate data, detect patterns and responses, anticipate trends and behaviors and automatically take appropriate actions.

AI will truly pay off when data becomes actionable, customers can control their experience and the network becomes proactive. But managers and technicians must be careful about implementing AI so that they don't create new layers of frustration for customers. AI is only as good as the people who employ it.

I Cable Robot: Can Artificial Intelligence Make Cable Smarter? discusses cable's growing use of AI to improve service, including network management, daily operations and customer experience. It includes recent cable provider initiatives for customer care, use cases for data-driven disciplines and a chart of technology suppliers that provide data management products for cable.

VIEW TABLE OF CONTENTS
VIEW COMPANIES COVERED
VIEW EXECUTIVE SUMMARY AS PDF


The following excerpt illustrates how cable lives in a sea of data. Virtually every part of a cable enterprise creates, collects or uses data to inform, operate or manage daily operations. The data sources identified here provide a comprehensive list, but probably still do not encompass all of the available sources.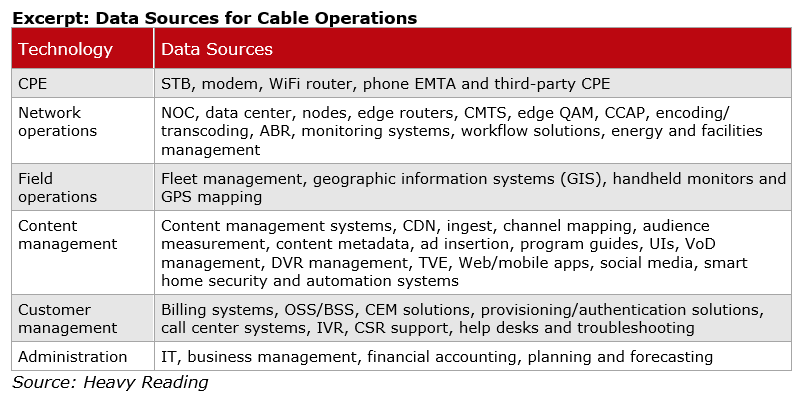 I Cable Robot: Can Artificial Intelligence Make Cable Smarter? is published in PDF format.