Simon Sherrington
Contributing Analyst,
Heavy Reading
Simon is an independent consultant who contributes regularly to Heavy Reading projects...
MORE
Danny Dicks
Contributing Analyst,
Heavy Reading
Danny is an analyst and consultant with more than 20 years' experience in technology markets who contributes regularly to Heavy Reading...
MORE
To view reports you will need Adobe's Acrobat Reader. If you do not have it, it can be obtained for free at the Adobe web site.


REPORTS
EXECUTIVE SUMMARY
With reports circulating that the Trump administration in the U.S. is planning to walk away from plans to mandate the use of dedicated short range communications (DSRC) technology in vehicles, the door to the market may be opening wide enough for proponents of cellular vehicle-to-everything (C-V2X) systems to jam a foot inside.

C-V2X has started gaining support in other parts of the world while the U.S. has – so far – continued with its plan for DSRC-based traffic safety systems. Both systems would take advantage of spectrum set aside for traffic safety applications. Those in support of DSRC promote its maturity, the extent of testing, commercial availability of modules and the fact it is being deployed or deployment is planned in (a few) models of car. They also point to the likely lengthy time to availability of C-V2X technologies, as well as technical challenges still to be overcome before C-V2X systems can be fully proven in robust field trials.

Meanwhile, advocates of C-V2X solutions claim potentially significant improved system capability and a long-term technology development roadmap. It is at this delicate point that AT&T, Qualcomm and Nokia have announced – they claim – the first C-V2X trials to take place in the U.S.

Automation will happen with or without V2X. Sensors systems are sufficiently advanced to drive autonomous vehicles in urban environments now, without V2X infrastructures based on either DSRC or cellular V2X, but V2X has the potential to add capability and enhance safety. However, there are no real "V2X market leaders" as technology is still early in its development pipeline. In the coming 12-36 months, we should start to see more contracts for technology deployment within vehicles – especially if the U.S. continues with plans to mandate DSRC.

Connected cars are commercially available, and increasing numbers of high-end vehicles are being equipped with LTE communications modules. General Motors, Toyota and Volkswagen have all introduced or stated their intention to introduce vehicles with DSRC capability.

DSRC vendors must keep an eye on C-V2X rivals in the rear-view mirror, as their new competitors have their accelerators to the floor and are catching up. However, DSRC does have a head start, and may enjoy deployment, even if C-V2X overtakes it in the medium term.

C-V2X: Coming on Fast in the Inside Lane takes a look at the ongoing connected car test and trial activity around the world, specifically in the context of integrated traffic and safety systems. It considers the different technology options, examines recent car connectivity trials around the world and reviews the emerging supply chain.

VIEW TABLE OF CONTENTS
VIEW EXECUTIVE SUMMARY AS PDF


At this stage, neither DSRC nor C-V2X has reached the stage of mass market deployment. The technology options are still being tested and refined, with extensive testing and trialing ongoing worldwide. The report highlights recent initiatives around the world.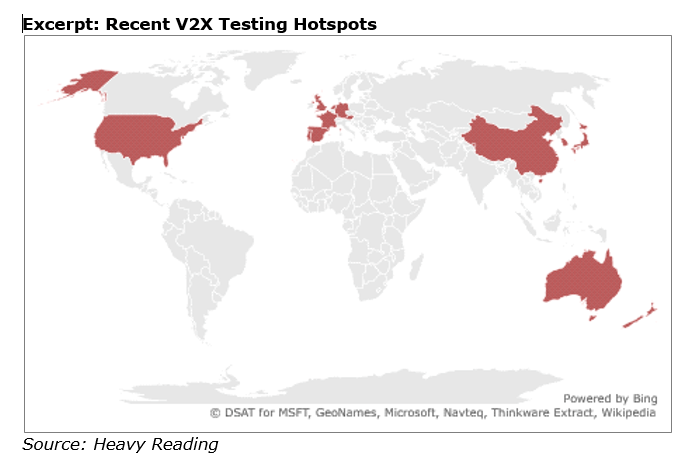 C-V2X: Coming on Fast in the Inside Lane is published in PDF format.