Simon Stanley
Analyst at Large,
Heavy Reading
Simon is an independent consultant who contributes regularly to Heavy Reading and other Heavy Reading projects...
MORE
To view reports you will need Adobe's Acrobat Reader. If you do not have it, it can be obtained for free at the Adobe web site.


REPORTS
EXECUTIVE SUMMARY
Communications service providers are investing heavily in large and hyper-scale data centers to deliver content, data processing and communications services. The applications delivering these services must have access to high-speed storage and networking, be secure and run in a virtualized environment based on software-defined networking (SDN). Virtualization software, load balancing, encryption, deep packet inspection (DPI) and packet processing all require many CPU cycles and can tie up multiple processor cores, reducing the number of cores available for applications.

Smart network interface cards (NICs) offload low-level functions from server CPUs, dramatically increasing network and application performance. By installing smart NICs, communications service providers can deliver significantly better revenue-earning services with a small increase in investment.

FPGA smart NICs are programmed using standard FPGA tools or a software development environment supported by operators. Processor-based smart NICs are programmed using standard development tools and software development kits (SDKs). A few smart NIC vendors are also supporting P4, a packet processing language, which is being used to develop solutions based on FPGA smart NICs, processor smart NICs and programmable switches.

NICs have been used for more than 30 years to connect servers and other computers to networks. Over the last 10 to 15 years NICs have become more capable, supporting higher-speed network interfaces, offloading basic network functions, such as TCP/IP, and more recently offloading virtualization. Smart NICs take this development one stage further by integrating a programmable resource that can be configured to provides additional CPU offload functions for different applications. Smart NICs are replacing standard NICs in many applications; going forward, some element of programmability is likely to be available in most high-performance NICs.

The continuing shift to cloud-based services and demand for multimedia-rich applications will only increase the need for smart NICs. The smart I/O controller approach is likely to be the winning solution for smart NICs; however, there will be many versions based on both processor and FPGA architectures. We may also see smart I/O controllers that integrate FPGA, processor and I/O controller. The race is on to provide the best combination of performance, flexibility and cost.

Smart NICs are having a big impact on the performance of virtualized applications. By using the right smart NIC and providing the best software support, communications service providers can significantly enhance the services they offer. Smart NICs: Accelerating Virtualized Applications covers the market and applications for smart NICs, the technology and devices inside smart NICs and 18 of the leading vendors. Several vendors are already on their second or third generation of smart NIC, and plans are in place to replace standard NICs in many applications with the latest smart NICs that are optimized for performance, functionality and cost.

VIEW COMPANIES COVERED
VIEW TABLE OF CONTENTS
VIEW EXECUTIVE SUMMARY AS PDF


Cloud services are changing the way individuals and companies access information and are driving a rapid growth in global data traffic. VoD and social media are accessed many times a day through mobile devices and fixed broadband. Companies are moving to online storage for data backup and data sharing. Network virtualization using SDN and NFV is enabling communication service providers to offer flexible network services that are hosted in central data centers and delivered through virtual customer premises equipment (vCPE) systems based on standard server hardware. The following excerpt shows the steady growth in Internet traffic from 2016 to 2021, highlighting the 44 percent CAGR for CDN Internet traffic.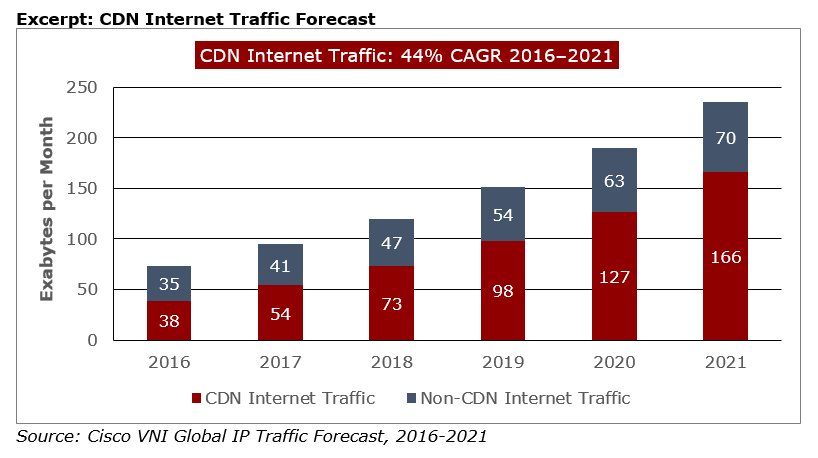 Smart NICs: Accelerating Virtualized Applications is published in PDF format.