Denise Culver
Online Research Director, Heavy Reading
Denise manages Heavy Reading's Thought Leadership Council, which uses a focus group approach to glean insights from CSPs on topics ranging from automation, IoT, 5G, B/OSS transformation, SD-WAN and emerging technologies...
MORE
To view reports you will need Adobe's Acrobat Reader. If you do not have it, it can be obtained for free at the Adobe web site.


REPORTS
EXECUTIVE SUMMARY
An overwhelming majority of communications service providers (CSPs) in the new Thought Leadership Council (TLC) recently identified machine learning as an emerging technology they're exploring.

Machine learning is just one of many emerging technologies service providers are exploring; Heavy Reading has developed a forum in which to discuss the technologies, how CSPs are using them and whether the hype over the technologies matches what's happening at the network level.

The TLC utilizes a focus group approach to glean insights directly from service providers. What makes this initiative so unique is that participants discuss topics in a completely anonymous forum, enabling them to share insights and express business realities that otherwise could not be shared.

Emerging Technology Focus Group: CSPs See Big Promise in Machine Learning was generated from a Q&A with service providers about emerging technologies. The focus group was asked about technology exploration, target service provider transformation strategies and virtualization and automation. The results clearly illustrate that many service providers are well on their way to using emerging technologies to improve their networks, make their products and services more competitive and, in as much as is possible, reduce churn.

VIEW TABLE OF CONTENTS
VIEW EXECUTIVE SUMMARY AS PDF


More than 80 percent of service providers in the forum are exploring machine learning, as shown in the following excerpt. Another 13 percent of service providers in the focus group said they're planning to invest time and resources in the near future into machine learning, which is an offshoot of AI that enables systems to automatically learn and improve from experiences without being explicitly programmed. The primary goal is to enable computers to learn automatically without human intervention and adjust actions accordingly.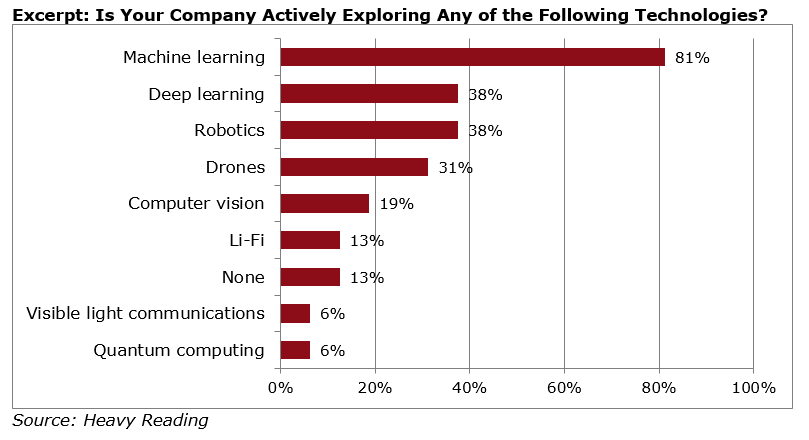 Emerging Technology Focus Group: CSPs See Big Promise in Machine Learning is published in PDF format.