Steve Bell
Senior Analyst –
Internet of Things
Steve leads Heavy Reading's coverage of the Internet of Things (IoT) and related technologies, focusing on the evolution of the mobile Internet and its impact on digital life...
MORE
James Crawshaw
Senior Analyst –
CSP IT & Automation
James leads Heavy Reading's B/OSS research service. He examines the breadth of software used by CSPs in customer, business, service and infrastructure management...
MORE
Sandra O'Boyle
Senior Analyst –
CEM & Customer Analytics
Sandra leads Heavy Reading's research on customer experience management and customer analytics related to the network and services, customer care, billing and marketing...
MORE
Roz Roseboro
Senior Analyst –
Data Center
Infrastructure & MANO
Roz focuses on how innovation and change are impacting the compute, network and storage infrastructure domains, with particular emphasis on virtualization...
MORE
Sterling Perrin
Principal Analyst –
Optical Networking & Transport
Sterling has more than 15 years' of experience in telecom as an industry analyst and journalist. He covers optical networking, including packet-optical transport...
MORE
Gabriel Brown
Principal Analyst –
Mobile Networks & 5G
Gabriel leads mobile network research for Heavy Reading. Starting from a system architecture perspective, his coverage area includes RAN, core, and service-layer platforms...
MORE
Jim Hodges
Principal Analyst –
Cloud & Security
Jim leads Heavy Reading's research on the impact of the NFV-enabled virtualized cloud on the control plane and application layers, both in the fixed and mobile core and at the enterprise edge...
MORE
To view reports you will need Adobe's Acrobat Reader. If you do not have it, it can be obtained for free at the Adobe web site.


REPORTS
EXECUTIVE SUMMARY
For an industry that has built itself on a foundation of continuous innovation, the idea that anything like a wake-up call is needed to spur action to meet the next big change is almost laughable – except there's nothing funny about what the telecom industry faces, and the degree of action that's going to be needed to come to grips with the latest and probably greatest collective challenge ever put to the sector.

The latest do-or-die obstacle confronting telecom is captured in one seemingly innocuous word: automation. The underlying concept of automation – the replacement of human-centric processes with machine-driven processes – is well established. From that simple perspective, telecom has been evolving with automation for well over a century. But automation in the context of technology development in the second decade of the 21st century is far from simple. Rather than a gradual and controlled evolution, automation is now a full-on mutation with a limitless capacity for disruption. That mostly uncontrolled disruption is affecting the entire global economy, which may be the most daunting prospect for the telecom sector.

Even if the telecom industry could maintain some semblance of control over its own automation agenda, the fact that the rest of the world is plunging headlong into an autonomous future makes that internal control irrelevant. The global economy is automating; telecom networks and services must keep pace or fade into extinction, giving way to the Webscale behemoths that already threaten their existence.

On the brighter side, communications service providers (CSPs) are far from being locked out of the autonomous future. As good as they have been in taking care of their own communications needs, the Webscale giants haven't shown that they have the ability to meet telecom needs on a global scale. And there's plenty of reason to believe that the continued independent success of CSPs would be of much greater value to the world economy than total domination by the likes of Google, Facebook and Amazon.

Telecom Automation delivers Heavy Reading's perspectives on the challenges and promises of automation as they relate to the telecom sector.

VIEW TABLE OF CONTENTS
VIEW EXECUTIVE SUMMARY AS PDF


While telecom operators have generally done a good job of automating their customer-facing activities through self-service portals, there is often a long lead time for services to be activated, due to the presence of multiple manual processes between initial order and final delivery. To compete successfully with Webscale insurgents, network operators need to extend automation beyond service fulfillment and provisioning to include performance monitoring and service assurance. The excerpt below lists some examples of automation opportunities across key B/OSS activities.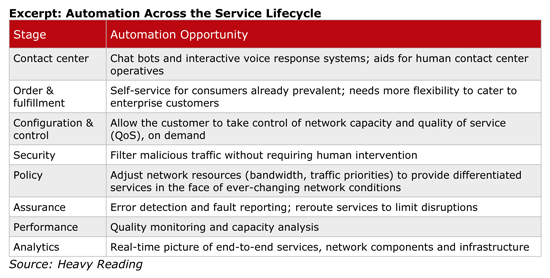 Telecom Automation: Heavy Reading Perspectives is organized as follows:

In Section 2, Senior Analyst Steve Bell provides an overview of the issues and challenges that the telecom industry faces with automation, with a focus on emerging technologies and services such as IoT.
In Section 3, Senior Analyst James Crawshaw examines the impact of automation – and competition from Webscale competitors – on B/OSS transformation.
Senior Analyst Sandra O'Boyle outlines the role that analytics will play in service management automation in Section 4.
In Section 5, Senior Analyst Roz Roseboro assesses how NFV MANO initiatives are laying the groundwork for closed-loop automation of telecom networks.
Principal Analyst Sterling Perrin focuses on WAN automation, specifically related to SD-WAN deployments, as an early success story for telecom automation in Section 6.
In Section 7, Principal Analyst Gabriel Brown evaluates automation's challenges and opportunities relating to the next big step in mobile network evolution: 5G.
In Section 8, Principal Analyst Jim Hodges looks at the impact telecom automation will have on what may be the most challenging issue facing CSPs: network security.
Telecom Automation: Heavy Reading Perspectives is published in PDF format.