Aditya Kishore
Practice Leader,
Video Transformation,
Heavy Reading
Adi focuses on video services and their network impact, leading Heavy Reading's research into the transformation of video services...
MORE
To view reports you will need Adobe's Acrobat Reader. If you do not have it, it can be obtained for free at the Adobe web site.


REPORTS
EXECUTIVE SUMMARY
Over-the-top (OTT) services are disrupting the video value chain, and more traditional video content and service providers are scrambling to adapt. Younger consumers are cutting the cord and shifting to on-demand viewing, while network operators are struggling to manage the bandwidth requirements of the resulting streaming video explosion.

Heavy Reading has assembled a brain trust of leading industry executives from a number of network operators, as well as broadcasters and OTT providers, to help us develop a clear understanding of important trends and events as they happen in the video business, providing advice and insight into the evolving video industry. We call this group the Video Transformation Advisory Board (VTAB).

Video Focus Group: Operators Chase "Double-Sided" Revenue From OTT is based on an online survey of the VTAB. It addresses eight "hot-button" issues related to OTT video services and explores VTAB members' current thinking on these issues. The survey included 14 industry executives – not a statistically significant group, but the findings provide insights and commentary from industry decision-makers who influence the video experiences of tens of millions of homes worldwide.

The study was fielded in July-August 2017, and included a combination of multiple choice and open-ended questions. Board members were required to select a multiple-choice option, then add comments to explain or expand on their selection. So while the study does yield some quantitative data, it is more aimed at engendering insight and commentary from the VTAB members.

This is the third survey we have conducted, but it is the first to be published as a report. To date, we have been using the insights and discussion gained via the VTAB only for internal analysis and among board members.

VIEW TABLE OF CONTENTS
VIEW EXECUTIVE SUMMARY AS PDF


For several years, operators have talked about the "double-sided" revenue model: generating revenue not only from their subscribers, but also from the content owners that deliver content over their networks. VTAB members were divided on the issue of new, double-sided revenue-generating services, as shown in the excerpt below. They split largely between two options: Some felt that it was a clear opportunity and should be pursued, while the slight majority felt that there may be potential for some services, but not everything we listed.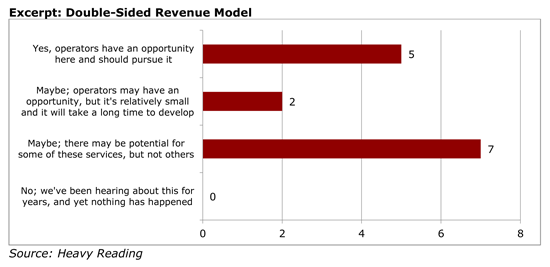 Video Focus Group: Operators Chase "Double-Sided" Revenue From OTT is published in PDF format.