Denise Culver
Online Research Director, Heavy Reading
Denise manages Heavy Reading's Thought Leadership Council, which uses a focus group approach to glean insights from CSPs on topics ranging from automation, IoT, 5G, B/OSS transformation, SD-WAN and emerging technologies...
MORE
To view reports you will need Adobe's Acrobat Reader. If you do not have it, it can be obtained for free at the Adobe web site.


REPORTS
EXECUTIVE SUMMARY
It's not hard to understand why investors, developers and market forecasters love the Internet of Things (IoT). Who wouldn't love a technology that promises $267 billion in sales on IoT products, services and technologies, and a compound annual growth rate (CAGR) of at least 20 percent by 2020? Or that 20.4 billion connected "things," accounting for $3 trillion in hardware spending, will occur by 2020?

But beneath all the hype is the simple reality that IoT will not create that amount of growth that quickly for communications service providers (CSPs). At least, that's what the CSPs themselves say – when allowed to express their views anonymously.

The Thought Leadership Council circumvents traditional industry hype to ascertain how CSPs are really responding to important industry technologies and trends. What makes this initiative so unique is that participants discuss issues in a completely anonymous forum, enabling them to share insights and express business realities that otherwise could not be shared.

Without doubt, the question that generated the greatest level of frustration for Thought Leadership Council participants was the issue of standards. The overwhelming majority of service providers participating in the Council indicated that they attempt to address these frustrations by participating in trade shows, industry forums and working in the standards groups themselves. Others have developed ecosystems of partners and services that serve their markets and verticals.

IoT Focus Group: Revenue Growth Will Be Hard Work was generated from the first Q&A with service providers that are IoT experts on the Thought Leadership Council. They were asked nine questions about revenue potential, investment and deployment strategies for IoT. The results were significantly more guarded than market forecasts would suggest.

VIEW TABLE OF CONTENTS
VIEW EXECUTIVE SUMMARY AS PDF


The overwhelming majority of CSPs in our focus group indicate that IoT will become a significant revenue generator within the next five to 10 years, as shown in the excerpt below. Slightly more – about 23 percent – believe it will happen sooner, rather than later. In defending his answer that it will take up to 10 years, one CSP said, "I think it's going to take a few years; but there are infrastructure options that could speed this for RFPs [requests for proposal] we're competing in around port management."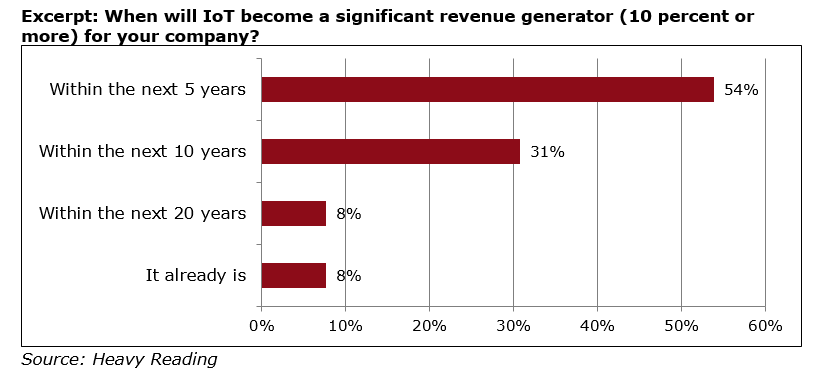 IoT Focus Group: Revenue Growth Will Be Hard Work is published in PDF format.