Simon Sherrington
Contributing Analyst,
Heavy Reading
Simon is an independent consultant who contributes regularly to Heavy Reading projects...
MORE
Danny Dicks
Contributing Analyst,
Heavy Reading
Danny is an analyst and consultant with more than 20 years' experience in technology markets who contributes regularly to Heavy Reading...
MORE
To view reports you will need Adobe's Acrobat Reader. If you do not have it, it can be obtained for free at the Adobe web site.


REPORTS
EXECUTIVE SUMMARY
In the telecom industry, continual advances in coherent optical transmission technology over the last decade or more have enabled greater capacity to be wrung out of deployed fiber for ultra-long-haul and subsea links, core and metro networks, and in the access and point-to-point interconnection of data centers and enterprise sites. Capacity per wavelength is now routinely 100 Gbit/s (100G) in many applications, and vendors report a rapid move to 200G, with 400G and even 600G systems likely to be used in the future for multiple applications as electronics get faster.

Current leaders in the telecom optical systems market should continue seeing success as long as they keep on top of changes in the patterns of demand, respond with products designed to suit specific applications and flexible systems with programmable interfaces, and increase the focus on manageability in the coming era of software-defined networking (SDN) and network functions virtualization (NFV).

It's a good time to be in coherent optics: Demand is strong, and there is a very large market to attack if you have products that can meet the low-cost, optimized-performance needs of the <80 km DCI sector, at above 100G.

The industry continues to be an arms race between technology developers, with the battlegrounds being DSP design, photonic integration approaches and speed of electronics. But to this mix should now be added systems' capabilities to deliver visibility into the optical network and the management capability to automate the optimization of the network in real time. Watch out for announcements from vendors of new, more capable management systems and interworking with SDN controllers that can support telcos as they progress toward a software-defined future.

Telco Optical Systems Beyond 100G looks at how demand for optical transport has changed, how coherent optics is evolving, and what the future holds for this established but dynamic technology. It examines advances in electronics that are pushing speeds faster, and the consequences for the standard optical grid spacing, looks at standardization efforts, including those led from the demand-side of the market, and compares the approaches and portfolios of 11 vendors of telco-focused optical systems.

VIEW COMPANIES COVERED
VIEW TABLE OF CONTENTS
VIEW EXECUTIVE SUMMARY AS PDF


Coherent optics systems have been developed to meet the requirements of several distinct applications in telecom networks, from ultra-long-haul, submarine and long-haul links, telco core and metro networks, to access (including mobile fronthaul and backhaul) and DCI applications. Architecturally, point-to-point, ring, mesh and switched/multiplexed systems are deployed, resulting in several products. The carrier market makes significant and increasing use of switched optical networking, with rather less use of point-to-point links (at least outside ultra-long-haul and submarine applications). The following excerpt illustrates the way market demand and technology developments are mutually reinforcing one another in a virtuous circle.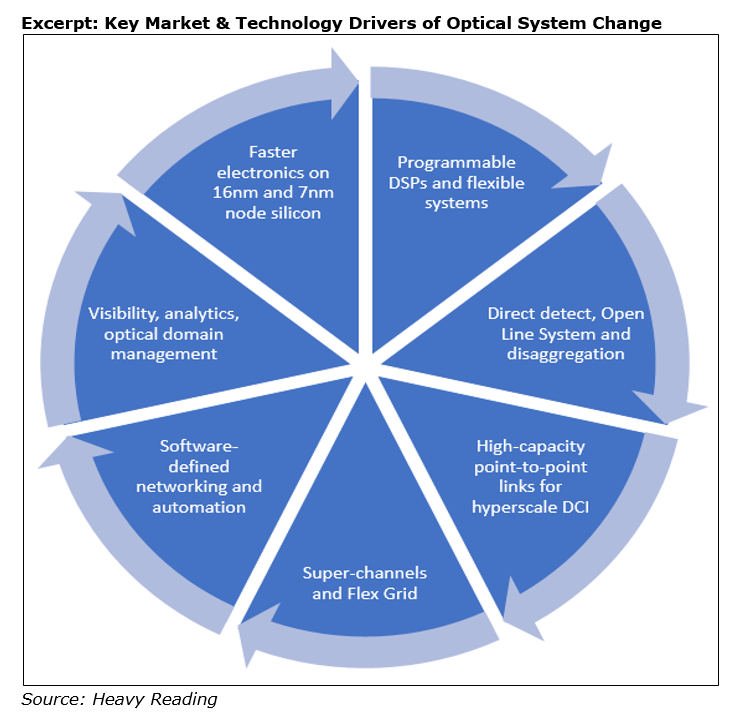 Telco Optical Systems Beyond 100G is published in PDF format.