James Crawshaw
Senior Analyst,
Heavy Reading
James leads Heavy Reading's OSS/BSS research service. He examines the breadth of software used by CSPs in customer, business, service and infrastructure management...
MORE
To view reports you will need Adobe's Acrobat Reader. If you do not have it, it can be obtained for free at the Adobe web site.


REPORTS
EXECUTIVE SUMMARY
According to Gartner, intent-based networking (IBN) consists of four aspects: translation, automated implementation, awareness of network state and assurance. The only aspect of IBN that appears different to network functions virtualization (NFV)/software-defined networking (SDN) is the first one: translation. In essence, IBN is an northbound interface (NBI) between an infrastructure controller and a higher-level business system. Arguably, even this NBI abstraction is similar to the management and organization (MANO) layering into NFV orchestrator (NFVO), virtual network functions manager (VNFM) and virtual infrastructure management (VIM). What makes IBN unique is that it uses a declarative language for this interface rather than an imperative one.

Intent is an interface between network service consuming systems (applications) and network service delivery systems (comprised of controllers and underlying infrastructure). By separating the application plane from the control plane in this way, the operator has greater freedom over the choice of applications and controllers, reducing vendor lock-in.

Intent is perhaps best seen as another abstraction layer within a management hierarchy. For intent to be useful to service providers it must be standardized so that every body's boxes can be managed using the same intent abstractions, specifically the information model and patterns used to create the grammar.

The vendor profiles in this report provide tools to help operators manage their complex network and adhere to defined policies. Today they are mostly addressing the data center because there is a lot of growth in data center traffic and there is a greater homogeneity in the data center networking infrastructure than in telcos' wider area networks, including mobile. The opportunity is big enough in the data center alone without trying to boil the ocean and solve the more complex challenge of telco wide area network while enduring interminable proof of concepts and requests for proposal.

Intent-Based Networking: Automating Next-Generation Networks is an attempt to decipher what IBN really is, what work the standards development organization and open source community are doing in this area, what are the different vendor approaches to IBN and why IBN should be of interest to telecom operators, not just in the data center but also in wide-area networking.

VIEW COMPANIES COVERED
VIEW TABLE OF CONTENTS
VIEW EXECUTIVE SUMMARY AS PDF


The detail of agreeing a modeling language for intent-based networking is clearly a huge technical and political challenge, with groups such as MEF, OpenDaylight and ONOS all taking different approaches. However, the broad concept of IBN is not complex. The following excerpt simplifies the concept.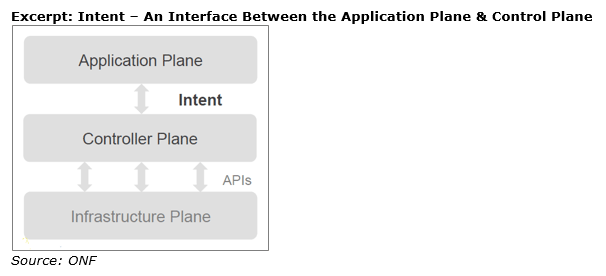 Intent-Based Networking: Automating Next-Generation Networks is published in PDF format.