Craig Leddy
Contributing Analyst,
Heavy Reading
Craig is a veteran cable industry writer, speaker and market analyst, and a regular contributor to Heavy Reading. Based outside New York, Craig founded Interactive TV Works Inc. to promote understanding and drive deployment of advanced digital services...
MORE
To view reports you will need Adobe's Acrobat Reader. If you do not have it, it can be obtained for free at the Adobe web site.


REPORTS
EXECUTIVE SUMMARY
Cable is adding a new weapon to its arsenal of business services: software-defined wide area network (SD-WAN). SD-WAN is one of the hottest new technologies in business circles, surrounded by great expectations as a transformative way for enterprises to connect their business locations and provide a foundation for new virtualized functions.

SD-WAN represents a way for cable providers to demonstrate that they can use their existing coaxial connections for Gigabit Internet speeds, not just fiber alone. Comcast, Charter Communications, Cox Communications and Mediacom Communications are among the U.S. cable providers that are adopting DOCSIS 3.1 (D3.1) technology to deliver Gigabit-level speeds over existing hybrid fiber-coax (HFC) plant. While most enterprises likely will insist on fiber connections for primary connections with SD-WAN, D3.1 provides an option to connect sites that already are passed by HFC plant.

For cable providers, SD-WAN represents more than a potential revenue opportunity. It is a way for cable to demonstrate the power of the cable distribution platform – both for fiber connections and for coax using D3.1. It gives cable a leading edge product to help solidify its SMB customer base and move up-market to serve enterprise businesses and key verticals where it already has made substantial progress. Whether a cable provider offers its own managed SD-WAN service or not, all providers should be able to benefit as either primary or secondary access providers for SD-WAN services.

The competition will be fierce, both among service providers and technology suppliers, in a market that lacks clarity over how quickly SD-WAN adoption will occur. The winners will be those that correctly map out the migration and develop the right mix of products for their business constituents. Cable providers also are challenged to improve their customer support and SLAs, areas where business customers perceive the large telcos as being superior.

Cable Looks to SD-WAN to Boost Business Services explores SD-WAN options for cable providers and the opportunities and challenges ahead. Cable providers have several options to benefit from the trend as organizations embrace the WAN technology that is heralded as being more affordable and flexible than current Multiprotocol Label Switching (MPLS) routers. However, all service providers and SD-WAN suppliers face a market where competition is becoming fierce and the pace of SD-WAN adoption is unclear.

VIEW COMPANIES COVERED
VIEW TABLE OF CONTENTS
VIEW EXECUTIVE SUMMARY AS PDF


Telecommunications providers of all types are jumping on the SD-WAN bandwagon. In a Heavy Reading survey of more than 100 global telecom operators, 84 percent said SD-WAN was important or critical to their future business. The excerpt below shows how the respondents rated the importance of SD-WAN.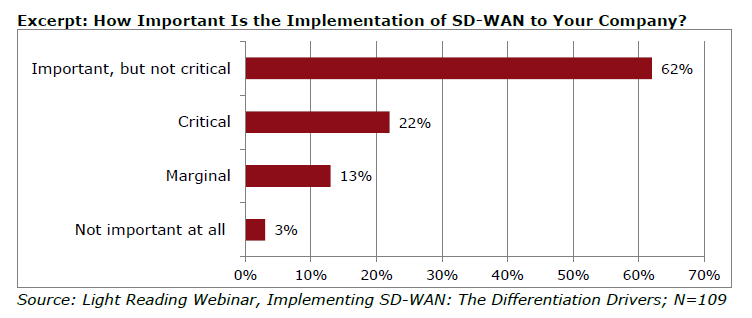 Cable Looks to SD-WAN to Boost Business Services is published in PDF format.