Simon Sherrington
Contributing Analyst,
Heavy Reading
Simon is an independent consultant who contributes regularly to Heavy Reading and to other Heavy Reading projects...
MORE
Danny Dicks
Contributing Analyst,
Heavy Reading
Danny is an analyst and consultant with more than 20 years' experience in technology markets who contributes regularly to Heavy Reading Insider and to other Heavy Reading projects...
MORE
To view reports you will need Adobe's Acrobat Reader. If you do not have it, it can be obtained for free at the Adobe web site.


REPORTS
EXECUTIVE SUMMARY
With some major operators looking to 5G as a means of delivering broadband services to the underserved, and with some operators already achieving success with wireless home broadband services, what is the future for fiber in the access market? Is it set to be bypassed as the world goes wireless?

Not based on the evidence of the market right now. Gigabit passive optical network (GPON) and Ethernet PON (EPON) are now widely deployed technologies, with significant investments made in some regions of the world. Deployment is not universal, with many copper-rich markets seeing widespread deployment of advanced copper technologies; but fiber is still going strong, and it is getting closer to the home, if not already inside it.

The FTTH market is on the cusp of change. Although transformation will not be immediate, the FTTH market is about to make the commercial transition from technologies designed to deliver 1 Gbit/s to 10 Gbit/s and beyond.

The first small scale deployments are already underway. Vendors are striving to make the upgrade path possible without a rip-and-replace strategy. Multi-functional PON technologies are being brought to market that enable incremental deployment of next-generation PON services on top of existing fiber networks.

Business use will dominate 10Gbit/s deployment initially, taking advantage of new symmetric service options, but the size of that market will then be swiftly and comprehensively overtaken as a driver of demand by LTE-Advanced Pro and 5G deployment, and mobile network densification with small cells. 5G will need 10Gbit/s PON for backhaul aggregation.

FTTx: State of the Market examines the evolution of PON technologies. It reviews the key technologies for fiber to the home (FTTH), fiber to the building (or basement) (FTTB) and fiber to the curb (or cabinet) (FTTC), considers the state of advancement beyond gigabit networks into multi-gigabit deployments, and compares the positioning of leading FTTx technology vendors. It looks at the relationship between fiber and copper, and considers how fiber and wireless will interact as 5G technologies come on stream.

VIEW COMPANIES COVERED
VIEW TABLE OF CONTENTS
VIEW EXECUTIVE SUMMARY AS PDF


The fiber-to-the-premises (FTTP) market is home to a variety of types of solution and types of technology, each with their own, somewhat similar acronyms. In this report we are focused on the technologies able to bring fiber cost effectively right up and into buildings. These are variously described as FTTH, FTTP and fiber to the building (FTTB). Also relevant in the context of this report are FTTC or fiber to the node (FTTN), which involves bringing fiber into the local area and then using copper for the last few meters. While not the primary focus of this report, FTTC/FTTN technologies are discussed in terms of how they complement – or compete with – the other fiber access solutions.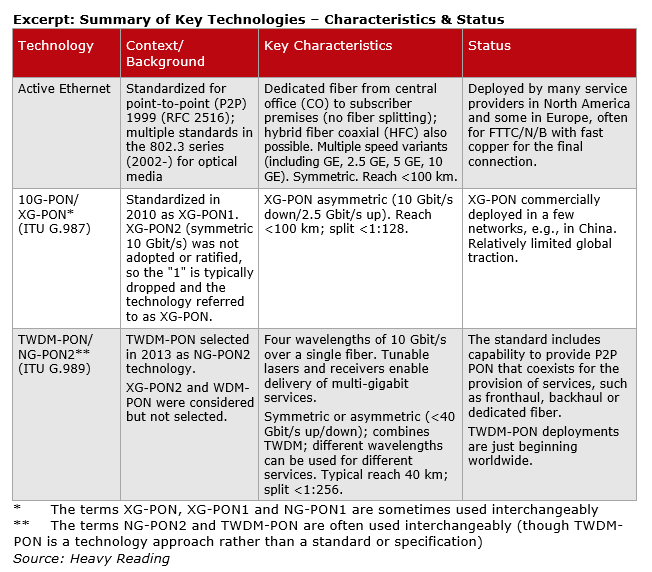 FTTx: State of the Market is published in PDF format.