James Crawshaw
Senior Analyst,
Heavy Reading
James leads Heavy Reading's OSS/BSS research service. He examines the breadth of software used by CSPs in customer, business, service and infrastructure management...
MORE
To view reports you will need Adobe's Acrobat Reader. If you do not have it, it can be obtained for free at the Adobe web site.


REPORTS
EXECUTIVE SUMMARY
TM Forum's annual jamboree in Nice is the key event in the operations support system (OSS)/business support system (BSS) world's calendar – followed closely by Light Reading's OSS in the Era of SDN & NFV. While not as manic as Mobile World Congress, TM Forum Live! is a well-attended event. The atmosphere is business-like, but convivial, thanks in part to the Cote d'Azur weather. The booths were busy and many of the conference sessions were filled to capacity on the first day.

The usual suspects of OSS/BSS were out in force, but a few companies were notable by their absence: AsiaInfo (which has retrenched from Europe), CENX (which was in Austin collecting its Leading Lights award), Cisco (which though not a BSS vendor does have an orchestration solution) and Redknee (which is undertaking a restructuring and recently lost its founder CEO and CTO).

Many of the themes discussed at TM Forum Live! were common to other shows, such as the Internet of Things (IoT), 5G, software-defined networking (SDN)/network functions virtualization (NFV) and the all-encompassing digital transformation. Omnichannel is also a popular term that finds its way into many presentations. There were some cool omnichannel demos on display, but frankly many operators today fail to deliver a satisfactory user experience in any single channel, never mind having the ability to start a purchase online, modify it by phone and complete it in store.

The topics that interested us at the show and that we discuss in this report are:

Transformation
DevOps
Microservices
Application programming interfaces (APIs)
Open source
Automation and artificial intelligence (AI)
Service assurance
Vendor selection
TM Forum Live! Highlights: Eight Key Takeaways presents our views on these eight hot topics, citing specific examples of cases discussed at the show and summarizing input from both telecom operators and their technology partners.

VIEW TELECOM OPERATORS DISCUSSED
VIEW TECHNOLOGY PARTNERS DISCUSSED
VIEW TABLE OF CONTENTS
VIEW EXECUTIVE SUMMARY AS PDF


Recent Heavy Reading surveys have shown a mixed picture regarding DevOps adoption in telecom operators, with some individuals within the same operator claiming their organization had completely embraced DevOps, while others claimed it never would. A recent multi-industry study by Prosci, presented at TM Forum Live!, revealed strong support for a DevOps approach at both the senior management level and lower down the organization, but resistance to change at the middle management layer, as shown in the excerpt below.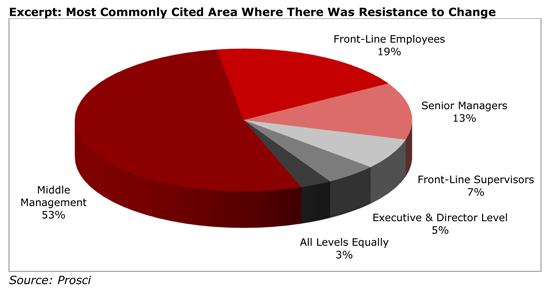 TM Forum Live! Highlights: Eight Key Takeaways is published in PDF format.