Denise Culver
Online Research Director, Heavy Reading
Denise manages Heavy Reading's Thought Leadership Council, which uses a focus group approach to glean insights from CSPs on topics ranging from automation, IoT, 5G, B/OSS transformation, SD-WAN and emerging technologies...
MORE
To view reports you will need Adobe's Acrobat Reader. If you do not have it, it can be obtained for free at the Adobe web site.


REPORTS
EXECUTIVE SUMMARY
The majority of the world's leading communication service providers (CSPs) now are either virtualizing parts of their network or doing proof of concepts (PoCs), and all that virtualization is significantly impacting test and measurement (T&M) solutions.

T&M solutions for virtualized networks differ a great deal from traditional hardware appliance-based solutions. They need core competency in terms of understanding virtual environments, various components for virtualized solutions and new test frameworks that have to be developed for virtualized environments.

The whole concept behind software-defined networking (SDN) and network functions virtualization (NFV) is to make services and applications available on demand, and the ability to develop and scale without compromising quality, performance or user experience is key. To achieve this, operators are looking to better understand their assets and how everything reacts together, and that's having a marked impact on how they address T&M.

But because of virtualization, T&M isn't just about networks anymore. Today's analytics must provide end-to-end visibility on all key dimensions: network, services and subscribers. Furthermore, T&M vendors are not just focusing on testing virtualization for their customers; they are also virtualizing T&M products to drive down costs, increase efficiency and add functionality on the software side that isn't available in hardware solutions.

Virtualization's deployment has made monitoring and management of networks more complex because of the dynamic nature of virtualization. Virtualization results in the disaggregation of the network into many more components than make up a virtual service, including physical machines, compute nodes, VMs and VNFs. Additionally, virtual service components can change dynamically, making it more difficult to assure the service, as well as track the parts that make up a virtual service at any one time.

T&M providers must support a wide variety of network configurations as efficiently as possible, ensuring consistent quality and reliability. There is an expectation that virtual testing will offer the same efficiency and reliability as hardware-based testing; the challenge is to achieve the same level of results with software-based testing that is available with hardware-based testing.

Test & Measurement Meets Virtualization's Challenges covers T&M solutions for virtualized networks and how they are impacting customers across the market. It further examines what vendors are doing with the technology, as well as the trends and challenges they face, profiling 14 prominent providers of T&M solutions.

VIEW COMPANIES COVERED
VIEW TABLE OF CONTENTS
VIEW EXECUTIVE SUMMARY AS PDF


Increasing numbers of enterprises are optimizing IT expenditure through network virtualization, server virtualization and hybrid cloud strategy. T&M solutions must align with the enterprise strategy in such a way that they are able to measure the performance of IT operations and verify the correctness of IT operations.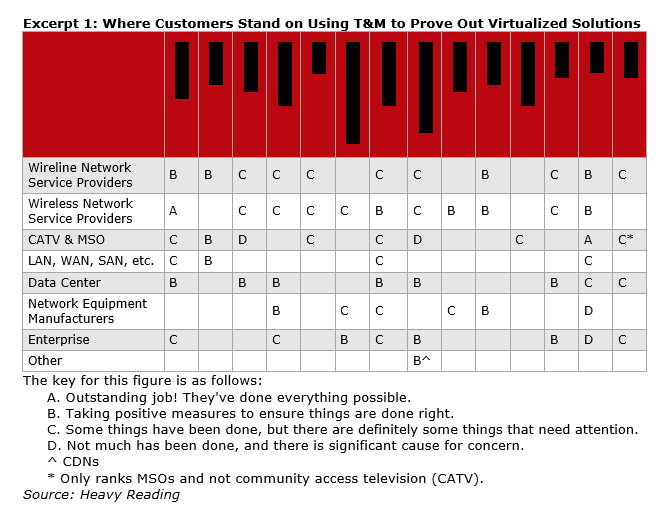 Test & Measurement Meets Virtualization's Challenges is published in PDF format.