Craig Leddy
Contributing Analyst,
Heavy Reading
Craig is a veteran cable industry writer, speaker and market analyst, and a regular contributor to Heavy Reading...
MORE
To view reports you will need Adobe's Acrobat Reader. If you do not have it, it can be obtained for free at the Adobe web site.


REPORTS
EXECUTIVE SUMMARY
For nearly 25 years, cable has relied upon hybrid fiber-coax (HFC) plant that has produced a wealth of digital television, Internet and telephone services. But the HFC transport system is essentially a dumb pipe passing through signals that are managed by the brains at the headend. And it's a pipe that could become clogged by the increasing surge in Internet consumption and the prospect of more robust applications to come.

Now the cable industry is embarking on its boldest effort yet to transform the access network into a smart network that supports higher speed, greater efficiency and more intelligent routing. The strategy involves making changes in the last-mile plant that will push more functionality to the network edge. This next-generation architecture is designed to meet the ever-increasing demand for broadband capacity and the proliferation of more IP devices and interactive applications in homes and businesses.

This next-generation strategy was presented most powerfully during Light Reading's recent Cable Next-Gen Technologies & Strategies conference, where speakers and panelists discussed the fundamental building blocks. While there remains plenty of debate over the exact tactics to employ, plus countless technological details to sort out, together the speakers laid out the most significant upgrade in cable's network since it first adopted fiber optics and digital technology.

While a primary focus is to increase overall bandwidth capacity, the next-generation architecture is designed to support more efficient routing by tailoring capacity to meet high-density usage and peak traffic demands, a concept similar to cable's earlier development of switched digital video.

Cable access technology is at a historic point. Never before have so many options loomed to alter the fundamental building blocks of cable's HFC plant, which has been the bedrock of cable service for nearly 25 years. There are many challenges ahead in implementing the new technologies, but together they represent the most significant change in cable delivery since the earliest days of the industry's adoption of fiber optics and digital technology.

In addition to the technical innovations, the industry benefits by having a vibrant community of cable providers and tech suppliers that work closely with each other and are willing to share information, as demonstrated during Light Reading's Cable Next-Generation Technology & Strategy conference.

With so many options available, there will be many requisite financial calculations, engineering metrics, trials and errors for providers to endure. Ultimately, it still needs to be proven that the sum of the planned changes in the HFC, DOCSIS-based access network is better than replacing all of the plant with FTTH architecture.

Ten Steps to a Fast, Smart Cable Access Network analyzes 10 technologies that cable providers are adopting, as well as challenges the market expects to face. Further, it profiles five MSOs and their upgrade plans in the near future.

VIEW COMPANIES COVERED
VIEW TABLE OF CONTENTS
VIEW EXECUTIVE SUMMARY AS PDF


Competition in the gigabit Internet marketplace is just one of the factors driving cable's access network modifications. The following excerpt lists key market drivers behind the trend. The bottom line is that running the access network in its current form is becoming too expensive and inefficient.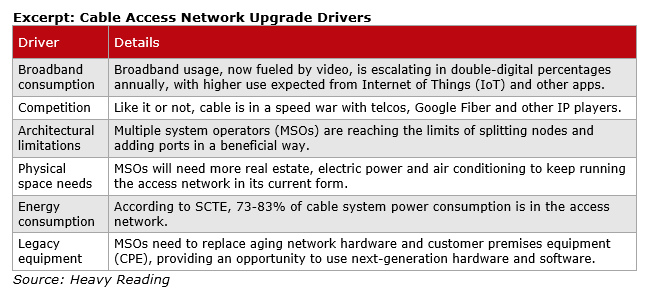 Ten Steps to a Fast, Smart Cable Access Network is published in PDF format.