Simon Sherrington
Contributing Analyst, Heavy Reading
Simon is an independent consultant who contributes regularly to Heavy Reading and to other Heavy Reading projects...
MORE
Danny Dicks
Contributing Analyst, Heavy Reading
Danny is an analyst and consultant with more than 20 years' experience in technology markets who contributes regularly to Heavy Reading Insider and to other Heavy Reading projects...
MORE
To view reports you will need Adobe's Acrobat Reader. If you do not have it, it can be obtained for free at the Adobe web site.


REPORTS
EXECUTIVE SUMMARY
This market tracker analyzes and forecasts the global market for cybersecurity solutions sold to communications service providers (CSPs).

Cybersecurity is a notoriously difficult market to estimate, because buyers are reticent to divulge exactly what they spend on different solutions, and security vendors are often sworn to secrecy about contracts. We have estimated the market size by creating bottom-up market estimates (counting known or estimated vendor revenues generated through sales to telecom operators and service providers) and cross-checking the results against top-down estimates (created by segmenting estimates of operator IT spending). We have also used third-party surveys and analysis to inform the model.

Global telecom operator spending on cybersecurity is estimated to have crept over the $6 billion mark globally in 2016, and is on a strong growth trajectory. The market is expected to grow by around 11% in 2017, and to sustain a growth rate above 10% through 2020. The CAGR between 2016 and 2022 is anticipated to be a very healthy 9.7%. By 2022 we forecast that CSP spending on cybersecurity solutions will rise to nearly $10.8 billion.

The two figures below indicate the scope of the Telecom Security Market Tracker. They show the domains of a service provider network, how specific security solutions covered in this tracker (in green) map onto these domains, and indicate those parts of the market that are out-of-scope (in yellow). We recognize that some attacks (particularly DDoS attacks) are multi-faceted, and some systems are designed to identify and mitigate them at multiple layers.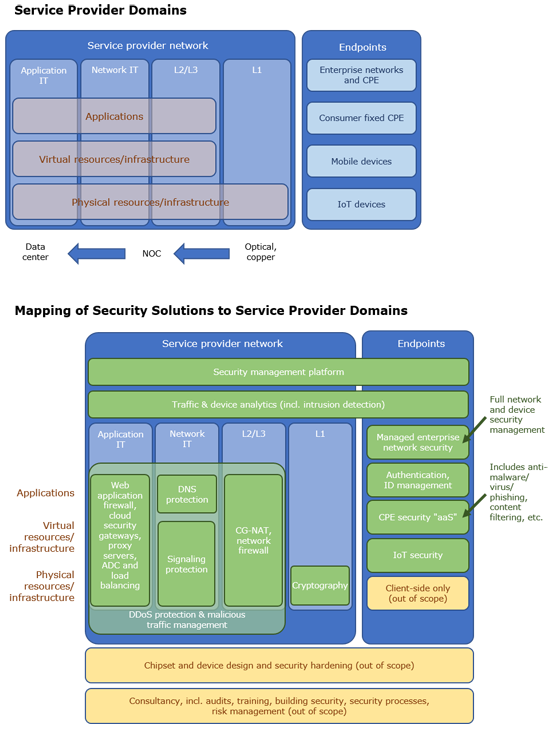 There are many providers of security solutions, not all of them are security specialists, and not all of them specialize in selling to network operators and CSPs. As telco network functions become increasingly delivered as VNFs, and more of a telco's IT systems resemble those of a large, demanding enterprise, the lines between markets become blurred. IT-specialist security vendors are now targeting the service provider space.

As security rises up the corporate agenda for telcos, network equipment providers are stressing the security components of their portfolios. As functions virtualize, specialist solution vendors are adding security on top of their solutions in new ways – either by creating specialist protection for their functions, or by adding security functionality on top of their core solutions.

The criteria we have used in this market tracker to determine which vendors are covered in detail include:

Must sell into the service provider market (specifically, the telco carrier market); vendors whose main market is the enterprise sector are still included if they also sell security products/solutions into the telco/service provider market in a significant way.


Products should cover at least some of the domains indicated in the figures above; vendors whose solution portfolio is not primarily focused on security are still included if they sell security products/solutions into the telco/service provider market in a significant way.


Should be a leading provider of solutions in its specific domain with significant market share; vendors do not have to sell products or solutions across a very broad swathe of those identified above, as long as they are significant in one or more domain.
The vendors covered in this tracker are:

A10 Networks
Adaptive Mobile
Allot Communications
Arbor Networks
Cisco Systems
Check Point Software
Corero Network Security
ECI Telecom
Ericsson
F5 Networks
Fortinet
Huawei
Infoblox
Juniper Networks
Nokia
Palo Alto Networks
Radware
Sandvine
ZTE
The list of vendors profiled may change over successive iterations of this market tracker.

Heavy Reading's Telecom Security Market Tracker is published in PowerPoint format. A single market tracker report costs $6,995. An annual subscription (two reports) costs $12,000. For more information, or to purchase the Telecom Security Market Tracker, please contact:

Dave Williams
Global Director of Sales, Heavy Reading
dave.williams@heavyreading.com
858-829-8612